Covering The Photo Beat; Software, Tripods, And A Camera Sling System
Nik Software Silver Efex Pro 2
Nik Software has begun shipping Silver Efex Pro 2, a major upgrade to its Silver Efex Pro software. Silver Efex Pro 2 offers a unique darkroom-inspired workflow and the ability to fine-tune images with precise selective adjustments powered by U Point technology. The software's new features include the History Browser for endless experimentation, revolutionary algorithms such as Dynamic Brightness, Amplify Blacks and Whites, Soft Contrast, and Fine Structure, plus finishing touches like Image Borders and selective colorization.
To learn why Nik considers Silver Efex Pro the leading black-and-white imaging software, users can watch training videos, download a free trial, download visual preset styles, and join live online training sessions at: www.niksoftware.com/silverefexpro.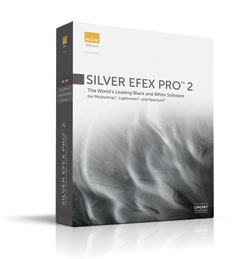 Contact: www.niksoftware.com.
DAIWA DST-43 And DST-73 Tripods
DAIWA recently introduced the DST-43 tripod which has an all-metal true-fluid pan head with a 60mm ball mount and can support up to 8.8 lbs of equipment. The DST-73 model also offers an all-metal true-fluid pan head but with a 75mm ball mount and 15 lbs of equipment support. They have three stage legs with dual-rails on the upper stage for stability. The head has one pan handle but offers handle mounts on both sides for two-handle use. Other features include a long-side quick-release plate and an illuminated bubble level.
Contact: www.thkphoto.com and www.slikbroadcast.com.
Quantum Qflash TRIO "Basic"
The Qflash TRIO "Basic" is a speedlite that offers many of the same functions as the other Qflash models only without a built-in FreeXwire TTL radio. It has Manual, Auto, Auto-Fill, TTL, and Program modes; full TTL dedication for Nikon and Canon D-SLR cameras; and High Speed Sync. It has a removable reflector, a replaceable flash tube, and is powered by Quantum's line of Turbo battery packs. Simply slip the TRIO "Basic" onto the camera's hot shoe, connect any Turbo, and you can shoot nonstop for 24 hours without the device slowing down or overheating. The suggested price is $701.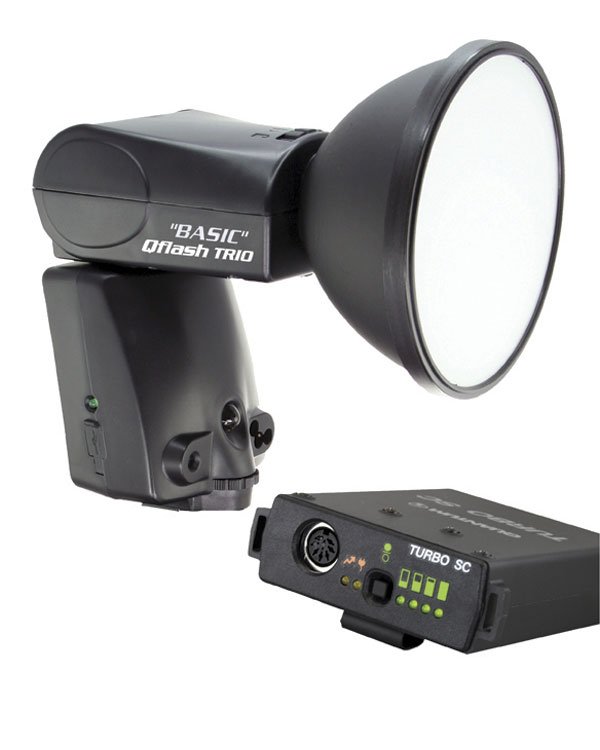 Contact: www.qtm.com.
Varavon Low Angle Viewfinder
The Varavon Pro Finder is a viewfinder that eliminates the need to kneel, crouch, or lie down in order to get the perfect shot. The device features two built-in angled mirrors that allow you to simply look down into the viewfinder to see the shot, a 3x zoom to magnify the shot and ensure proper focus, a Diopter for near- and far-sighted users, and a loupe. The Pro Finder can also be used as a regular viewfinder or transformed into a hood. Made for use with the Canon EOS 5D Mark II, 7D, and Rebel T2i cameras, it has a suggested price of $363.
Contact: www.varavonusa.com and www.internationalsupplies.com.
Lasal Exhibition Luster 300 Paper From Moab
Designed for use with all inkjet printers, Lasal Exhibition Luster 300 is a true heavyweight (300gsm) archival paper. The coating was created with the latest technology to produce an extra-wide color gamut with deep blacks and bright whites, improved scratch resistance, enhanced stiffness, increased opacity, and curl reduction. It is available in 4x6", 5x7", 8.5x11", 11x17", 13x19", A2 and A4, as well as rolls 17", 24", and 44" wide by 100 feet long.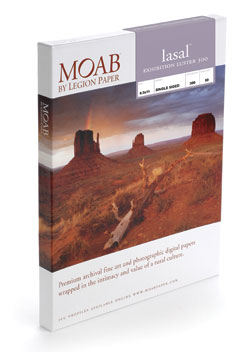 Contact: http://moabpaper.com.
BosStrap Camera Sling System
Made in the U.S.A. and designed for maximum comfort, the BosStrap relies on a 11⁄2" wide nylon belt to distribute the weight of the camera across your shoulder. The BosStrap features a TriggerLoc that attaches to a welded ring on the BosTail which is safely attached to the camera. This design allows you to slide the camera up to eye level for use then back down to rest at your hip. The system includes a BosStrap and one BosTail for a suggested price of $39.95 plus $3 for shipping. An extra BosTail can be purchased for $6.95 (includes shipping).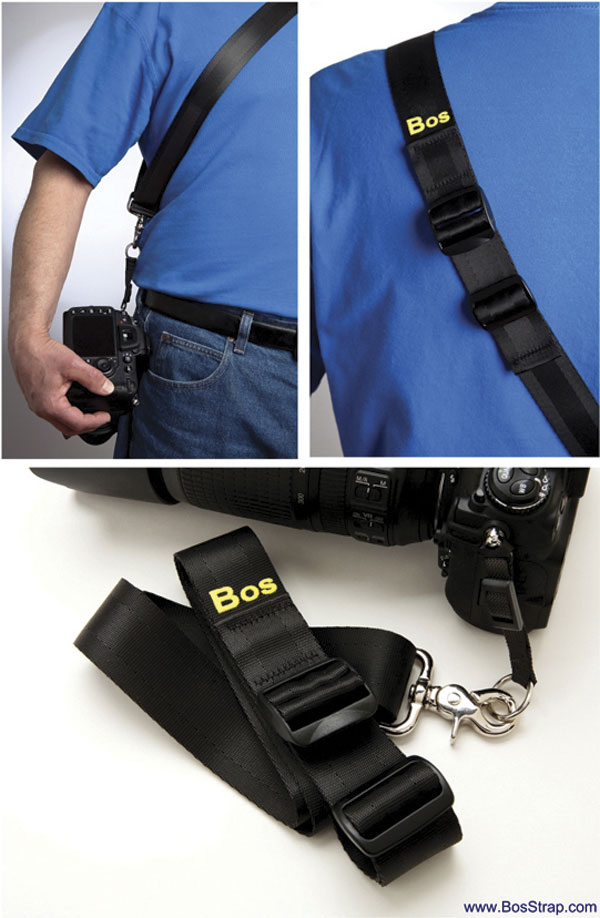 Contact: www.BosStrap.com.
PixCase And PIYCase From Jaymo
Nearly everyone has one of today's popular mobile devices like an iPod or iPhone. The problem is that they all look alike, making it difficult to tell your device apart from any other. Jaymo solves this problem with the PixCase and Personalize-It-Yourself PIYCase. Designed for use with the iPod touch 3 and 4, iPhone 3 and 4, iPad, Blackberry Curve, Bold, Storm, Tour, and Torch, the cases feature black vinyl sides and a non-glare photo frame surface. The image of your choice appears on the back of the case and you can personalize it even more with the included backgrounds and stickers.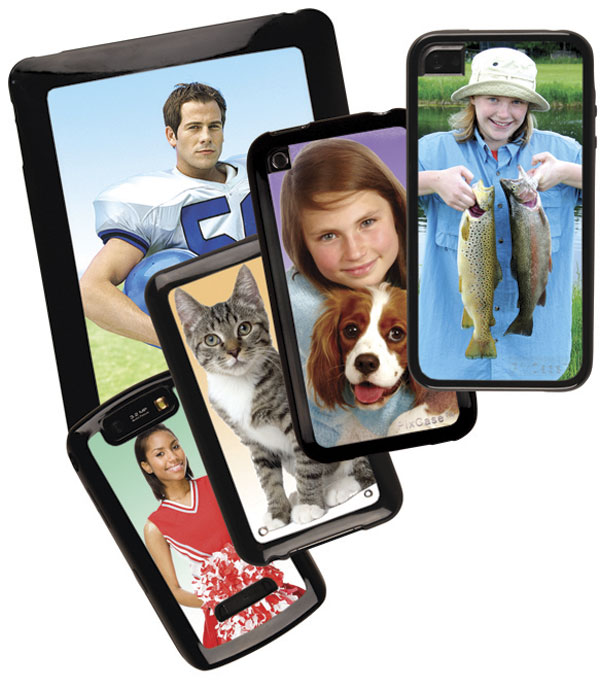 Contact: www.jaymo.co.
To submit information for "Roundup," please contact our New Products Editor by e-mail at: Cynthia.Boylan@sorc.com or regular mail at: Shutterbug Magazine, 1415 Chaffee Dr., Ste. #10, Titusville, FL 32780.

LATEST VIDEO