Covering The Photo Beat; Lighting Kits Plus A Carbon Monopod And 22-Megapixel Digital Back
Savage Universal's Light Kits
Savage Universal has added two new light kits to their line of photographic equipment. The M31500 and M31100 kits include three variable power light heads with a quartz light bulb in each, three 24x24" softboxes, three four-section stands, and three 10-foot AC power cords with a carrying case. The kits are designed for digital and commercial photography as well as videography. Contact: Savage Universal Corporation, 550 E. Elliot Rd., Chandler, AZ 85225; (800) 624-8891; www.savagepaper.com.
The Mamiya ZD 22-Megapixel Digital Back
Mamiya has announced the ZD Digital Back. This 22-megapixel digital back was designed with professional and advanced photographers in mind. It is compatible with the Mamiya 645AFD II, 645AFD, and RZ67 Pro IID cameras and saves files in raw and JPEG format or both at the same time. The ZD Digital Back is CompactFlash and SD card compatible, offers an interchangeable IR/Low-Pass Filter system, and includes Adobe's Lightroom software. Contact: Mamiya, 8 Westchester Plaza, Elmsford, NY 10523; (914) 347-3300; www.mamiya.com.
Monostat's RS16K Carbon Monopod
Designed with nature and sports photographers in mind, the rugged RS16K Carbon monopod is crafted from durable carbon fiber and is able to support various types of film, digital, or video cameras. It features a Swivel Toe Stabilizer that permits steady shots up to a 60Þ angle from the horizontal. The RS16K weighs 16.75 oz, extends 60.6" and retracts down to 20.9" long. It has a retail price of $309.95. Contact: Monostat, Accurate Sales, Inc., 198 Keap St., Brooklyn, NY 11211; (718) 302-7063; www.monostat.us.
Photo/Laptop Messenger Bags Plus Response Bags And Accessories From Tenba
Tenba's line of Messenger bags has been expanded to include two new sizes and color choices. In addition to black and olive, you may now choose navy blue or burnt orange. The small bag can accommodate a 15" laptop while the larger version can hold a 17" model. Tenba's Messenger bags are constructed from weather-resistant Cordura Nylon and feature over 20 pockets and compartments. The retail price ranges from $140-$150.
The Response line of bags feature the new Pop-Out Pocket system which provides 20-25 percent more storage space, zippered side cargo pockets, and Matrix divider walls. The collection includes three shoulder bags that are available in small, medium, and large sizes in black or khaki/black color combinations. The bags also include the WeatherWrap cover. The retail value ranges from $170-$230 for the full-featured shoulder bags. Contact: Tenba, 8 Westchester Plaza, Elmsford, NY 10523; (914) 347-3300; www.tenba.com.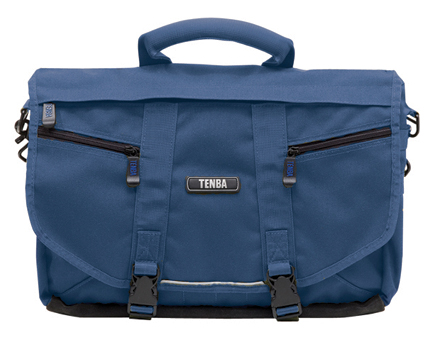 The 32GB ExpressCard/Solid State Disk From Transcend
Transcend Information, Inc. has introduced their new 32GB ExpressCard/SSD (Solid State Disk). It offers a huge storage capacity and low power consumption, supports USB 2.0 and PCI Express applications, and it's Windows Vista compatible. The ExpressCard supports the ReadyBoost function and comes bundled with a USB adapter so it can work as a regular USB flash drive. Contact: Transcend Information, Inc., 1645 N. Brian St., Orange, CA 92867; (714) 921-2000; www.transcendusa.com.
To submit information for "Roundup" please contact our New Products Editor by e-mail at: Cynthia_Boylan@primediamags.com or regular mail at: Shutterbug Magazine, 1419 Chaffee Dr., Ste. #1, Titusville, FL 32780.