Covering The Photo Beat; Lens Adapters, Camera Bags, And The Triolet
The JetFlash V33 USB Flash Drive From Transcend
This compact, high-speed USB flash drive is Windows Me/2000/XP/Vista, Mac OS 9.0/OS X, and Linux Kernel 2.4.2 or later compatible. It offers easy plug-and-play operation which can be enhanced with the JetFlash elite software package. Transcend also provides a lifetime warranty. Contact: Transcend Information, Inc., 1645 N. Brian St., Orange, CA 92867; (714) 921-2000; www.transcendusa.com.
Mamiya Lens Adapters
Mamiya has released two lens mount adapters for Hasselblad V-series medium format lenses. Made for use with Mamiya 645AF-series cameras, these adapters offer the mechanical precision required for proper focusing of the lens. Contact: MAC Group, 8 Westchester Plaza, Elmsford, NY 10523; (914) 347-3300; www.mamiya.com.
The Acratech Leveling Base
Crafted in the U.S.A. from stainless steel with an anodized black satin finish, this leveling base weighs a 1/2 lb and can safely hold over 25 lbs. It fits all standard tripods and tripod heads and offers 10° of movement in any direction. Contact: Acratech Inc., 2041 E. Gladstone St., Unit H, Glendora, CA 91740; (909) 394-1802; www.acratechusa.com.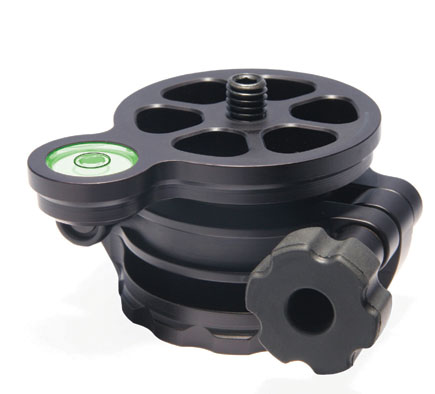 The Triolet From CHIMERA
The Triolet was designed to allow you to use three types of lamps, making it a useful tool for photographers, filmmakers, and videographers. It emits a broad light that is omni-directional and perfect for use with the Video PRO Lightbanks, 20 or 30" Lanterns, Pancake Lanterns, and OctaPlus Banks. The Triolet comes with either a Quick Release Speed Ring or an OctaPlus Speed Ring, a Single Axis Stand Adapter, and a medium base household screw-in adapter. The unit measures 2.5x4.5" and weighs 1.5 lbs. It is available in 120 or 220v. Prices range from $299-$370. Contact: CHIMERA, 1812 Valtec Ln., Boulder, CO 80301; (303) 444-8000; www.chimeralighting.com.

FEATURED VIDEO