Covering The Photo Beat; An ImageRouter, A Dustless Bag System, And A Lally Cap
The ImageRouter From Delkin
Delkin's ImageRouter is a four-slot USB 2.0 CompactFlash card reader. It features a built-in powered hub and transfers data from four CompactFlash cards to your PC. You may use this device with your own file management software or purchase BackupandBurn software. The suggested retail price for the ImageRouter unit without software is $129; with software, $229. Contact: Delkin Devices, Inc., 13350 Kirkham Way, Poway, CA 92064; (800) 637-8087; www.delkin.com.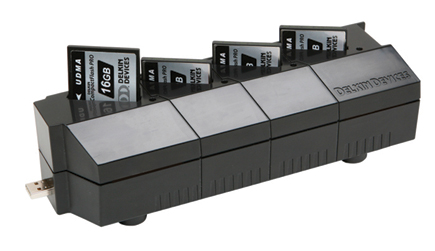 The Tamrac Adventure 5 Bag
Tamrac has announced their Adventure 5 messenger bag. Designed to accommodate a D-SLR camera with a 7" zoom lens attached, this bag also has a separate compartment for a 13" laptop computer. The Adventure 5 features the Speed Flap with an Easy Squeeze buckle, padded movable dividers, zippered pockets, padded shoulder strap, and carrying handle. It weighs just over 2 lbs and measures 14.5x8.5x11". Contact: Tamrac, Inc., 9240 Jordan Ave., Chatsworth, CA 91311; (800) 662-0717; www.tamrac.com.
KOH's Dustless Bag System
The Dustless Bag System creates a self-contained, dust-free zone with the aid of a HEPA filter. This allows you to change lenses on your D-SLR camera without danger of contamination. The bag is collapsible for easy storage and can also be used as a rain cape. Contact: KOH Global, Inc., 11406 Old Georgetown Rd., N. Bethesda, MD 20852; (301) 881-3600; www.kohglobal.com.
Camo Camera Rain Cover
FotoSharp's Camouflage Camera Rain Cover is an easy to use and durable accessory that was designed with the wildlife photographer in mind. Crafted from lightweight urethane-coated ripstop nylon, this cover is waterproof and features a blackout coating for better viewing of the camera's LCD screen. Contact: FotoSharp, 17837 1st Ave. S., #1, Seattle, WA 98148; (800) 361-8341 (US & Canada), (206) 248-1840 (other countries); www.fotosharp.com.

LATEST VIDEO