Covering The Photo Beat: Grips, Stabilizers, Memory Cards & More
The Phottix BP-5DIII Multi Function Battery Grip
The Phottix BG-5DIII Multi Function Battery Grip is made for use with the Canon EOS 5D Mark III D-SLR. It holds one or two LP-E6 or six AA batteries and features AF/On, FEL and AF Points buttons, a vertical shutter button, a command dial, and a power switch. The BG-5DIII provides a comfortable vertical shooting position with an additional shutter release and a scroll wheel for access to the camera's functions when shooting in vertical orientation. It features a tripod socket, comes with a user's guide, and has a retail value of $129.99.
Contact: www.omegabrandess.com.
Hoodman 1000X CompactFlash Cards
Hoodman's Steel Professional 1000X CompactFlash memory cards feature a lifetime warranty. Available in 16GB ($139.99), 32GB ($239.99), and 64GB ($429.99) capacities they offer fast camera burst rates and quick downloads.
Contact: www.hoodmanusa.com.
Calumet Beauty Dish And Grids
The Beauty Dish is a universal light modifier that can be adapted to fit most popular flash systems and speedlights. Ideal for portrait and fashion photographers, this lightweight aluminum reflector offers wraparound light for broad highlights and open shadows. The Beauty Dish features a large, round, pebbled silver interior with an adjustable/removable deflector, a front diffuser bonnet, and an optional honeycomb grid attachment. Available in three sizes (16", 22", and 27"), it utilizes a universal mount that accepts all Calumet flash speed ring adapters. Dedicated rings are available for some of the most popular flash systems.
Contact: www.calumetphoto.com.
The Sled Camera Stand
Made in the U.S.A. from 1/4" thick aircraft-grade fiberglass, the durable, inexpensive Sled fits any camera with a tripod insert and keeps it upright no matter how heavy or long the lens may be. This device is the ideal solution for when you are shooting with multiple cameras or for use as a storage platform. The suggested retail price is $49.
Contact: www.hardmount.com.
Dolly From iStabilizer
Created for pro and amateur photographers, the Dolly uses iStabilizer's universal mount to make video capture, time lapse, and tracking shots easy and crystal clear. Measuring 8x3x5" and weighing just 1.25 lbs, the large wheels provide smooth movement and the 11" adjustable arm allows for unique angles. The detachable mount works with any mobile device case and can be used with standard tripods. The Dolly is compatible with iPhone, Android, Blackberry, iPod touch, GoPro, and a variety of digital cameras measuring up to 2.75" wide. The suggested price is $59.95.
Contact: www.istabilizer.com.
The iCandy Smartphone Mounting System
The iCandy device is made in the U.S.A. and works with almost any D-SLR camera. It allows you to mount your smartphone directly below the lens so it can be used to effectively capture the attention of your subject, no matter their age, by using the smartphone as a teleprompter for video shoots, an entertainment device, or to play music. Simply attach iCandy to your camera's tripod mount, adjust the arm (from 1.5 to 6" horizontally or 1.75 to 3" vertically) with the knob, and attach your phone to the device. You may also spin the iCandy 180 degrees to face you in order to use apps on your phone while you work. The suggested retail price is $99.99.
Contact: http://needicandy.com.
ArcSoft Portrait+ Software
Portrait+ allows pro photographers and labs to quickly and easily auto-batch process dozens of portraits at one time. The software is said to use highly advanced precise facial imaging technology that fine-tunes key facial points around the eyes, eyebrows, nose, and mouth. Large numbers of images can be imported, adjusted, and then exported, saving hours of time and money. For a free trial version, please visit the ArcSoft website.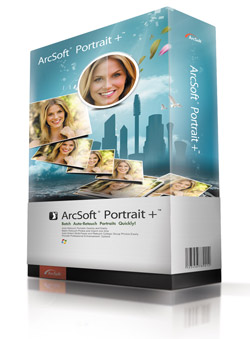 Contact: www.arcsoft.com/pplus.
Chapel Convertible Backpack
The durable Chapel Convertible Backpack from Kelly Moore Bag easily transforms into a messenger or shoulder bag. Crafted from manmade materials and featuring antique brass hardware, the water-resistant bag has two removable backpack straps and one removable messenger strap (up to 56"). The Chapel Convertible Backpack measures 13x4.5x11.5" with a removable padded basket that includes three padded removable/adjustable dividers. It is large enough to safely accommodate a pro camera or standard body and a lens up to 9". It is available in Burnt Orange, Mushroom, Midnight, and Hot Pink.
Contact: www.kellymoorebag.com.
To submit information for Roundup, please contact our New Products Editor by e-mail at: Cynthia.Boylan@sorc.com or regular mail at: Shutterbug Magazine, 1415 Chaffee Dr., Ste. #10, Titusville, FL 32780.

FEATURED VIDEO