Covering The Photo Beat; Flash Accessories, Albums, And A Camera Holster
The Orbis Ring Flash
Crafted from durable ABS plastic, the orbis ring flash is lightweight, portable, and compatible with most flash units. It easily transforms the harsh light of an SLR flash into shadowless light while producing the characteristic ring flash look. When used off-lens and to the side of your camera, the ring flash becomes a softbox or beauty dish. The orbis ring flash has a suggested retail price of $199.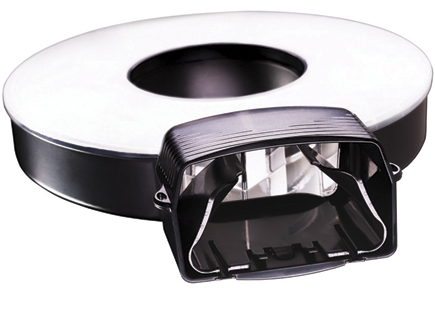 Contact: enlight photo, 375B Green Valley Rd., Griffin, GA 30224; www.orbisflash.com.

Adorama's Flashpoint "Q" Flash Accessories
Adorama's Flashpoint "Q" flash accessories kit was designed to be lightweight and easy to use. Said to be perfect for location or studio photography, the kit contains a 6" beauty dish reflector that comes with a silver deflector panel; an accessory pack that features one white and one gold deflector, a selection of honeycombs, three colored filters, and an extra diffuser; a snoot; and a diffuser dome. The suggested retail price is $149.95 or each item can be purchased separately at: www.adorama.com.
Contact: Adorama Camera, Inc., 42 West 18th St., New York, NY 10011; (800) 223-2500; www.adorama.com.

The Spider Camera Holster
The Spider Camera Holster was designed to eliminate the usual back, neck, and shoulder pain associated with traditional straps as the holster puts the weight of the camera at the hip. The device features all-metal construction and is able to accommodate even the heaviest pro-style cameras. The system includes the SpiderPro Holster, the Holster Belt, and the Spider Plate, which screws into the camera's tripod mount and allows you to shoot vertically using the standard grip. The retail price is $109.99.
Contact: Shai Gear LLC, 33 Forrest Acres Rd., Ithaca, NY 14850; www.spiderholster.com.
TAP's Packaging Solutions
Packaging Solutions allows professional photographers to create beautiful packages for finished albums and framed images. Available in two lines, Earthenware and Tonal Trends, the system includes coordinating boxes, ribbon, and tissue paper in a variety of colors such as bark, buff, slate, sky, lilac, citrus, and moss. The Earthenware one-piece boxes are available in 61⁄4x81⁄2x21⁄2", 51⁄4x71⁄4x1", 81⁄4x71⁄4x1", and 111⁄4x141⁄4x1" sizes. The Tonal Trends two-piece slide boxes are available in 4x6x3", 5x7x1", 8x10x1", and 11x14x21⁄2" sizes.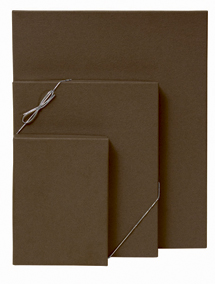 Contact: TAP; (800) 827-5679; www.tap-usa.com.

Mosaic Albums From Black River Imaging
Mosaic Albums are custom-made, featuring flush-mount pages and tight rounded corners to prevent damage. Divided into two categories, deluxe and exotic, the leather covers are available in a wide range of colors that include arctic white, dark chocolate, pumpkin spice, scarlet, and sunburst, plus textures that range from smooth to distressed to ostrich and crocodile. Creation is easy—simply use their software to upload your images, then design your own layout or use one of the pre-designed templates and the finished product is ready in a
few days.
Contact: Black River Imaging, 2525 N. Partnership Blvd., Springfield, MO 65803; (888) 321-4665; www.blackriverimaging.com.

The SteadePod From Cameron Products
The SteadePod is designed to take the place of a standard tripod or monopod. Compact, lightweight, and easy to use, it is especially beneficial when taking photos that require a long exposure, where the effects of camera movement are most noticeable. Designed for use with cameras and camcorders, simply attach the device as you would a tripod and extend the stainless steel cable, then anchor it with the foot pad to provide stability. Made in the U.S.A., the SteadePod weighs less than 4 oz and has an MSRP of $29.95.
Contact: Cameron Products, 4245 Pacific Privado, Ontario, CA 91761; (909) 923-7800; www.steadepod.com.
To submit information for "Roundup," please contact our New Products Editor by e-mail at: Cynthia.Boylan@sorc.com or regular mail at: Shutterbug Magazine, 1415 Chaffee Dr., Ste. #10, Titusville, FL 32780.

FEATURED VIDEO