Covering The Photo Beat; Customized Stamps, Storm Cases, And A Faux Brick Column
Customized US Postage Stamps From Zazzle.com
Zazzle.com is working in conjunction with the US Postal Service and Pitney Bowes to offer postage stamps that you can customize with your own images, company logo, website URL, address, or licensed images and text. Each sheet contains 20 1.5x2.5" stamps with current postal value. Contact: www.zazzle.com.
Customized US Postage Stamps
SLIK's PRO 500 DX Tripod
The PRO 500 DX tripod features SLIK's exclusive super aluminum-magnesium titanium alloy legs that provide 40 percent enhanced strength without adding extra weight. This makes the tripod able to support a professional-size digital camera and a heavy telephoto lens up to 300mm f/2.8. It also includes speed-release leg locks, a gearless center column, three-position, adjustable angle leg locks, and an all-metal three-way pan head with quick release. The addition of the optional short center column allows the tripod to be lowered to 15" for macro photography. Contact: THK Photo Products, Inc., 2360 Mira Mar Ave., Long Beach, CA 90815; (800) 421-1141. www.thkphoto.com
High Temperature Softbox From Norman
The Norman division of Photo Control Corporation has announced the introduction of their high temperature softbox. This 24" square softbox was designed for use with the Norman Allure C1000 Constant Light and mounts with the aid of the standard #BDAL Barn Door/Speed Ring Adapter. It is sold individually or as part of the Norman Allure C1000 one-, two-, and three-light kits. It comes with a travel pouch, snap-in inner baffle, removable front diffusion panel, and four flexible rods for mounting the unit to the adapter. Contact: Photo Control Corporation, 4800 Quebec Ave. N, Minneapolis, MN 55428; (763) 537-3601. www.photo-control.com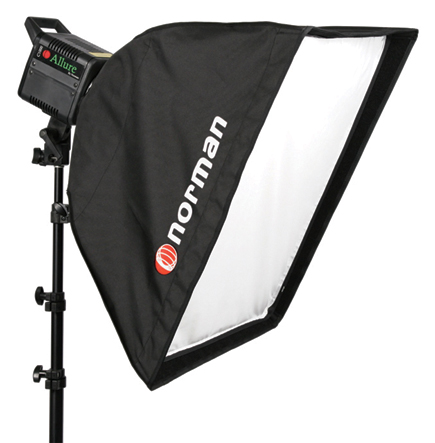 Norman high temperature softbox
Superior Mount Album From TAP
The Superior Mount line of photo albums offers bonded leather covers and library-style binding with ridged pages. The pages are covered with an edge-to-edge adhesive so photos are simply smoothed into position once the protective liner is removed. This line is available in various sizes that range from wallet to 10x10" and contain 10-15 pages. Contact: Taprell Loomis, 2160 Superior Ave., Cleveland, OH 44114; (800) 827-5679. www.tap-usa.com

LATEST VIDEO

SPONSORED VIDEO