Covering The Photo Beat: Cases, Tech Tables & An Advanced Compact System Camera
Nikon 1 V2 Camera
The Nikon 1 V2 camera is powerful and highly versatile. Features include a 14.2-megapixel CX-format CMOS sensor, an EXPEED 3A image-processing engine, a traditional grip with a new Command dial, a 73-point AF array, and a high-resolution 3" LCD display. The 1 V2 has full Auto/Manual controls and the modes include Enhanced Motion Snapshot, Best Moment Capture, and Advanced Movie. It is compatible with all 1 Nikkor lenses and the WU-1b Wireless Mobile Adapter. The suggested retail price is $899.95 with a 10-30mm kit lens.
Contact: www.nikonusa.com.
Tamron SP 70-200mm F/2.8 DI VC USD Lens
Tamron's new full-size, high-speed telephoto zoom lens is equipped with Vibration Compensation (VC) image stabilization and an Ultrasonic Silent Drive (USD). This compact lens is available in Canon, Nikon, and Sony mounts. It features one special Extra Low Dispersion (XLD) glass with four Low Dispersion (LD) elements to minimize chromatic aberrations. These elements combined with a new optical design that provides high contrast and high resolution throughout the zoom range achieves leading-edge image quality. The rounded diaphragm provides spectacular blur effects and the moisture-resistant construction prevents moisture from penetrating the lens. The suggested retail price is $1499.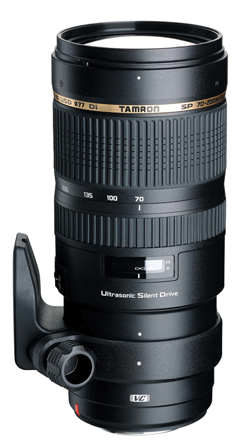 Contact: www.tamron-usa.com.
The Flex Lens Shade
Made from durable, waterproof, double-stitched ballistic nylon, the Flex Lens Shade measures 7x11", weighs 1.2 oz, and lies flat for storage. It easily attaches to any lens or lens hood with the aid of the included touch-tab strap and bends to any shape to block unwanted light or rain from your lens. The suggested retail price is $39.99.
Contact: www.flexlensshade.com.
BX2 Camera Case Collection
Brenthaven's BX2 Camera Collection features a range of designs from small and large shoulder bags to high-capacity messenger bags. Crafted from water-resistant ballistic nylon, this new collection offers many useful features such as pullout rainflys, tethered LED lights, comfortable carrying handles, padded shoulder straps, and durable hardware. The bags employ a unique protective padding called BX2 foam that absorbs shock to protect against impact and drops. The flexible organization compartments fit lenses, cameras, chargers, external hard drives, and more. They have a 100 percent lifetime guarantee and prices range from $39.95 to $179.95.
Contact: www.brenthaven.com.
SKB Professional Video Gear Cases
The SKB iSeries
cases are made from ultrahigh-strength polypropylene copolymer resin with stainless steel molded-in hinges, a trigger release latch system, and snap-down rubber over-molded cushion handles. They are waterproof and airtight with roller blade-style wheels, a locking pullout handle, and stainless steel locking loops for a padlock. They feature custom interiors designed to accommodate the Canon C300, Sony PMW-F3, JVC GY-HM750, Red ScarletX, and Panasonic HPX370. The combo case features removable foam blocks that can hold the Sony PMW-F3 or Panasonic AG-AC160PJ.
Contact: www.skbcases.com/ProAV.
Dougmon Handheld Camera Support System
Created for use with D-SLRs and video cameras, the Dougmon is small enough to fit in your camera bag and weighs just 28.5 oz, but can support cameras up to 5 lbs. It features an adjustable stainless steel friction ball head and a powder-coated stainless steel and aircraft aluminum sliding arm. Designed to mimic how the hand, wrist, and arm naturally work together, the camera rests on the ball head system held in the palm of your hand. The Dougmon's arm adjusts to fit your arm and is held safely in place by a padded cuff with adjustable straps. This design allows the camera to go wherever your hand or arm go so you can shoot high, low, or over your shoulder. It can also be used as a monopod. The industrial grade knobs and release straps allow for easy adjustments and the Delrin hard plastic handgrip was designed to reduce pressure points in the hand. The Dougmon is sold with a Manfrotto 577 style quick-release head for a retail price of $530.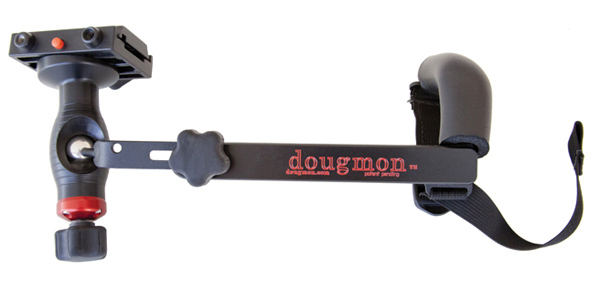 Contact: www.dougmon.com.
San Gabriel SemiGloss Fiber Paper
San Gabriel SemiGloss Fiber paper is acid and lignin free and features a lightly textured surface that brings back the look of traditional chemical darkroom fiber prints. The texture adds depth and reflectivity to the print. This warm-tone paper is ideal for landscapes and portraits while black-and-white prints benefit from the deep black density. The whiteness comes from a layer of special barium sulfate variant called blanc-fixe (permanent white). This inert material gives stability to the shade of the paper over time.
Contact: www.redriverpaper.com.
Air Flow Tech Table
Savage is now offering the Air Flow Tech Table tethered photography solution. The Tech Table line was created to easily incorporate a laptop or desktop computer into the workflow of photographers and videographers while providing versatility for tethered shooting and editing in the studio or on location. Simply connect the Air Flow Tech Table to a tripod and start shooting. Crafted from high-grade aluminum, this stable base features 45 ventilated slots that disperse heat and allow you to work without the danger of overheating the computer. Accessories can be easily attached with the aid of the table's patent-pending slotted design. This modular accessory connection method allows for a variety of configurations of numerous accessories to enhance workflow. Available in 15.75x18.5" and 14x16" sizes, the Air Flow Tech Table includes a durable carry bag and laptop secure strap. Savage also offers a tripod kit, mobile solution, and an all-in-one essentials kit.
Contact: www.savagepaper.com.

FEATURED VIDEO