Covering The Photo Beat; Battery Grips, Walkstools, And A Computer Sleeve
The ABR800 Studio Ringflash From AlienBees
The ABR800 is a self-contained ringflash system designed for use with nearly all digital SLRs. It weighs 2.5 lbs and has a built-in 320 ws power supply, plus a modeling light. It ships with a universal camera mounting system that allows you to use the ABR800 handheld or mounted to a tripod or a swivel light stand. Contact: AlienBees, a Division of Paul C. Buff, Inc., 2723 Bransford Ave., Nashville, TN 37204; (877) 714-3381; www.alienbees.com.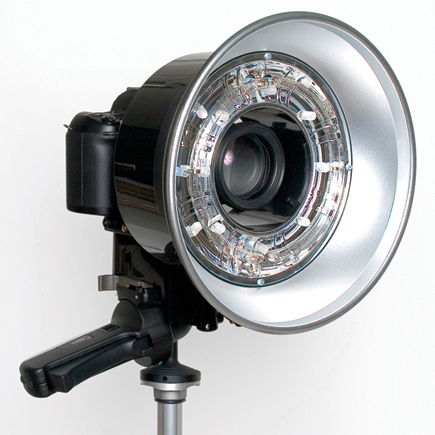 The Compact Lamination Kit From Purple Cows
Purple Cows is pleased to announce the introduction of their new kit. The laminating bed is 13" wide to safely accommodate images and papers up to 12" wide. The unit is heated and ready to use in 3-5 minutes. The starter kit includes 70 hot laminating pouches in 3x5", 4x6", 8x8", 8.5x11", and 12x12" sizes. The retail price is $69.95. Contact: Purple Cows, Inc. (3210 North Canyon Rd., Ste. 307, Provo, UT 84604; (877) 386-8264; www.purplecows.net) or Brandess-Kalt-Aetna Group (701 Corporate Woods Parkway, Vernon Hills, IL 60061; (800) 621-5488; www.bkaphoto.com).
Hahnel's BatteryGrips
R.T.S. Inc. has introduced Hahnel's BatteryGrips for use with the Nikon D50, D70, and the Canon EOS 30D cameras. The grip is said to offer better balance and improved camera handling with longer lenses. They come with one or two Hahnel lithium ion digital camera batteries and an adapter for six AA batteries for a back-up power source. Contact: R.T.S. Inc., 40-11 Burt Dr., Deer Park, NY 11729; (631) 242-6801; www.rtsphoto.com.
The Hadley Compact Digital Camera Bag
Billingham recently added a new addition to their line of camera bags. The Hadley Digital bag measures 8x9x4.5" and features adjustable touch fastener lined dividers. It's large enough to accommodate a Nikon D200 or Canon EOS-1D with a lens and flash. It is crafted from a durable nylon/cotton blend fabric and is available in many colors. The MSRP is $265. Contact: R.T.S. Inc., 40-11 Burt Dr., Deer Park, NY 11729; (631) 242-6801; www.rtsphoto.com.
The Walkstool From BKA
BKA is now offering the lightweight and compact Walkstool. It features telescopic legs with rubber feet to prevent it from sinking into soft surfaces. It offers two seating positions for maximum comfort and is available in three models. The WA18 Comfort L is 18" tall and supports up to 440 lbs; the WA22 Comfort XL is 22" tall and supports up to 495 lbs; and the WA26 Comfort XXL is 26" tall and supports 550 lbs. The Walkstool comes with its own storage/carry case. Contact: Brandess-Kalt-Aetna Group, Inc., 701 Corporate Woods Parkway, Vernon Hills, IL 60061; (800) 621-5488; www.bkaphoto.com.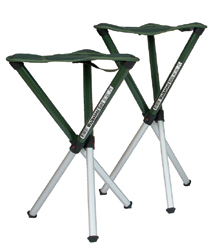 The OmniPod Camera Support
OmniPod recently announced the reintroduction of this versatile beanbag support. It features a built-in screwmount fixture and a non-skid base for stability and security. The OmniPod attaches directly to your camera, camcorder, or flash unit and it can even be used as a lens cradle. It provides a stable platform for studio or outdoor photography. The OmniPod is weather-resistant, durable, and rugged enough for professional use. Contact: OmniPod, PO Box 7174, Hudson, FL 34674; (813) 996-0784; www.Omni-Pod.com.
The OP/TECH USA Computer Sleeve
OP/TECH USA has introduced the Computer Sleeve. Crafted from soft and durable neoprene it protects your laptop from moisture, dust, and impact. There is enough room to include such accessories as cables and a power supply. The Computer Sleeve is available in two sizes, 15" and 17". Contact: OP/TECH USA, 304 Andrea Dr., Belgrade, MT 59714; (800) 251-7815; www.optechusa.com.

LATEST VIDEO

SPONSORED VIDEO
Testing Tamron's SP 150-60mm G2 lens while capturing birds and alligators in Apalachicola, Florida.