Covering The Photo Beat: Bags, Backdrops, Cleaners & Fast Lenses
HDR Backdrop Series
Denny Manufacturing is now offering a new line of High Dynamic Range-looking backdrops. Created on the advice of a loyal customer, these backdrops are certain to save photographers precious time while adding a new dimension in contrast to their images. From Sports to Outdoor themes Denny has a backdrop to fit your needs and style.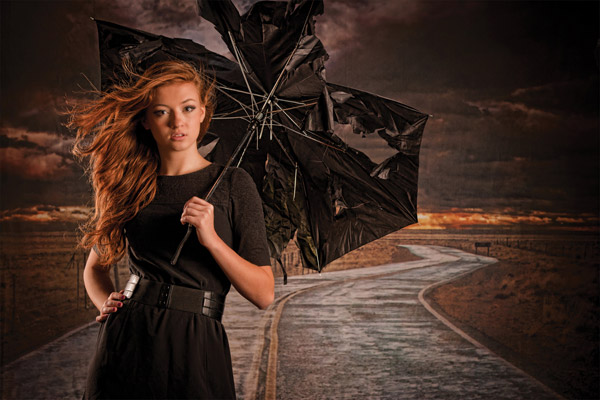 Contact: www.dennymfg.com.
The Booq Python Collection
Crafted from rugged ballistic nylon with a water-repellent coating, the Python toploader ($89.95) was designed to protect any size D-SLR camera with a large or small lens attached. It features dense padding all around with a removable padded divider and a removable seatbelt-nylon shoulder strap. It can accommodate flash cards, batteries, cables, and a phone that can be stored in the exterior side pockets or in the backside compartment. The Python courier bag ($179.95) can protect a large D-SLR camera with a lens attached and up to four more lenses. It features concealed interior pockets for flash cards and assorted accessories, a padded interior with dividers, and an exterior pocket with water-repellent zippers that is large enough for your iPad. Also available is the Python sling bag ($229.95) that can hold up to two D-SLR cameras, up to four mid-size lenses, one large zoom lens, a tripod, and an 11 to 13" laptop or iPad. The Python pack ($259.95) can hold up to two D-SLR cameras, up to four mid-size lenses, one large zoom lens, a tripod, an iPad or laptop up to 15".
Contact: www.booqbags.com.
LensPen OutdoorPro Kit
This kit includes a LensPen Original, MiniPro II, MicroKlear, and FogKlear in a compact nylon carrying case that fits on your belt. Use the LensPen Original and MiniPro II to remove dust, dirt, and fingerprints from your lens. The MicroKlear microfiber cloth is used to clean the housing of your digital camera, binoculars, or camcorder and the FogKlear provides strong anti-fog protection.
Contact: www.lenspen.com.
Messenger-Style Camera Bag
The new messenger-style camera bag from Midwest Photographic Resources is stylish and versatile. It measures 12x4.25x9" and features an adjustable shoulder strap with a removable shoulder pad, a padded interior compartment, five removable padded divider inserts, and two side pockets with elastic drawstring closures. There are two front touch-fastener pockets and one zippered front pocket under the flap, a double zipper interior closure, a touch-fastener closure flap, and one back zippered pocket. It is available in khaki green or charcoal black canvas and has a retail value of $49.95.
Contact: www.midwestphotographic.com/camera_bags.html.
GreenPix Photo Inkjet Matte Paper
Red River Paper recently introduced their GreenPix Photo Inkjet Matte paper. It is made from 100 percent post-consumer recycled content in a chlorine-free process. It is coated on one side with an inkjet receptive layer that traps ink for sharp detail and vivid color. This bright white paper can be used with any Epson, Canon, or HP inkjet printer.
Contact: www.redriverpaper.com/greenpix.
Sigma APO 50-150mm f/2.8 EX DC OS HSM Lens
Sigma is now offering the APO 50-150mm f/2.8 EX DC OS HSM lens designed for use with cameras featuring an
APS-C-sized image sensor. The Optical Stabilizer (OS) system allows you to use shutter speeds nearly four stops slower than would otherwise be possible. The six SLD glass elements compensate for chromatic aberrations and provide high image quality in the zoom range. The Super Multi-Layer Coating reduces flare and ghosting. The lens has a minimum focusing distance of 31.5" and a maximum magnification ratio of 1:6.3. The diaphragm has nine rounded blades that create an attractive blur to the out-of-focus areas of the image. The suggested retail price is $1099.
Contact: www.sigmaphoto.com.
Lensbaby Cleaning Cloth And Lenspen Pro
Lensbaby recently added the Cleaning Cloth and the Lenspen Pro to their line of accessory products. Crafted from deluxe silky-soft (80 percent polyester and 20 percent nylon) orange microfiber, the Cleaning Cloth measures 14x14". The Lenspen Pro measures just 5" long and cleans your optics without the aid of sprays, chemicals, or liquids. Both items are compact, hassle-free lens cleaning tools.
Contact: www.lensbaby.com.
To submit information for Roundup, please contact our New Products Editor by e-mail at: Cynthia.Boylan@sorc.com or regular mail at: Shutterbug Magazine, 1415 Chaffee Dr., Ste. #10, Titusville, FL 32780.

FEATURED VIDEO