Covering The Photo Beat: Bags, Backdrops, Apps & A Spark
Lensbaby Spark
Created for young photo enthusiasts, the Lensbaby Spark is a fun and affordable lens that offers Lensbaby effects for just $80. Made for use with Canon and Nikon D-SLR cameras, this 50mm f/5.6 lens features a multi-coated glass doublet and a focusing range of 13" to infinity. This manual focus lens offers a sharp sweet spot surrounded by soft blur. The Spark is compatible with the Lensbaby Optic Swap System and all of the Lensbaby 37mm threaded accessory lenses.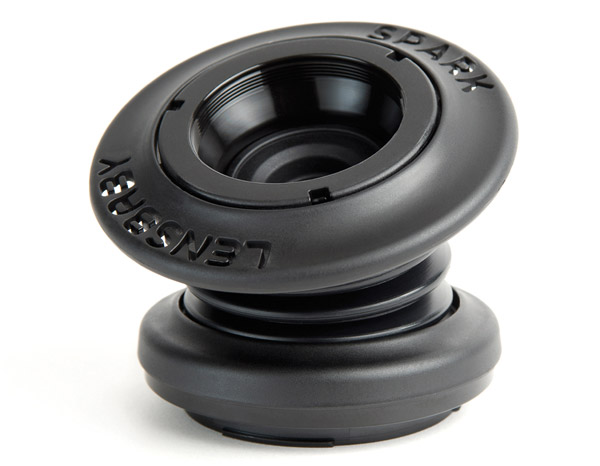 Contact: www.lensbaby.com.
LensPen SensorKlear Loupe
The new and improved SensorKlear Loupe features eight LEDs powered by two AAA batteries. Easy to use, this device was designed to fit standard and Four Thirds D-SLR cameras. Simply remove the camera's lens, place the Loupe on the aperture ring and turn on the light. The Loupe allows you to clearly see what you're working on. To remove stubborn dust particles insert the SensorKlear II pen through the access window on the side of the Loupe and clear it away.
Contact: www.lenspen.com.
M-ROCK Arches And Zion Gear Bags
The Arches (6030) and Zion (6070) are hybrid camera gear sling bags and backpacks. Although they differ in size they offer the same features, including horizontal dividers and a separate top compartment. The dividers can be configured for left- or right-handed users and extra dividers are also included. The Arches can hold a compact or regular size SLR camera with an attached lens measuring up to 6 1/2". The Zion can hold a pro size SLR with an attached lens up to 8" long. There is room on both sides of the lens to store more lenses and accessories. Both bags also feature a rear pocket for a notebook or laptop computer (Arches up to 13" and Zion up to 17"). The Arches bag has a list price of $36 and the Zion has a list price of $148.
Contact: www.m-rock.com.
The Photographers Stick
Available in a variety of wood choices and sizes, the Photographers Stick is handcrafted in Texas using only the finest materials and traditional techniques. Cleverly designed, the top of the stick unscrews to reveal a threaded monopod connection for your small point-and-shoot or larger model camera. Perfect for any outdoor photographer, the stick provides a stable platform for shooting in addition to making a long hike much easier and safer.
Contact: www.brazos-walking-sticks.com.
Denny Matte Color Vinyl Backdrops
Denny Manufacturing has added more colors to their Original Matte Vinyl Backdrop line. Their new Matte Color Vinyl is durable, easy to clean, and can be conveniently rolled up for storage. Available in sizes that range from 6x8' to 10x24', the line now includes additional color choices such as black, dark gray, light gray, chroma key green, and sky blue. Wood mounting is complimentary and includes touch-fastener straps on the top to keep the backdrop securely rolled up.
Contact: www.dennymfg.com.
Photobacks Signature Package
The Signature Package gives you the ability to easily and instantly customize your images with the aid of preset layered templates, textures, and various digital design elements to create unique portraits, photo books, cards, and more. Video tutorials are included and you can print your creations at any lab or share them online. The Signature Package includes over 60 portrait templates, three sets of photo book layouts, four sets of card templates, a multi-page magazine layout, photo overlays, calendar templates, and much more. It works with any version of Adobe Photoshop CS or Elements and can be instantly downloaded upon purchase from the Photobacks website.
Contact: www.photobacks.com.
StickyAlbums App
In an effort to better use social media and word of mouth to generate new business for photographers, StickyAlbums is now offering a platform that enables pros to create branded photo album apps. This slide show app can be saved on the client's home screen and runs on iOS and most Android devices. The app allows the client to share the images on Facebook, Pinterest, and Twitter. Your work is now available to the client's friends and family and this image sharing can turn into more referrals for your business.
Contact: www.stickyalbums.com.
Submit!
To submit information for Roundup, please contact our New Products Editor by e-mail at: Cynthia.Boylan@sorc.com or regular mail at: Shutterbug Magazine, 1415 Chaffee Dr., Ste. #10, Titusville, FL 32780.

FEATURED VIDEO