Covering The Photo Beat; Backdrops, Bags And Satchels, Plus A Camera Stabilizer
Tamron's SP AF60mm F/2.0 Di II Macro Lens
Tamron's 60mm Macro lens is designed for use with Canon, Nikon, and Sony D-SLRs. It measures 3.15x2.9" and weighs just 14.1 oz. The SP AF60mm F/2.0 Di II LD (IF) Macro 1:1 lens covers an equivalent angle of view of 93mm when converted to 35mm format and offers a maximum aperture of f/2.0.

Contact: Tamron USA, Inc., 10 Austin Blvd., Commack, NY 11725; (800) 827-8880; www.tamron.com.
The Tyler Minigyro Camera Stabilizer
The Minigyro, the latest camera mount by Tyler Camera Systems, is designed to fit in any size helicopter and also works effectively in cars/trucks, boats, and planes. The device is handheld and features variable position handles, a quick-release mounting plate, an adjustable tilt head, and a shock tube to eliminate vibration. It requires no installation time and weighs 21 lbs.

Contact: Tyler Camera Systems, 14218 Aetna St., Van Nuys, CA 91401; (800) 390-6070; www.tylermount.com.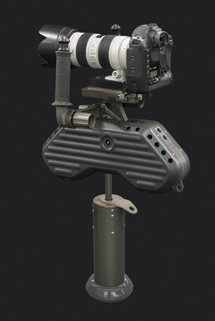 The Black Label Collection From Tenba
Tenba's Black Label collection consists of premium-quality equipment bags and satchels. Created with the professional photographer in mind, the bags are constructed of ballistic nylon and open-cell foam to offer the most protection and durability. They also feature movable padded dividers and pockets to store assorted accessories. The collection currently includes two pro-sized camera bags and three slim photo satchels. Prices range from $114.95-$179.95.

Contact: Tenba, 8 Westchester Plaza, Elmsford, NY 10523; (914) 347-3300; www.tenba.com.
Digital Foci's Image Moments 6 Digital Photo Frame
Digital Foci has introduced their Image Moments 6 high-resolution LCD digital photo frame. It offers 450MB of internal memory, an automatic Slide Show mode, a full-featured remote control, and an automatic on-off timer, plus it supports both audio and video files. The frame accommodates most popular types of memory cards and is compatible with both PC and Mac computers.

Contact: Digital Foci, Inc., 3111 E. Via Mondo, E. Rancho Dominguez, CA 90221; (888) 669-3624; www.digitalfoci.com.
Unibind's Smart Calendar
This product offers you an easy way to create a personalized calendar at home without the aid of any special equipment. The Smart Calendar guide tray provides perfect alignment of your print and the adhesive permanently seals all paper types to produce a high-quality product in very little time.

Contact: Unibind, Peleman Industries Inc., Wills Rd. 11820, Ste. 100, Alpharetta, GA 30004; (800) 864-2463; www.unibind.com.

FEATURED VIDEO