Common Ground
The Photographs Of Don Gurewitz
There is an awareness of what is beautiful to Gurewitz's subjects. In one image of a pomegranate vendor from a tiny village in India, a woman sells her carefully arranged products on a blanket and old newspapers she has spread on the ground. She can't afford a stall or a little bench to hold her wares. There is a quiet pride in the picture and a sense of beauty in the pomegranates and in her colorful clothing and bracelets.
Photos © 2002, Don Gurewitz, All Rights Reserved
Don Gurewitz came to his career in photography through the back door. He was a college rabble-rouser, a political activist, and a union spokesman working as a machinist at General Electric. He taught himself to photograph in the mid-80s while investigating labor issues in Central America during the civil war in El Salvador and Nicaragua. When community groups around the country invited him to speak about what he had seen, Gurewitz decided they needed to know from both a philosophical and artistic standpoint.

From traveling abroad and speaking engagements Gurewitz amassed a huge number of frequent flyer miles and in the late '80s, when the downsizing began at GE, Gurewitz was intermittently laid off. He turned his lemons into lemonade. Here was the ideal opportunity to travel the globe. To date he has visited between 50 and 60 countries and regions on five continents, his main stops being Africa, Asia, and Latin America. He used his camera to document what he saw and felt. He did it intimately and candidly and the images, though provocative, were never patronizing.
"If you look at my pictures of rice farmers in Bali, the terraces are like green living sculptures. Here is where these people have learned how to grow their rice. The scene takes your breath away and their creativity, ingenuity, and sense of beauty is expressed in the rituals of their daily life. As a photographer I am energized when I am there and ultimately aware of their strength of character, generosity of spirit, and their relationships with each other and the world," Gurewitz says.
A Life Of Its Own
"My photography began to take on a life of its own," he says. "It started out as documentary but has become something else. I still shoot 35mm slides and when I come home there are 40-50 slide lectures lined up for university groups, photography clubs, and even retirement villages. Some pay well--others pay nothing. My pictures have something to say. They are never posed and some of the most gripping images are of people seen from the back. I rarely use a tripod or artificial lighting and usually carry a standard 50mm lens. I rest my camera on a rock, a tree, or somebody's back. Mostly I use a 28-300mm lens and these are handheld. I have a steady hand and shoot with the Canon 1N.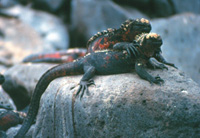 Then there were the game parks in Africa and the Galapagos--"Now, that's another whole shtick," Gurewitz says. "I loved shooting the iguanas, particularly a couple of iguanas, one with his leg over another. It could have been captioned, `Hey whaddaya say--let's go have a beer.'" Title, "Iguana Buddies."
"I also carry a Canon EOS 630 as a back-up since I am rough on cameras and something is usually broken from the grit and moisture where I travel. Some places are so humid and, though I am careful, my equipment freezes up from all the moisture. On a trek to the Tibetan kingdom of Mustang, where a fierce wind blows through the gorges of the Himalayans, I was hiking with a sandblaster at my back from 10 in the morning until the sun went down. I went through three cameras on that trip."

Over the years Gurewitz has produced a body of work in China, Tibet, India, Italy, Mali, and Vietnam. People have begun to purchase his large Giclee images from his numerous exhibitions and he was recently invited to join the prestigious Panopticon Gallery in Waltham, Massachusetts.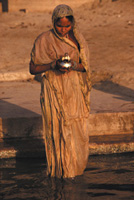 The image "Morning Prayer" was shot in Varanasi, India, the holiest city in the world for the Hindu religion. Each morning the entire city comes to the banks of the Ganges River to brush their teeth, wash their clothes and themselves. The river is wide and dirty and Gurewitz would rent a boat to go down the river as the sun rose. "It was perfect," he says. "The sun was at my back and all the action was on the other side of the river. I was shooting with a long lens balanced on the side of the boat, 400 film in low light. A woman was praying, holding her silver vessel of water. She was beginning her day and this spiritual moment had a serene, prayerful quality in the morning light, the long yellow rays enhancing the mustard colors in
her garments."
A Citizen Of The World
Gurewitz is not solely a travel or documentary photographer. His work is not reportorial. Rather, he is a citizen of the world who shares the experiences of ordinary people in far-off places and shows us their daily life. Though they are poor, he does not see his subjects as victims. "They have a harder existence than most people in the West could imagine," he says, "but I want to show how they get through life and maintain their dignity and how they express themselves without any kind of formal education. These are people like me who were born in other circumstances. It is amazing that they find a way to stand up straight and present their children to you with pride, even though they are unschooled. This is what I am trying to share in my pictures. I am not trying to preach and there are no political agendas here. This is their life. I have traveled to places where people are still animists. They still find spirits in the rocks and sky and the clouds...
In another exquisite image, "Jazz," Gurewitz photographed a small marketplace in Mali. The subjects were Dogon people, among the most isolated groups in the world, who live along a 1000-mile high cliff in the middle of Africa with no roads or electricity. They trade at a weekly market. Little money changes hands. It is cloth for grain, meat for metal knives, or cattle for the catch of the fishermen. It is also an important social event. "This was sensory overload," says Gurewitz, "and I shot it like I saw it, watching people arrive, women selling food they had prepared, others drinking local beer made out of millet. I try to approach what I am shooting from many angles. I walked around the market, leaving and re-entering the site several times, sometimes even climbing a tree for a better viewpoint. It was like a colorful puzzle where I tossed all the pieces in the air and they all came down. I knew the scene was coherent but I had to really focus to get it. I stayed open long enough because I wanted the depth of field in that shot to show that this riot of color went on endlessly. Other shots focused on transactions and how the guys gathered around the barbecue pit--just like here. The women were doing all the work and the guys were eating meat and drinking beer. All that was missing was a Patriots game on TV."
"Photography has changed me. It is an expression of an esthetic and a broad social outlook rather than a narrow political one. I see farmers plowing and factory workers as wonderful color photos. I'm impressed people are selling fish they have just caught from the river and they have it displayed like an Escher painting. I am not looking for any kind of gritty social commentary but rather an appreciation of life."

Gurewitz rarely asks anyone if he can photograph him or her. He participates in a scene, keeping his camera prominently slung over his shoulder. He is too big not to notice. "I go to the stalls in a marketplace and make gestures like `What is this?' and `Can I taste this?' and people give me hot chilies and laugh when the tears fall down my cheeks. I try to be a person first and when all the merchants and shoppers have seen me as part of the scene, I start shooting.

"There are always people who don't want their picture taken and I hesitate a second to see if I am gestured at. Then I won't shoot. (You should see the ones that got away.) After all, if the picture were an act of rape there would be something wrong with it. It would not be beautiful."

LATEST VIDEO