For The Cause: Using Your Photography For A Purpose
Since the development of photography in the early 1800s, there has always been a strong tradition of photographers using their work to promote conservation and social justice issues. One need only to look at the development of the National Park System in the United States to see the impact early photographers had on conservation. William Henry Jackson, with his 1871 Yellowstone photographs, helped push through legislation that established Yellowstone as the world's first National Park. Another well-known example of a conservationist photographer was Ansel Adams, whose tireless efforts both as a photographer and as a 37-year member of the Sierra Club's Board of Directors led to the establishment of Kings Canyon National Park in 1940.
The International League of Conservation Photographers (iLCP) was established in 2003 by Cristina Mittermeier in an effort to better connect photographers with each other and with environmental and cultural issues. The iLCP organizes photo shoots around the world that bring together groups of photographers in "Rapid Assessment Visual Expeditions" or "RAVEs" to photograph specific locations or cultures under threat. These RAVEs are a way to quickly create bodies of work that can be used by local grassroots and nonprofit organizations to promote immediate, positive changes. While the iLCP helps to organize the RAVEs, their goal is to make the resulting images available to the appropriate organizations in order to bring visual awareness to their cause.
So how does this lesson apply to those photographers who may not be as well known as Ansel Adams? Though the iLCP does have an impressive list of professional photographers to go with the causes it supports, the reality is that most social or environmental change throughout history has happened first at the local level. A photographer does not need to be famous in order to promote these local causes. Once photographers are willing to show their work in public, then what is to stop them from showing it to local organizations? Certainly, many large national organizations have the money to hire the Frans Lantings of the world to shoot for their causes, but there are actually a larger number of smaller organizations starving for quality images to represent their issues.
The first step in becoming involved locally is to find out what organizations in your area are working on issues you care about. These groups can be anything from the local animal shelter to your church or school, the homeless shelter, or a stream conservation group. The key is to remember this is a wdonation of your skill, so find a cause that you are not only willing to support long term, but one that will also offer engaging photographic material to keep you interested in shooting. Are you already involved in an organization, but the quality of their current photos makes you groan? Offer to help this organization by donating your images or editing skills.
Once you have chosen a cause, it's time to talk with the people in charge. But approaching an organization for the first time can be intimidating if you have never worked with editors before. One way to reduce your anxiety is to prepare before you contact the organization. Stack the deck by having several great images to offer during your first introduction. It is much easier to be accepted and trusted in an organization when the decision makers see real examples of your ability rather than just ideas of what you "could" do for them.
Over time, as you develop a larger portfolio of work and connections, it is easier to be taken seriously by new organizations. It's sort of ironic that you must be published/known in order to get published/known. But by starting with smaller organizations, your work will have a greater chance of being used and this will help you overcome the issue of being unknown. When starting out as a photographer with a cause, there is a huge benefit to having your work published by as many small organizations as possible. Not only will you be supporting something you believe in and possibly make a few print sales but, more importantly, these connections often lead to other organizations asking for your help as well.
In my own experience as a landscape/adventure photographer, I first got involved with a local stream organization called Friends of Deer Creek, helping them with images for a restoration project. Over time, this led to my being used by the Sierra Nevada Conservancy in the California State Legislature to promote their conservation efforts in the Sierra Nevada Mountains. Even more recently, my relationship with the Sierra Nevada Conservancy has led to my being asked to submit images for an upcoming National Geographic map project on the Sierras. So in the end, my involvement with a local stream organization not only helped them illustrate their grant applications and restoration projects, but it also ended opening the door to National Geographic.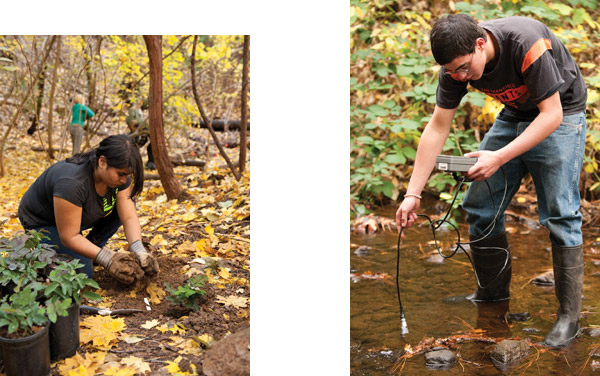 So if you have no more room to hang your gorgeous prints on the walls of your living room and are ready to "find a cause" for your photography, search out an organization doing good work and do some good work as well. On a small scale, you can follow the iLCP's example by having a local "RAVE" and creating a new body of work to support your chosen cause. Not only will you be creating positive change in the world around you, but you never know where a small project might lead you.
Author Bio
Josh Miller is a photographer, writer, and environmental educator based in Northern California. Miller has worn many hats, including professional naturalist, outdoor guide, and science teacher. Along with teaching photographic workshops throughout the West, his images continue to appear in publications throughout North America. You can see more of Miller's work at: www.joshmillerphotography.com.

FEATURED VIDEO