Case Logic
A Convenient Way To Protect And Carry Equipment
CPS-40 (left) and CPS-50 (right) cases are just large enough to hold one small point-and-shoot 35mm or APS camera plus a spare roll of film in the side mesh pocket. The elongated CB-3 bag in the middle has a unique self-storing rain cover which is shown resting on the top but can enclose the entire bag.
Case Logic is a relatively new brand name you will often find on prominent display at many different photo and mass merchandise stores catering to photo and electronic enthusiasts. After looking over a sampling of eight of their many different products, we can vouch that they really are worth looking for when you need a convenient, protective case for your photo equipment.
Case Logic has long been an industry leader for storage items for audio and computer accessories. They feature a full line of storage products designed for diverse types of home oriented and portable items such as compact disks; CD-ROMs; cassettes; DVDs; portable electronics; desktop ergonomics; notebook computers and pocket PDA equipment; computer accessories; and automotive accessories. This is all in addition to many photo/video oriented cases of primary interest to our readers. Glancing through their catalog and the brochures that came inside the sample bags we looked at, it appears that they have a protective case or bag designed specifically for most every type of portable item you might own.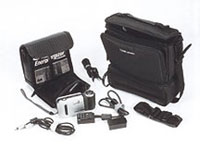 The DC-70 bag easily carries a digital camera along with the extra cables, batteries, or rechargeable battery pack that are imperative with this type of camera. Note how the Case Logic cable ties keep the digital camera accessory cords neatly tied together. On the right is the CBV-11 mid size, dual compartment camcorder bag with a detachable accessory pack on the bottom.
Today it is estimated that 75 percent of camera owners have point-and-shoot cameras in a wide variety of brands and sizes. In order to offer a broader sampling of cases for this huge market, Case Logic has recently expanded their line of cases to four different models. These cases start with the small CPS-40 model measuring 5x3.75x1.75" deep that comfortably holds one small APS or 35mm camera. It has a mesh pocket for a spare roll of film, a webbing combination belt loop carrying strap, and a slide slot for the camera strap. A slightly larger model that includes a detachable adjustable shoulder strap is the CPS-50 (3.75x5.7x2.5"deep), which also has a side mesh pocket for a roll of film. These two cases have a Manufacturer's Suggested Retail Price (MSRP) of just under $8 and $12 respectively.
The latest version of cases for this type of camera is the CPS-60 which measures 3.14x5.51x3.4" deep. It has a large exterior zippered half-length pocket in front, a detachable 1" wide shoulder strap with metal hardware, and a convenient hand loop that also serves as a belt loop but can be detached when desired for easier carrying. A bit larger yet is the CPS-70 which measures 3.54x6.29x3.7" deep and has nearly identical features except it has a much larger full-length front zippered pocket. All of these cases are made of durable Koskin material, which has the look and feel of soft leather at a very reasonable cost. They are weather-resistant and have thick foam padding to protect the contents. The two new model cases carry a MSRP of $13 and $16.
Although designed primarily for small camcorders, these two bags can also easily hold a small AF SLR, an extra zoom lens, and shoe mount flash plus many smaller accessories. On the left is the large DBV-25 with eight outside pockets beside the smaller CBV-10 with front flap storage plus end mesh pockets.
All of these compact cases have smooth stitching, welt seams, and a smooth operating zipper which has an elongated pull tab for easy opening and closing. They appear to be carefully assembled with attention to detailing and should hold up for a considerable amount of use. They provide padded protection for users just carrying one small camera plus a spare roll of film.
Another unique model is their CB-3 (4x7x2.75") which is made of nylon material, has a long expandable vertical pouch suitable for larger compact cameras having a zoom lens, a full-length front pocket plus a loose mesh side pocket large enough to easily hold two extra rolls of film. It has a 3/4" wide detachable shoulder strap with plastic snap hooks. What sets this case apart is hidden inside a zippered rear pocket. It is a pullout rain hood, which can cover the entire case in inclement weather. A webbing loop on the back has a snap fastener for when it is used as a belt loop or if it is unsnapped, it can be used as a carrying handle. MSRP is just $12. In addition to larger compact cameras, this case is also recommended for carrying binoculars, personal stereos, and handheld games. Two other smaller models of nylon cases are also offered.
There are several sizes of digital camera bags also made of leather-like Koskin material featuring internal padding plus water-resistant panels to protect the bottom of the cases, detachable shoulder straps, and a belt loop strap on the back. Models DC-40 (3.5x5.5x2.5" deep) and DC-50 (3.75x7x3" deep) are just large enough for a small digital camera plus they have a zippered back pocket for small accessories such as flash cards, cables, spare batteries, etc. The larger DC-70 (6.75x6.5x3" deep) model we obtained is a full-size case capable of carrying and protecting a digital camera plus a number of accessories. It has a zippered fold-down front pocket with mesh lining divided into two compartments next to the case while the fold-down front also has a mesh cover with a zipper so its contents cannot fall out when it is loosened. The top of the case is secured by a hook and loop closure. MSRP for the three digital camera bags are $12, $17, and $25.
Camcorder Cases. Five versions of camcorder bags--which also can be used for carrying smaller 35mm SLR cameras plus a few accessory items--are shown in the Case Logic catalog. All of these bags are constructed of rugged nylon combined with thick foam padding for excellent protection of the contents. They each have zippered shallow front accessory compartments, a carrying handle on the top, and an easily removable, 11/4" wide mesh shoulder strap. Removable padded dividers make it simple to customize the spacious interior to accommodate various sizes of video or still camera equipment. The fold-down flap front compartments all have mesh pockets suitable for holding videocassettes, film, filters, or spare batteries. Several models also have an expandable mesh pocket on each end suitable for holding several rolls of film or similar sized items.
The largest nylon covered model CBV-12 camcorder bag (13.5x9x7.25" deep with a MSRP of $45) also has two large end pocket compartments with weather-resistant flaps on the front and end pockets. Model CBV-10 (9.75x7x7.25"deep; MSRP $35) has removable padded dividers that can be positioned anywhere inside the bag, outer mesh pockets, and a zippered, fold-down front pocket. It easily held my VHS-C camcorder plus extra tapes and battery or a 35mm SLR, extra zoom lens, filters, and instructions in the front pocket plus a number of rolls of film in the end mesh pockets. Two smaller nylon covered models are also offered.
Model CBV-11 (10.5x10x4.25" deep; MSRP $40) which we obtained a sample of is rather unique as it is a dual compartment case with a detachable accessory pack on the bottom. The bottom pack can be easily removed and left behind, or in the car, when the contents are not going to be needed immediately. It is securely attached to the base of the larger primary bag with a wide hook and loop fastener strip plus there is an extension of the webbing, which goes underneath the bottom pack to provide extra security. Hook and loop fasteners on each end of the webbing hold it in place but is easily loosened and removed when you want to detach the bottom pack. A double-pull zipper flap gives wide access to the interior of the pack. Since the primary bag is moderate in size with the pack detached, there is a belt loop on the back so it can be conveniently carried at your waist. I found this to be a very practical and convenient bag to use. My Panasonic VHS-C camcorder plus several spare tapes fit into the top portion while the less often needed battery charger and VHS VCR playback adapter could be stored in the removable base section.
The CBV-25 camcorder bag (16x7.25x7.75" deep; MSRP $45) for mid size items is covered with leather-like Koskin on the top, front, and back but has wear-resistant nylon mesh protection on the bottom. Strategically located around the spacious bag are no less than eight accessory pockets. There is a zippered shallow pocket in the front flap, a long, flat slot in the rear for instruction books, a mesh pocket inside the top cover, and the side pockets each have an outer mesh pocket suitable for smaller thin items such as videocassettes, film, and filters. Thick, padded interior dividers consist of one full-length divider plus another with a "V" notch for cradling a long lens. The carrying handle is wider and thicker for more comfortable carrying of the potentially heavier contents. Slightly smaller is the mid size CBV-20 bag with oversized end pockets and a large front pocket. It measures 15x8x8" deep and has a MSRP of $40. Smaller yet is the CBV-15, which has a long zippered front pocket but only expandable mesh pockets on each end for small items. It measures 11x6.75x6" deep and has a MSRP of $35. These CBV bags would easily hold a VHS-C or 8mm camcorder or smaller autofocus SLR plus some accessories.
Anybody having a computer, stereo system, or studio flash equipment well knows the problem of keeping all of the various connecting cords and cables organized and manageable. Case Logic has a practical solution for this problem, also. They offer a line of self-attaching hook and loop cable ties in two lengths. CT-6 consists of six 6.75" long ties in assorted colors with a MSRP of $4. Model JCT-4 (MSRP $6) comes in a pack of four 19.5" long jumbo ties, also in assorted colors. These ties are simple solutions to neatly organizing a messy problem.
Practically all new cars today have a multitude of cup or beverage holders plus door or back of front seat pockets for maps and similar small items you sometimes need while driving. But, if you have an older vehicle, or need more storage space for a clutter of small items, Case Logic has an answer for this problem, too. They have glove box, trunk, console, and back seat organizers. They also offer several sizes of tape and CD cases plus several models of CD visors to safely carry from four to 10 CDs in soft protective slots on the sun visor. A particularly novel but very practical item is an ATB-10 Litter Chute (MSRP $20) that fastens to the back of a seat, has a self-closing lid to keep the litter contained, and a bottom opening for easy removal of the litter when you get to a trash drop or recycle facility.
We obtained a sample of the ABS-10 Back Seat Organizer (MSRP $10) to try out. It is made of durable black nylon material, and is easy to attach via the front seat headrest, where it's then secured tightly at the bottom with ties. It has several multi-purpose pockets. There is a covered plus an open mesh full-length pocket for magazines or newspapers, a zippered lower pocket for smaller items, a tissue dispenser with a slot for easy removal of one tissue at a time, and a very practical umbrella slot. This made it easy to keep small items together and off the back seat. A larger ABS-20 version (MSRP $25) has a fold-down tray which provides a small shelf for use by a back seat passenger and there are two trifold drink holders along the bottom for those ever multiplying soft drink cans or cups.
The Case Logic trademark is "Storing the Digital World" and their wide variety of products certainly fit this description to a "T." Their well made products all have a lifetime warranty and surely should be seriously considered when you next look for protective storage covering for your photo, digital, or video items. The quite reasonable suggested retail prices coupled with attractive styling make them an excellent value. If you cannot find these products at your favorite store, you can obtain brochures by contacting Case Logic Inc., 6303 Dry Creek Pkwy., Longmont, CO 80503; (800) 925-8111; (303) 530-3800; fax: (303) 530-3822; www.caselogic.com.