Canons f1.0 USM
A Super Speed Lens
With Provia 400F pushed to one stop, this night scene was photographed wide-open at 1/30 of a sec.

Photos © 2001, Stan Trzoniec, All Rights Reserved
Ever since I started in photography I was enthralled with the virtues of good, clean available light photographs. After high school my graduation present was a Heiland Pentax complete with an f/2 lens. Combining that with Tri-X film--then rated at ASA 200--and a Gossen Lunasix meter, my low-light candids really started to improve. However, being human I wanted that Nikon f/1.1 lens that, at that time of my life, was only available as a very costly option on these now legendary rangefinder cameras.
Technology and times change, and photographers have never had it so good. At the last PMA show while checking out the wares at the Canon booth, I had to stop short when among all those optical products a rather pudgy lens really stood out. Inquiring further, the representative gladly took it out of the case and handed it to me. Much to my chagrin it was a 50mm f/1.0 lens, complete with an ultrasonic motor.
The last time I even came close to physically holding anything close to this was when I enrolled in the Leica school in Wetzler, Germany, while in the service for what I believe was a three-day blitz in German high-grade cameras and optics. Then, and again I'm testing my memory, they showed us an f/0.85 lens used for the sole purpose of data recording. Now that was a lens.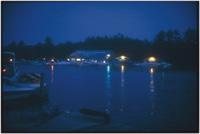 Believe it or not, this evening lit scene was photographed about a half hour after sunset. Handheld, wide-open with Provia 400F film pushed to ISO 800.
Sometimes it's really hard to get turned on by a plain-Jane 50mm lens. Experts tell us that the 50mm lens is just about right for all-around shooting. Lens makers drive the point home further by making them in such great numbers that even for an f/1.4 version the price is right. Camera manufacturers still like to sell their camera bodies with this 2" optic and for the most part it equals or comes close to the angle seen by the human eye. Is it really best for most situations? Well, maybe€
Right off the bat I'll tell you that I don't even own a 50mm lens except within the range of a very common zoom like the 28-70mm. The 50mm seemed too mundane, too staid, too everything else.
That is, until this Canon 50mm f/1.0 came across my desk. Currently, this is but one of two f/1.0 lenses presently out there. Leica makes the other one for its M-series. Nikon has its famed manual focus f/1.2 Noct and Olympus rallies with its own f/1.2 version. If only Eisenstadt or Cartier-Bresson were here to see it all.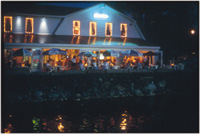 By using daylight film at night, colors seen normal by the naked eye take on a new look when shot at dusk.
Overall Impressions
Why all the hoopla about a 50mm f/1.0 lens? Well, for one thing, as compared to a more germane f/2.0 lens, you gain an additional two full stops of light and from the more common f/1.4, one full stop.
While you might think it's not such a big deal considering the financial outlay, my first roll of film shot with the lens showed the advantage. After making some casual outdoor photographs with Kodak Ektachrome, I finished the roll with a few candids of my wife doing the bills. Although the color is off--I was using daylight film under tungsten conditions--I photographed her in a moment of thought at 1/30 of a sec wide-open at f/1.0. The big deal was that I only had ISO 100 film in the camera!
Physical makeup of this lens is indeed impressive, and becomes even more so when you place it on the camera and around your neck. The complete package--lens, shade, EOS-1 V, and its power booster--comes to 51/2 lbs. Hefty for sure, but manageable especially when it comes to low-light situations. Braced on anything solid like a wall, light post, or a table, the extra mass of the entire assembly helps to secure clear, sharp photographs even at the slowest of shutter speeds.
Looking for photographs at night is a very different experience. Note the glow of the sky and the car on the road. Exposure here was 1 1/125 of a sec at f/1.0.
At 2.2 lbs the lens contains 11 elements in nine groups, has a minimum aperture of f/16 and, considering its outer diameter, uses filters with a 72mm diameter. Those trying to standardize on one filter size will find that other lenses in this elite "L" class, like the 20mm f/2.8, 85mm f/1.2, 135mm f/2, or 200mm f/28, share the same filter size. Two aspherical elements help to promote ultra-sharp images.
More And More Features
Naturally a lens of this pedigree demands other features worthy of more than a passing glance. For instance, a USM (UltraSonic Motor) has been integrated to provide quick response and lock on focusing capabilities for crisp images even at close to wide-open apertures. Canon was the first to utilize such a feature and to this day is extremely proud of its popular innovation.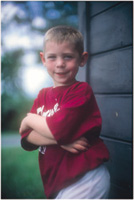 For informal portraits, this example of my grandson shows a mild softness and severely out of focus background. Wide-open, this lens is hard to beat for such a task.
If conditions demand, you can touch up any focusing defect that may not have been within the selective focus grids by merely tweaking the lens by hand. For those who might want to work from a static position (e.g., tripod) the lens does contain a manual/autofocus switch on the barrel in addition to a limit switch that helps you select two predetermined distance settings. Canon has thoughtfully included f/stop marks on the barrel next to distance scales in both feet and meters.
In The Field
To test the lens I used a wide range of film in a variety of lighting conditions. Starting at our baseline of f/1.0 the lens was understandably a touch on the softer side, obviously suffering from any help from depth of field to help sharpen the image. By f/2.8--just three stops from wide-open--the lens really started to shine. The corners were starting to come in and the center began to tighten up appreciably.
On a scale of 10, I'd peg either f/4 or f/5.6 as the prime hot spot of this lens for all-around, general photographic duties.
But what if you purchased the lens for its f/1.0 capabilities? The advantage here is obvious--any image is better then none at all. For instance, one night in Maine using aperture priority, I opened the lens to its widest point (f/1.0), loaded up with Provia 400F and set the ISO to 800, a one stop push.
No, don't even think about it! Because of design differences the lens and extenders are not compatible.
Walking a- round a favorite nighttime spot I watched intently as the shutter speed went from a 1/30 of a sec to 1/2000 as the light and subject matter changed. From right after sunset to about two hours or so into the night, this lens proved itself over and over again by providing me with not only the ability to capture low-light images but to do it with amazing consistency. With another lens of lesser speed, a tripod would have certainly been necessary.
With all the positive attributes are there any negative vibes in this report? Yes, and it deals with the Canon extenders. Both the 1.4x and 2.0x incorporate a lens extension that extends back from the host and the 50mm f/1.0 has a flush rear element. Thus, the two shall never mate. Pity, for visions of a 70mm f/1.4 or a 100mm f/2.0 were always dancing around in my head.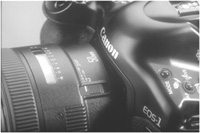 For operator convenience there is a limit switch and depth of field scale on the lens barrel.
So who will reap the benefits of a lens like this? Professionals dedicated to the art of photojournalism now have an exciting tool that will never quit, no matter the light. Layman photographers into available light work can put it to good use in self-assignments, casual candids, and family outings where one lens can handle it all. It's expensive, with a street price of around $2530. But if a lens like this is in your blood, go for it!
For more information, contact Canon at (516) 328-5000 or on the web at www.usa.canon.com.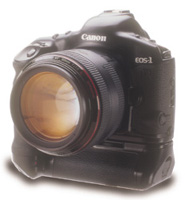 Attached to Canon's famed EOS-1 V, this 50mm f/1.0 lens is one formable piece of glass slated for heavy available light work. Checking in at 2.2 lbs, the complete package --EOS-1 V, lens, and shade--now comes to 51/2 lbs.
Focal Length: 50mm
Maximum Aperture: f/1.0
Lens Construction: 11 elements, nine groups
Picture Angle: 40, 27 minutes
Focal Length Scale: 50mm only
Distance Information: Lens to body
Focusing: Ultrasonic Motor
Aperture Scale: f/1.0 to f/16
Minimum Aperture Lock: Internal
Diaphragm: Eight blades
Filter Attachment Size: 72mm
Size: 3.6x3.2"
Weight: 2.2 lbs
Street Price: $2530

LATEST VIDEO

SPONSORED VIDEO