Canon PowerShot G5; Opening The Door To Raw Processing Power
As full featured 5+ megapixel cameras are becoming quite common, a digicam is no longer viewed as something that's intended only for snap shooting. In fact, a growing number of photo enthusiasts are considering one of these models for their "serious" image-making. While some will buy a digital SLR camera that accepts interchangeable lenses, others appreciate the benefits of more portable equipment. They're shopping around for a compact digicam with many of the same capabilities as an SLR, such as the Canon PowerShot G5.

Virtually identical to the full featured 4-megapixel G3, the G5 (with 5Mp sensor) employs the same 4x lens and boasts the same vast range of features. The continuous framing rate is a bit slower in high-resolution capture, because the G5 produces larger image files. During testing, I found this compact camera nearly as versatile as the new EOS Digital Rebel, particularly when used with an accessory flash unit and lens converter. Like that SLR camera, the PowerShot G5 also includes a raw capture mode, in addition to the usual JPEG options.
The image quality in a raw image (above), converted to TIFF, is superb in all respects. Even when increased in size from 14.4MB to 38MB with Photoshop CS, to make an 11x15" print at 280dpi with a Canon i9100 printer, image quality remains surprisingly high, as confirmed by the small section (below) of the full image. (Raw capture; ISO 50; f/8 at 1/250 sec)
Photos © 2003, Peter K. Burian, All Rights Reserved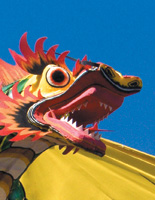 2The Raw Option
Select raw capture and the G5 records raw data from the CCD sensor. Parameters such as white balance, exposure, contrast, sharpness and color saturation are recorded, but not applied. Hence, they can be changed as desired, using the special File Viewer Utility software (or after-market software intended for this purpose) in a computer. You can accept the original in camera settings or override any of them to achieve a different effect. Although most digicam reviews barely mention a raw capture mode, it is one of the most valuable features of cameras such as the G5.
Pros And Cons Of Raw Capture
The raw capture mode was available in six previous PowerShot cameras, but it is particularly appropriate in the G5. That's because this prosumer model, with its ultrahigh-resolution sensor and multitude of capabilities, clearly targets the photo enthusiast who is most likely to take advantage of this option. There are several benefits to raw capture, versus shooting in JPEG mode and a couple of drawbacks. First, let's consider the benefits:

·Images made in raw capture are cleaner and more finely detailed. While a raw file is compressed in camera, "numerically lossless reversible compression" maintains all data and does not introduce artifacts as JPEG compression does. A raw image file also maintains a higher level of quality when the file size is increased in the utility software or in Photoshop. Consequently, you will be able to make larger prints that are suitable for framing.

·When you shoot in raw capture mode, the G5 uses a 12-bit ADC converter rather than a 10-bit ADC used for JPEGs. This improves the color gradation of the raw files. Later, when converting raw files to TIFF format, you can save them with 16-bit (per channel) color instead of the 8-bits available with a JPEG. The image will exhibit a wider range of tones and colors for the best detail and smoothest gradations. Granted, most image-editing programs cannot work with 16-bit color, so this is a benefit only for those who use the new Photoshop CS, with its comprehensive 16-bit support.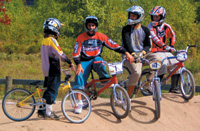 In the 5Mp Superfine JPEG mode, the G5 produces image of very high quality, suitable for making superb 8.5x11" prints and very good 10x13s. But if an image must be cropped--as this one was, by a full 50 percent--it's best to start with a raw image because of its inherently superior quality. (ISO 100; 28.8mm zoom setting; f/8 at 1/250 sec; raw image converted to TIFF and cropped to eliminate extraneous areas.)
·The next advantage is the most significant. When compared to a JPEG, a raw file offers much greater latitude for correction of factors such as white balance, exposure, and color saturation. Open a raw image with the special software and manipulate it as desired to achieve technical accuracy or an intended effect. When the image looks close to perfect, save it in TIFF or another format that's compatible with all image-editing software.

·After converting raw data files, you can save the originals just as you would save negatives after making prints in film-based photography. You can later return to any raw file and reprocess it. Use different settings in the converter utility to produce a different effect: with a slightly warmer white balance, richer color saturation, and a lower exposure level, perhaps.

So, what are the drawbacks? In my experience, there are two:
·A raw data file is much larger than a JPEG image so it consumes a lot more space on a memory card and also slows the camera. In raw mode, the fastest framing rate is 1.5 fps, versus 2 fps in 5Mp/Superfine JPEG capture. Note too that the buffer memory can hold up to nine of the best JPEG images but only three raw data files before the camera must pause for recording; that can mean missing some shots.
Photo A
To illustrate the advantage of raw versus JPEG capture, I made an image with incorrect settings for white balance, exposure and color saturation (Photo A) in both JPEG and raw format. I was able to improve the JPEG image (Photo B) in Photoshop, a complex process requiring all of my skills. The raw image (Photo C) was quite easy to correct in the utility software, before conversion to TIFF, and the results are far superior in every respect.
·The raw file conversion process can be time consuming: about 40 seconds per image, in addition to the time required to correct any image parameters. The workflow process certainly becomes tedious when you must convert dozens of images after a long trip or a major event.
Raw Capture Mode Evaluation
During my discussions with photo enthusiasts who own cameras with a raw capture mode, I discovered that few ever take advantage of this option. Aside from the drawbacks mentioned earlier, they wonder about its value. After all, most prosumer digicams produce excellent image quality even in the best JPEG capture mode. And as one friend asked, "Why should I bother with shooting in raw mode, when I can easily perfect a JPEG image in Photoshop?"

The answer: It's far more difficult--and sometimes impossible--to fully correct a JPEG image. Any major adjustments can be more effective when applied to raw data that has not been processed in camera. That can be particularly useful when you make incorrect camera settings.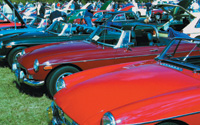 Let's say you were shooting under sodium-vapor lighting with auto white balance, and your images all exhibit a strong color cast. Perhaps you inadvertently set spot metering instead of evaluative metering and many of your images of sky capped mountains are underexposed. Or you set the color saturation level to High in camera, and find that skin tones are much too ruddy. No problem if you were shooting in raw mode. These serious errors (and others) can all be corrected without damaging the image, in the conversion utility software.

And what about the image quality issues? Well, the G5 certainly produces exceptional JPEGs, particularly in 5Mp Superfine mode, thanks to the sophisticated DIGIC processor. While the raw images are slightly superior (without any digital artifacts or jagged edges) the difference is negligible in 8.5x11" prints. But in 11x15" prints that I made with the Canon i9100 large format printer, the results are noticeably better when I started with a raw file that was converted to TIFF.

Do You Need To Use Raw? Naturally, not everyone needs to shoot in raw mode. If you find that most of your images are technically excellent, if your printer cannot generate outputs larger than 8.5x11"--and if you do not frequently crop images extensively--you'll be impressed with the 5Mp Superfine JPEG mode. The PowerShot G5 will provide faster response and you'll save hours of computer time. But if you are a perfectionist who appreciates the wide latitude of a raw image, or if you want to make beautiful 11x15" prints, do try the raw capture mode. Use it particularly for important events, or once-in-a-lifetime photo opportunities and you'll have extra peace of mind.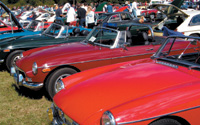 Overall Evaluation
The PowerShot G5 is a moderately large camera with magnesium alloy front panel and a beefy handgrip that holds an oversized lithium ion battery that seems to last forever. Although it is absolutely loaded with automatic and advanced capabilities, it offers logical, straightforward operation. The handsome black exterior sports many analog controls, including a mode selector dial for quick selection of many options. All of this assures fast camera operation, reducing the need for a lot of hunting and pecking in the electronic menus.

During the test period, I made hundreds of images. Subjects included my daughters during vacation trips, the competitors at a BMX cycling event, classic automobiles, people enjoying a medieval fair, and the action at a dragon boat race. While I often used the raw capture mode, I switched to shooting 5Mp Superfine JPEGs for moving subjects, with continuous autofocus and high-speed framing for a full series of images. The autofocus system is not designed for tracking fast action, but it worked perfectly for series of nine shots of competitors rowing eagerly toward the finish line. When taking photos of BMX cyclists in single shot autofocus, I found the one second shutter lag frustrating at times; pre-focusing on my subject solved this problem, and allowed the camera to provide instant response.

With its many EOS-style features and controls, great speed and versatility, and delivering superb image quality, the PowerShot G5 is a fine performer that should satisfy the advanced photo enthusiast. Add a few accessories, and this 5-megapixel digicam would be a great choice for those who want an affordable and compact alternative to a D SLR system. The G5 would also be a perfect first digicam for experienced photographers who want to start shooting digital images and demand large prints of high quality. If you fall into either category, or if you simply want to upgrade from an older camera, the PowerShot G5 should be high on your list of models to consider.
Facts
· Sensor: 1/1.8" CCD; 5Mp effective
· Capture Modes: Single shot and continuous framing at up to 2.5 fps; to 1.5 fps in raw capture
· Storage: CompactFlash or Microdrive
· Capture Formats: Raw capture; three JPEG quality levels; motion JPEG
· White Balance: Auto, daylight, overcast, tungsten, fluorescent, flash, two custom presets
· Lens: Aspherical 7.2-28.8mm (equivalent to 34-140mm) f/2.0-3.0 optical zoom; up to 3.6x digital zoom
· Closest Focusing Distance: 1.6'; in Macro, 2"at wide and 5.9" at telephoto
· Sensitivity: ISO equivalent: 50, 100, 200, 400 and "Auto"
· Light Metering: Evaluative, Center-weighted, Spot; AE Lock; exposure compensation and bracketing selectable
· Shutter Speed Range: 15 to 1/2000 sec
· Flash: Built-in auto flash with forced flash, redeye reduction, slow sync flash; flash exposure compensation and lock
· Connectivity: USB 1.1 and video output
· Power: BP-511 or 512 lithium ion battery
· Dimensions/Weight: 4.8x2.9x2.8"; 14.5 oz
· Street Price: $649
PROS
· Exceptional versatility and convenience of operation; accepts accessory flash unit, 0.7x to 1.75x lens converters, and (with adapter) 58mm filters
· DIGIC processor produces images with ultrahigh resolution and excellent color, sharpness, a wide tonal range and very good white balance; fast processing and large buffer memory allow for quick shooting
· Raw data files offer great latitude for correction in conversion software; their image quality is superlative, suitable for beautiful 11x15" prints
· Very low digital noise at ISO 50 and low at ISO 100; moderate noise even at ISO 400 and in long exposures at night
· Very long battery life
CONS
· Underexposes light-toned subjects in evaluative metering; overexposes with 550EX Speedlite; for better results, apply exposure or flash exposure compensation; adjust raw images in utility software
· Superb lens, but purple fringing (chromatic aberration) around ultra-bright highlights at wide apertures
· At wide angle zoom settings, the lens barrel blocks part of the view through the optical finder
· Autofocus system is very versatile but does not offer automatic focus point selection
· In single shot autofocus, shutter lag can be frustrating; use continuous focus, or
pre-focusing, for quicker response
Contact
Canon USA, Inc.,
1 (800) 652-2666
www.powershot.com



LATEST VIDEO

SPONSORED VIDEO
Testing Tamron's SP 150-60mm G2 lens while capturing birds and alligators in Apalachicola, Florida.