Canon EF Super Telephotos With Image Stabilizer
When following the motion of a moving subject, I switched to IS mode No. 2 designed exactly for such applications as discussed in the text. Whether the lens is mounted on a tripod or monopod, or handheld, this Image Stabilizer mode is a very useful option. (Bogen monopod; f/8 at 1/125 sec; Ektachrome E100VS.)
Photos © Peter K. Burian, 2000
Ever since its introduction in 1995, the Canon EF 75-300mm f/4-5.6 IS USM--the first lens for 35mm SLR systems with an Image Stabilizer (IS)--has won acclaim and honors. Most prestigious were the European awards: "Lens of the Year" and "Best Lens" for 1996-1997. Still the only manufacturer to build SLR lenses with a camera-shake compensating device, Canon now offers other IS lenses too including the four most recent models: EF 300mm f/2.8L IS USM, EF 400mm f/2.8L IS USM, EF 500mm f/4L IS USM, and the big gun, the EF 600mm f/4L IS USM.
After Bob Shell's "First Look" report (August '99) I was able to get two of the new super telephotos for a full-blown test: the 300mm and the 500mm models. Because the optical formula for all four of the new IS lenses is identical we felt that a test of two would be adequate--indicative of the entire group. The Canon MTF charts (of optical performance) for all four are quite similar too, indicative of even higher sharpness/contrast than for the previous non-IS models.
Image Stabilizer Benefits. Since the first IS zoom was introduced, the system has been upgraded with several improvements as mentioned in the Technical section. But the primary function remains identical: a gyro senses camera shake and a computer shifts optical elements within the lens to counteract the effect. Activate the Image Stabilizer, and you'll get sharper photos at longer shutter speeds. Because blur from camera shake is the primary cause of unsatisfactory pictures, an Image Stabilizer can help increase the percentage of "keepers."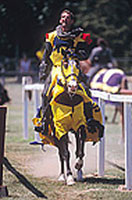 At the World Jousting Championship, both IS telephotos got a good workout with the often erratic motion of the knights. Autofocus performance, Image Stabilizer effectiveness, and optical quality were all excellent. (EF 500mm f/4L IS USM; f/5.6 at 1/250 sec; Bogen monopod; Fujichrome Astia 100.)
The large/hefty super telephotos are not convenient to hand hold, so many photographers use a monopod, as I often did when testing these lenses: on wildlife at a safari park, competitors in international rowing and jousting competitions, the action at a rodeo and soccer game, etc. Naturally, the Image Stabilizer is highly effective with a monopod. Better yet, this new series can be used even when the lens is mounted on a tripod, as discussed later.
Substantial Upgrades. Before considering specifics as to suitable shutter speeds, let's check out the innovative new features of the IS super telephoto series:
An entirely new optical system was developed to accommodate the Image Stabilizer and to assure even higher image quality. A full 17 elements are now used; the second and third are UD elements while the fifth is fluorite. These virtually eliminate chromatic aberration, including secondary spectrum, ensuring ultrahigh sharpness plus freedom from comatic flare and color fringing even at the widest apertures. The minimum focusing distance has also been shortened by increasing the power of the focus group. Elements 11, 12, and 13 are shifted by the Image Stabilizer mechanism perpendicular to the lens axis when camera shake is detected.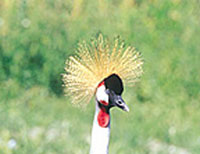 In order to illustrate the value of the Image Stabilizer, I turned the system off for Photo A and got an unsharp slide.
The center of gravity has been shifted to the rear to minimize a front-heavy tendency. Thanks to the use of many magnesium alloy components, and carbon fiber for the hoods, overall weight has been kept acceptable, in spite of the additional lens elements and IS mechanism. Three of the lenses are actually lighter than their predecessors. The EF 500mm f/4 IS is 28 oz heavier than the previous f/4.5 model, a nominal increase considering the wider maximum aperture.
Durability is said to be the same as for their predecessors, very high indeed, based on feedback from frequent users of those lenses. However, the new IS telephotos are far more dust and drip proof so they are more suitable for use in harsh conditions. Four distinct construction steps help to keep out dust or water particles. A new drop-in filter holder (52mm vs. 48mm) also offers superior drip and dust proof performance. The new carrying case for these lenses is made with a polyethylene resin shell so it is lighter than the aluminum type and offers greater all-weather protection.
The f/4 maximum aperture for the 500mm IS lens is a real bonus, because autofocus continues to operate with EOS cameras when an EF 1.4x tele-converter is used. (With the previous f/4.5 lens, AF is disengaged when the converter is mounted, except with the EOS-3.) This feature alone should make that lens incredibly successful in terms of sales.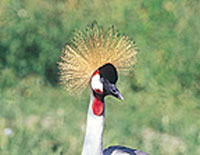 For Photo B, I turned it back on and this image is substantially sharper as expected. Only a small portion of both are printed here to make the difference more readily visible in a small reproduction. (EF 300mm f/2.8L IS USM; handheld; f/11 at 1/60 sec; Elite Chrome 100.)
Canon literature indicates that an improved AF drive algorithm has been used in the new IS lenses "to achieve the world's fastest autofocus when combined with the EOS-3." The Focus Preset function has also been improved. This control allows the photographer to enter a distance setting and return to it instantly later, at the touch of a "playback" ring: now located near the front of the barrel, a more convenient location in handheld photography. The Focus Preset button has been changed to a push button type (instead of a slider) for quicker entry of the focus distance.
A new function has been added: "AF Stop." Accessed with any of several buttons near the front of the barrel, it can be used to temporarily disengage autofocus at any time. This feature proved useful in continuous tracking focus while shooting rowers. When another competitor moved between the lens and my primary subject, I could stop autofocus and instantly restart it when appropriate.
Image Stabilizer Test Results. Canon indicates that the image Stabilizer gives the same effect as using a shutter speed up to four times as fast: roughly a two step advantage. My tests confirmed this claim producing slides which would appear razor sharp in an 11x14 print or double page spread in a magazine.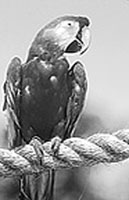 In bright light, the Image Stabilizer is not required even in handheld photography with the 300mm lens at wider apertures. But for adequate depth of field, I often stopped down to smaller apertures, making the IS system very useful at the longer shutter speeds. (At f/11; 1/60 sec; 550EX for fill flash; Sensia II 100.) Original photo in color.
The columns show the minimum shutter speed I required for a sharp photo without Image Stabilizer, then with IS activated. See listing on page 76. For all formal tests of the 500mm telephoto I used a monopod because I doubt that this lens would often be used handheld. I tested both lenses with and without a tele-converter.
As magnification increases, the least camera shake is amplified. Hence, higher shutter speeds are required at longer focal lengths and in extreme close focusing. Some published tests have reported an even greater benefit, one claiming some sharp handheld photos at 1/10 sec at 300mm. (Occasionally I did manage to get a reasonably sharp photo at 1/30 sec handheld, with IS activated, using the 300mm IS lens.) While a few photographers may be supremely steady, most will find a two to three shutter speed step advantage with IS--and more if they brace a monopod against some firm support.
Overall Evaluation. Focus acquisition and AF speed in tracking the erratic motion of rodeo riders and soccer players was excellent, with an EOS-3. As Canon literature predicted, AF operation did slow down somewhat when I added a tele-converter. Autofocus continuous to operate with the EOS-3--even when the effective maximum aperture is smaller than f/5.6--but not as reliably, with the central focus point. Whenever light reaching the AF sensors diminishes however, autofocus performance does slow down, as with any camera/lens combination.
Where I wanted motion blur, or a streaked background in action photography, the longer shutter speeds allowed by the IS technology were ideal. For some action subjects however, I preferred to set a much higher shutter speed to "freeze" motion. This was a creative decision, but with Image Stabilizer full versatility was assured. Nature photographers who regularly use a hefty tripod may wonder whether the Image Stabilizer would be of any value. In my estimation it would be especially when panning with motion, as with birds in flight. And those who shoot from boats or vehicles will definitely consider the vibration-compensating mechanism to be a blessing.
Depending on the EOS camera model used, the viewfinder image shakes momentarily at times in IS mode No. 1. This does not affect the photographs and after about a week of shooting, one is no longer consciously aware of it. Overall, the Image Stabilizer system performed in an exemplary manner with static subjects. And the IS mode No. 2 proved to be a definite bonus for action photography. In summary, the technology is so successful it will satisfy the most demanding professional photographer.
Optical Performance. As expected from L-series pro telephotos with three low-dispersion elements, both lenses were superlative performers. I made the following notes on performance when viewing my slides:
Wide open, the 300mm f/2.8 IS lens produced incredibly high sharpness and contrast, rating a 9.5 on my subjective scale of 1 to 10. There was no need to stop down, although edge sharpness increased slightly at f/8 for an overall rating of 9.9. This consistency in performance is a sign of an exceptional optical formula.
With the EF 1.4 Extender, image quality was still very good at the widest aperture (an effective f/4) rating an 8, but edge sharpness increased at f/8, leading to a rating of 9. With the EF 2x Extender, central sharpness was always high, but edge sharpness showed a noticeable improvement at f/8.
The 500mm f/4 IS lens was equally impressive, rating an 8.5 at maximum aperture and a 9 when stopped down to f/8; again, the consistency is a mark of very well-designed optics. With the EF 1.4x and the EF 2x Extender, the results were similar to those mentioned for the 300mm lens.
Flare control is very effective, in spite of the many lens elements and numerous air to glass surfaces, thanks to internal precautions and the deep lens hoods. Except when shooting toward the sun on a river, I did not worry about veiling glare. Contrast was also high, even on a hazy day, although this would have been improved with a polarizer; I did not have the 52mm rotating circular model but this accessory would be a wise investment.
Conclusion. The four Image Stabilizer super telephotos have replaced their predecessors. Naturally, the new lenses are more pricey, especially the f/4 model which requires lens elements of much wider diameter. However, this is understandable, considering the numerous advantages in the optical, autofocus, and mechanical construction, plus the addition of the Image Stabilizer. A few of the older models may still be available, and good used samples should hit the market as some photographers upgrade their systems. Check with some Shutterbug advertisers as to availability.
With optical performance meeting or exceeding that of all Canon lenses (according to Canon's MTF charts) the new models should prove to be a resounding success. Sports photographers especially will want the IS models, although nature photographers who always use a large/rigid tripod may get by with the conventional EF lenses. In any event, the addition of the Image Stabilizer makes the new telephotos even more versatile and ideal for problem solving. They will surely help many photographers to increase their success ratio of technically excellent images.
Image Stabilizer (IS) Technology
Anyone who is technically inclined will want to consider the following specifics on how the IS system operates. Shake-detecting gyro sensors measure the angle and speed of lens movement and send an electronic signal to a high-speed microcomputer. In response, a signal is sent to an actuator to shift a group of three lightweight lens elements in the appropriate direction to counteract the effect. The "corrective lens group" is designed to move perpendicularly to the lens axis and is said not to affect optical performance.
The new lenses incorporate an improved Image Stabilizer unit, equipped with a high output actuator to drive the large aperture lens compensation system. Otherwise, operation is similar to that of other IS lenses. When the front of the lens is jerked downward, the optics shift downward as well, so the image's center shifts downward on the film plane. By moving the three elements in parallel, incoming light rays are refracted and the image returned to the center of the frame. Since camera shake can be vertical or horizontal, this lens group moves accordingly, as a counter measure. In either case, the light rays reaching the film are stable instead of vibrating at the moment of exposure. The result is a sharper picture.
It takes about a second for IS to become fully operational. After that--and as long as light pressure is maintained on the camera's shutter release button--the entire process occurs almost instantly. Ongoing feedback within the system occurs, so IS continues until the shutter opens to expose the film. Image Stabilization is possible over a wide frequency; in other words, numerous types of camera shake can be detected and countered.
Mode No. 2 (also available with the earlier EF 300mm f/4 and 100-400mm IS lenses) is intended for use when panning with a moving subject at slow shutter speeds, a common pro technique especially for motor sports. In the standard IS mode No. 1, the gyro sensors detect the lateral movement as camera shake and the system makes corrections. This results in a shaky viewfinder image so the photographer tends to compensate by moving the camera. That causes more counter-shaking activity by the IS system and often, an unsharp photo. In mode No. 2, the viewfinder image is steadier, allowing for a smoother pan and sharper photos as vertical shake is still corrected.
With previous IS lenses, Canon warned that the stabilizer would act erratically when using a tripod. With the latest series of IS telephotos however, the system has a special new mode. It corrects for camera vibration--even minimal vibration caused by shutter movement or reflex mirror slap--when the lens is mounted on a tripod. This Image Stabilizer "tripod mode" is activated after about a second of gentle pressure on the camera's shutter release button and is a significant advantage with long focal lengths, increasing the odds of razor sharp images.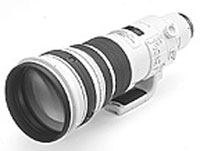 Technical Specifications

Canon EF 300mm f/2.8 and EF 500mm f/4 L IS USM
Mount: Electronic Canon EF mount for EOS cameras
Optical Formula: 17 elements (including two UD and one fluorite) in 13 groups; Super Spectra Coating
Minimum Aperture: f/32
Diaphragm Blades: Eight
Image Stabilizer Mechanism: Parallel movement of corrective lens group; shake detection via gyro sensors; IS on/off switch and IS mode 1/mode 2 switch; built-in actuator and locking mechanism
Focus System: Ring type USM with manual override on demand; full time mechanical manual focus selectable; inner focusing
AF And IS Power Source: Camera's battery
Minimum Focusing Distance: 300mm lens: 2.5m (about 9'); 500mm lens: 4.5m (about 15'). Both include three focusing distance ranges from short to great distance focusing.
Maximum Magnification: 300mm lens: 0.13x; 500mm lens: 0.12x
Other Features: AF stop buttons, IS mode and on/off switch, depth of field scale, tripod collar
Accessories: Removable hood and case included
Filter Size: 52mm drop-in
Weight: 300mm: 2550 gm (about 5.5 lbs); 500mm: 3870 gm (about 8.33 lbs)


| | | | |
| --- | --- | --- | --- |
| Focal Length | Monopod/No IS | Monopod/IS | Handheld/With IS |
| 300mm | 1/60 sec | 1/30 sec | 1/90 sec |
| 420mm (1.4x) | 1/125 sec | 1/45 sec | 1/25 sec |
| 500mm | 1/125 sec | 1/45 sec | Not tested |
| 600 (2x) | 1/250 sec | 1/60 sec | Not tested |
| 700mm (1.4x) | 1/350 sec | 1/90 sec | Not tested |
| 1000mm (2x) | 1/750 sec | 1/250 sec | Not tested |
| 500mm focused to 4.5m | 1/250 sec | 1/250 sec | Not tested |