Canon EF 70-300mm f/4-5.6L IS USM: The Long & The Short Of It
Canon offers five different 70-300mm zoom lenses in its product lineup. Why so many? They obviously think this is a popular and practical focal length range and I happen to agree. I even own one of them myself—the EF 70-300mm f/4-5.6 IS USM—but the EF 70-300mm f/4-5.6L IS USM tested is the mac daddy of 'em all. Part of the reason for its high price tag ($1599) is that it's the only one of the five lenses that is resplendent in white paint (the better for TV cameras to see), making it part of the "L" series. (See "Just For The 'L' Of It.") Canon's L lenses typically have wide apertures fixed throughout the zoom range but in this case all five lenses in this focal length range have identical f/4-5.6 apertures.
The new Canon EF 70-300mm f/4-5.6L IS USM telephoto zoom lens features two Ultra Low Dispersion (UD) elements for improved image quality and reduced chromatic aberration. It incorporates a floating focusing mechanism for sharpness from close-up (3.9 feet) to infinity plus an Image Stabilization (IS) system that Canon claims increases usability by approximately four stops. The IS system includes a function that allows it to continue to operate even when the camera or the lens, the latter being a better idea, is mounted on a tripod. There's an optional ($189.95) Canon Tripod Mount C for mounting on a tripod or monopod but I was unable to get one for testing. The lens is dust- and water-resistant and features a Fluorine coating that resists smears and fingerprints and significantly eases lens cleaning, but that doesn't make me suggest less vigorous lens protection. More later.
Making Clicks And Shooting Pix
While no lightweight (2.31 lbs), the EF 70-300mm f/4-5.6L IS USM is surprisingly compact and I tried it with three of my personal Canon EOS bodies, the 1D Mark II N, 5D, and 50D, all with different sensor sizes and multiplication factors. With the EOS 50D and its 1.6x multiplication factor, it produces the equivalent angle of view of a 112-480mm lens and while that's no biggie to me, a friend who's a wedding photographer uses his APS-C-sized Canon with long lenses just to get this kind of coverage. I don't get it but if this makes you happy, go for it.
Also, when shooting with the EOS 50D, the whole package seemed a bit nose-heavy, but with the other two it was a well-balanced if not an overly hefty combination. All in all the lens is clearly not for wimps. If you want the versatility, optical performance, and—as Canon would have you believe—luxury, you'll need to work on those biceps.
My rule of thumb is to always use a Skylight or UV filter to protect lenses of 72mm or greater diameter because any expanse of glass that big is just waiting to get scratched and while another friend told me front elements are not all that expensive, I'd rather not find out how much. In this case, I'll break my rule for a lens with a 67mm filter size and recommend using a Skylight or UV filter with the EF 70-300mm f/4-5.6L IS USM. As always, you should purchase the best filter you can afford, such as those from the likes of B+W, Heliopan, and Singh-Ray. Yes, they will be expensive, but if you are in pursuit of "The Ultimate Image" that shouldn't deter you.
Testing, Testing, 1, 2…
As with my other lens tests, I didn't photograph any resolution charts, newspapers, or brick walls because that is not how you will use this lens either. Instead I used the EF 70-300mm f/4-5.6L IS USM to photograph real-world subjects under real-world conditions and the lens performed like Natalie Portman on her toes in Black Swan—delicately balanced and beautifully elegant. In addition to the photographs in this issue, I used the lens for some of my Picture-a-Day project images (http://tiny.cc/fdehb), where you can see a few different photos that were made with it.
Not surprisingly, the lens has a few controls built-in: there are rugged sliders for AF-MF and Stabilizer on-off, all of which are labeled in English—no pictograms or symbols. There's also a slider that lets you choose Stabilizer 1 or 2 functions. When shooting stationary subjects, Mode 1 corrects for movement along horizontal and vertical axes. For shooting while panning horizontally while following a moving subject, Mode 2 turns off vertical correction and prevents the effect of dragging the subject back through the frame. Think motor racing but it would also be great for horsey events such as polo.
There's also a lock switch that works when the lens is in its physically shortest (70mm) focal length to prevent the dreaded zoom creep that affects most long focal length zooms, but I never had any problems with that when schlepping the EF 70-300mm f/4-5.6L IS USM around. Maybe in time when all the pieces and parts loosen up, it will. In the meantime the switch is there when you need it. Unlike locks found on some third-party lenses, this one is built to the same Hummer-rugged specifications as the rest of the controls.
Shooting the Canon EF 70-300mm
f/4-5.6L IS USM can be a handful and the so-called white finish isn't really "white" but a soft gray, at least my sample was. But everything about the lens and the images captured with it screams quality. There are two rubberized rings, one for focus that's close to the camera body and a wider one for zoom further out. Instead of the skinny, mostly useless focusing rings found on many third-party zoom lenses, this one feels like the real deal and there's even a bit of drag in the mechanism; not as much as in a real manual focus lens but much more than found in lesser zooms.
Since the short end of the EF 70-300mm f/4-5.6L IS USM places it in the portrait focal length range, I decided to try it in a studio setting and was mucho impressed with the results. Jack Dean (www.jackdeanphotography.com) allowed me to do a test shoot at his Fort Lupton studio and the illustrations show the results of shooting a model from the same camera position but changing the focal length from 70mm for a full-length shot to 300mm, giving me a headshot without changing camera position. This feature will be especially useful for runway shooters, although a wide aperture would make it more useful, but that's why the noise-free high ISOs found in new SLRs are so great.
Then it was off for a road trip to Parker, Colorado, just southeast of Denver, where I used the EF 70-300mm f/4-5.6L IS USM to photograph aspects of its charming Victorian Main Street. When shooting a three-stop bracket handheld in the town's O'Brien Memorial Park I was able to create a sharp HDR image that the lens' IS kept in register over all three shots.
Sure, the lens is heavy but the IS compensates by helping you create crisp images. The IS feature was also handy when attaching Canon's 2x tele-extender (see "Extender EF 2x III") that let me capture sharp images, although I had to shift to manual focusing because the lens would not autofocus at 300mm with the extender attached. That's when I remembered another rule of thumb that manually focusing is recommended when using a tele-extender with a lens with a maximum aperture of f/4 or slower and at f/5.6 it was required. See the comparison images made from the same location.
My testing time with the EF 70-300mm f/4-5.6L IS USM occurred when the weather here in Colorado was the coldest and snowiest in recent years, which put a big kibosh on the kinds of images that I would have really liked to shoot—motorsports. But through all the time and miserable weather, I never stopped enjoying using the lens. Sure, it's no lightweight and that may be an issue for you, which is why Canon offers other lenses in the focal length range.
So let me wrap it up with the question you're probably asking: "Does Joe like this new lens better than his personal EF 70-300mm f/4-5.6 IS USM?" The short answer is heck, yeah! The EF 70-300mm f/4-5.6L IS USM is one tough, optically amazing zoom lens. It fits the kind of photography that I do and that's really the question you should be asking yourself when considering purchasing a high-ticket lens like this one. If your answer is "yes," you won't be disappointed.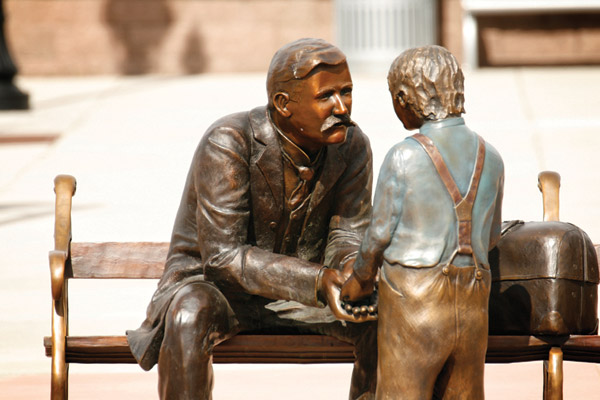 Just For The "L" Of It
The Canon "L" lens series is generally considered part of their professional line and there's as much folklore about what that designation means as what the "442" badge says on an Oldsmobile. The definitive answer is found in Canon's eponymous book Lens Work III; the L stands for Luxury. All L lenses share a rugged build quality that usually results in them being heavier than their "paint it black" siblings. My EF 70-300mm f/4-5.6 IS USM lens, for example, weighs 22.2 oz while the EF 70-300mm f/4-5.6L IS USM is heavier at 2.31 lbs.
The buzz around the water cooler is that the image quality of L lenses is as good as it gets and full-frame (and film) shooters should find them sharper at the frame edges than Canon's non-pro lenses. The L lenses focus fast using UltraSonic Motors (USM) that enhance focusing speed. Full Time Manual (FTM) focusing is another feature present in the series. You can let the camera autofocus, then manually adjust focus prior to the shot. Canon L lenses typically have a non-rotating front element that's important when using filters. Tip: If you're the kind of shooter who is hard on gear, you'll be happy to know that Canon sells white L-series touch-up paint. You can order it through Canon Parts (#CY9-8078-001) for $14.41 plus shipping.
Extender EF 2x III
Canon says that their redesigned Extender EF 2x III delivers optical performance on par with the finest Canon super telephoto lenses, and I believe 'em. It features a built-in microcomputer for seamless communication between camera body, lens, and extender and uses nine elements in five groups along with coatings to minimize ghosting, flare, and chromatic aberration. It even has the same Fluorine coating as the EF 70-300mm f/4-5.6L IS USM lens to minimize soiling, smears, and fingerprints. The Extender EF 2x III measures 2.8x2.1" and weighs only 11.5 oz. This beauty costs $499.99, but if your credit card can handle the hit from any L-series lenses you should get one with the EF 70-300mm f/4-5.6L IS USM because of the versatility it provides. Note: The Extender EF 2x III is only compatible with fixed focal length L-series lenses 135mm and over, as well as the EF 70-200mm f/2.8L, EF 70-200mm f/2.8L IS, EF 70-200mm f/4L, and EF 100-400mm f/4.5-5.6L.
For more information and full specs on the lens, visit: www.usa.canon.com.

LATEST VIDEO