Buyers Guide To Tripods
Choosing Different Pods For Different Jobs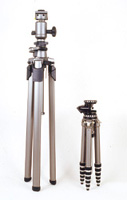 The tripods: a six-section Gitzo Studex (with a three-way Linhof head) and a Cullmann CT 400 with Cullmann CT 50 ball head. Question: Which one do you think is the tallest? A no-brainer?
As there's no such thing as the one perfect camera for all photographic pursuits, there's also no one perfect tripod all camera support tasks, although I'll admit to having taken a rather inordinately long time early in my photographic career coming to this conclusion.
When you're new to photography, the tripod selection process usually comes upon you in stages. First is the spark of awareness that you actually need a tripod, often as not inspired by lots of pictures that aren't as sharp as they could be. But a major reason you bought a 35mm SLR in the first place was so that you wouldn't be burdened with a tripod, right? So your first 'pod is the lightest one you can find, enough to feel you've "done your duty," but with little serious consideration before the purchase as to what physical requirements need to be met. Therefore, as soon as you acquire either a lens with a focal length longer than 135mm, or a larger format camera, you're in the market for a tripod again.
Your second adventure in tripod land is likely to follow one of two scenarios, depending on your particular psyche: either a 'pod that's just heavier enough to accommodate your new lens or camera, setting yourself up for yet another tripod purchase not far down the road, or you go nuts and buy a 30 lb behemoth on the "get it over with" theory that there's no camera it can't handle. The latter is fine for studio work, but on location you won't be able to drag it much more than 100' from your SUV.
Surprise! With both tripods equipped with their standard columns, the compact Gitzo wins by a foot, thanks largely to its two-section column.
A Tale Of Two Tripods
I use cameras of many film formats, including 35mm, 6x6cm, 4x5", and 6x17cm. To keep from having to buy a tripod for each format, or lugging more tripod than I need for the smaller formats, I have, through experience, learned to divide my camera support requirements between two tripods: one for 6x7cm and under, another for anything larger.
In practice, though, it's a good deal more complicated than these simple criteria would indicate. And while your specific photographic circumstances will probably differ from mine, the comparative process that I engaged in to identify my shooting needs and match my tripods to them accordingly may prove instructive.
I tend not to backpack cameras larger than medium format, so compactness is a factor considered only for my smaller tripod. I insisted on a 6' height when fully extended, to ensure comfortable, eye-level camera viewing. Conversely, I also wanted absolute ground-level shooting capability; this necessitates either a reversible column, a column with a mounting screw on both ends, or the use of an accessory side arm (more to lug). Rigidity, of course, was paramount, as all other features are instantly negated if the 'pod can't hold your camera rig steady. This is where your particular shooting habits will dictate the minimum acceptable mass (weight) and torsional stiffness. If, for instance, you regularly use extreme telephoto lenses under windy outdoor conditions, you can't afford to compromise in the sturdiness department. I seldom use lenses longer than 250mm focal length, so that was my small 'pod selection yardstick. When I need an extreme tele, an accessory bracing arm (e.g., Bogen or Kirk Enterprises) works fairly well (only with static subjects, as you can't follow action this way) up to about 700mm; my 1250mm "cat" requires my bigger tripod.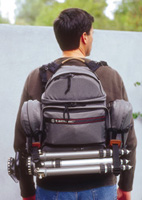 The Gitzo, though no lightweight, is easily backpackable.
So what tripod met my needs for smaller format work? A six-section Gitzo Studex, fitted with a compact three-way Linhof head. It's compact (20" collapsed with head, 16.5" without); tall enough (73" fully extended, with the Linhof head); has a reversible, two-section, "rapid"-type column; legs that will spread flat; rigidity is superb. Weight, with head, is about 8 lbs, obviously not a lightweight for its size. Gitzo discontinued this model shortly before I decided on it, approximately 12 years ago, but I eventually tracked one down. If it was so good, why was it discontinued? Because its greatest asset (6' extended height, along with very compact collapsed dimensions) was also its greatest drawback. To fully extend this six-section 'pod, including the two-section column, requires the operation of 17 ring locks, times two to collapse it again! It's a time-consuming pain, but the only way to have my cake and eat it too, so I put up with it. It has served me flawlessly as my location and backpacking tripod, and I still haven't found anything superior for the purpose assigned it.
The Cullmann, with accessory CT 64 long geared column, provides serious altitude for heavy cameras.
Larger Camera 'Pods
For my larger cameras, though, I had an entirely different set of tripod requirements. Since this 'pod would be used solely in the studio or a minimal distance from my 4WD Bronco, size and weight weren't critical. I wanted the heaviest model that was still comfortable to handle; I didn't want to throw my back out with a three-legged anvil. An extensive array of studio-appropriate accessories was also a must. But speed of deployment was of the utmost importance to me. It takes long enough to get a large format camera ready to shoot, without having to compound the felony with a cumbersome tripod. Many years of Gitzos made it clear to me that ring-locking legs weren't the answer. Flip-locks were the ticket, so the job was to find a hefty enough tripod that incorporated them, along with the other necessities.
My choice? A Cullmann Titan CT 400, with their CT 50 pro ball head. With only two leg sections, all it takes is a flip of the lever atop each leg, let gravity do its thing, and you're ready to attach your camera. The leg sections are reversed, with the larger diameter one at the bottom. This provides a greater contact area with the floor or ground, and offers waterproof operation (e.g., no crud in the locks) in streams up to the top/bottom leg joint. A downward pull on the head's U-shaped quick-release stirrup opens the mechanism to accept the mating plate on your camera (the plate's tripod screw has a flip-up semicircular grip, no coins necessary); a lever then locks it securely. A keyed insert can be used to lock the plate to the head as a theft deterrent (a thief would have to beat feet with the camera still attached to the tripod; with this 'pod, he won't be making very good time).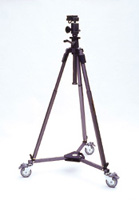 The CT 400 with CT 75 dolly is very much at home in the studio.
Another plus is the serrated surface common to the tripod's mounting plate and the bottom of the head. This prevents any twisting motion from inadvertently loosening the head. The CT 50 head has totally different controls for the pan and ball movements, precluding any confusion when making compositional adjustments while looking through the camera. Geared column lift precisely maintains the camera's established compositional orientation, especially appreciated in conjunction with view camera lens movements. The circular and tubular levels provided come in handy with the panoramics that comprise a major portion of my photography.
Surprisingly to the uninitiated, my compact Gitzo extends higher than the looming Cullmann Titan. But add the accessory CT 64 long column and the Cullmann lifts your 4x5 into stepladder territory. This facility lets me achieve a high perspective in the studio without having to resort to (and shuck out for) a studio camera stand. It's also a big help when shooting landscapes in flat terrain; you'd be surprised what a mere 3' of additional shooting height beyond standing eye level can do pictorially in such circumstances.
With the aid of a CT 60 Makro Insert and an additional geared column, the Cullmann will put your camera in a variety of otherwise inaccessible shooting positions.
Cullmann's accessory list equips the CT 400 for versatile studio use. I particularly relish the camera positioning options afforded by the CT 60 Makro Insert, in combination with an additional geared column. I frequently use this setup to place my camera out over the surface of my product table, a positioning unattainable with a tripod alone. The CT 75 dolly adds mobility when needed. I've had the Cullmann for a couple of years now, and it has contributed quite significantly to speeding up my large format camera usage.
So that's how I came to have the two tripods that I do. They match my specific requirements as perfectly as possible, and I wouldn't part with either of them. I occasionally need a table tripod, monopod, beanbag, or a suction-grip device, but these two very different tripods cover 95 percent of my shooting needs.
There are many other fine tripods, of course, and one or more of them may suit your needs better than the pair I ended up with. The point is to do your homework thoroughly, with an eye to both present and near-future camera/lens equipment. Don't fret trying to foretell the future 10 years down the road, but think ahead far enough to avoid buying a near-term white elephant. I should also point out that Gitzo offers equivalents of most of the accessories that I acquired for the Cullmann; it's just that for my purposes (backpacking, location work) I didn't need them.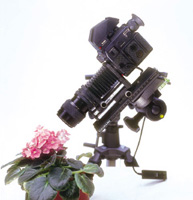 This is an alternative shot to (left image); they're different, but you probably wouldn't want to use both. With the aid of a CT 77 macro adjustment platform, focusing while maintaining a set magnification ratio is a cinch.
Points To Ponder When Shopping For A Tripod
List the type(s) of photography you engage in, and compare tripods and features according to how well they'll contribute to set performance goals.

Material--metal, wood, or carbon fiber? Each has pros and cons regarding such factors as weight, strength, rigidity, vibration dampening, cost, and grip comfort when used in temperature extremes. This is a very personal factor, and there are no wrong choices.

Portability--weight and minimum (collapsed) height are important if you'll be carrying the tripod for long distances.

Maximum height--make sure a tripod extends far enough for comfortable viewing with your camera at eye level, and that you don't have to extend the column fully to do so.

Rigidity--pay attention to the tripod's maximum load rating; don't expect an overloaded tripod to perform well.

Column--"rapid" (sliding, non-geared) columns are less expensive and quicker to use with 35mm cameras and lighter medium format models; geared columns are more expensive and heavier, but offer more control with large camera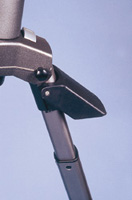 Close-up of one of the large flip-lock levers that make leg deployment so rapid with the Cullmann.
Leg deployment--flip-locks are much faster to use than locking rings.

Tripod head--make sure your prospective tripod can interchange heads; go with a good ball or three-way head, avoid two-way heads.

Serviceability--if you get the leg locks full of sand, can you take them apart easily and clean them, or does it mean a slow, costly trip to a repair facility?

Color--if you regularly shoot in the 110 heat of the summer desert in the Southwest, black metal isn't a smart choice; leg wraps are a workable remedy.

Accessories--make sure the manufacturer (or other after-market sources) offers a sufficient accessory system to meet any special shooting requirements that you may have.
The Cullmann CT 50 pro ball head. The totally different ball and pan locking controls avoid confusion while looking through the camera.
Manufacturers/Distributors

Bogen Photo Corp. (Gitzo)
(201) 818-9500
fax: (201) 818-9177
www.bogenphoto.com

R.T.S., Inc. (Cullmann)
(516) 242-6801
www.rtsphoto.com

ToCAD America Inc. (Slik)
(973) 428-9800
fax: (973) 887-2438
www.tocad.com



The serrated mating surfaces between the Cullmann tripod and head prevent the head from loosening.


Bottom of the Cullmann quick-release plate, showing the time-saving flip-up tripod screw twist-grip.


The U-shaped stirrup is the release for the quick-release plate of the CT 50 head. You can also lock the plate to the head as a theft deterrent.

FEATURED VIDEO