Building A Portfolio
In The Digital Age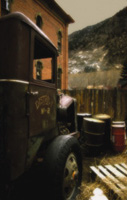 One of the easiest ways to make portfolio prints is with an ink jet printer and high quality paper. This image of an old fire truck, from the author's fine art series on aesthetically abandoned vehicles, was originally captured on film in Georgetown, Colorado, tweaked in Adobe Photoshop, then printed on Epson's Premium Semigloss Photo paper using an Epson Stylus Photo 1280.

Photos © 2002, Joe Farace, All Rights Reserved
You know how it goes: The Art Director says, "I know you can photograph right-handed baseball players, but can you photograph left-handed ones?"
An unfortunate reality of the photography business is that you have to constantly prove to potential buyers that you can produce--or have already made--images just like the one they need right now. Your key marketing tool during this aspect of the sales process is the portfolio. Yet, traditional laminated print portfolios can be so expensive that many photographers find it difficult to create additional ones for specific market segments. Whether you use a laminated portfolio of prints and tear sheets or a tray of slides, you'll need several of them and they must constantly be updated. All of which adds up to additional time and expense.
Recently, my friend Barry Staver who is a People magazine photographer asked me about a fast, easy way to produce a portfolio that he could overnight to potential clients. In this digital age he was, understandably, looking for a digital solution to his dilemma. One of the biggest problems with using any form of purely digital portfolio is you cannot even assume your potential client has the same kind of computer system that you have. With a traditional print portfolio, all a client has to do is open the box you shipped it in and look. There is nothing to plug-in, insert, or turn on. No batteries are required. They can review your images while on a train coming in to work or during downtime while waiting for a meeting to start. With a digital portfolio, you have to ask: How big is their monitor, what is its resolution, and how many colors does their video card support? What about the amount of system memory?
Take My Portfolio, Please
In this post-Palm Pilot world, there is no one-size-fits-all approach to producing portfolios that work as hard as you do. Your best choice may be a combination of using both print and digital methods:

Prints: One advantage of making prints with a photo quality desktop printer is your ability to update and customize a portfolio. Larger format ink jet printers, such as the Epson Stylus Photo 1280, let you output prints up to 11x14" on 13x19" paper.
Web site: A web site can be indispensable in making sales to web-aware clients, but won't help you with digital-phobic photo buyers. Each month in Shutterbug's Web Profiles department, I feature one or two portfolio sites. Take the time to visit these homepages to get ideas on how to construct your own web site.
Digital: Like a web site, an on-disc digital portfolio can be a powerful marketing tool that will fit inside your shirt pocket or purse. The downside is that you must consider the computer system on which the user may display your images. If large image files in your digital portfolio causes a potential client's system to crash you can forget about making any sales to them--now or in the future.
Don't get me wrong; I'm not opposed to creating a digital portfolio. Effective marketing has always included a mix of media and you have to select a combination of promotional tools that will work for your specific demographics. In a perfect world, one method will work for all of your potential clients, but out here in the real world, you'll need both digital and print portfolios.
Customized Portfolios
What Staver decided to do was produce customized portfolios for specific market segments, such as architecture or business portraits, using Art Leather Preview albums. These binders come in nine different colors and can be imprinted in gold with your studio name or logo. Page inserts are available in four colors, but Staver prefers black, which he feels best shows off his commercial photographs. If you use both sides, a portfolio album can hold up to 15 inserts providing a 30 print capacity.
For his 35mm and 120 negatives and transparencies, Staver uses Photo CD as an image acquisition method. He tweaks each image's color, brightness, and contrast and occasionally performs subtle manipulations with a Power Macintosh G4 and Adobe Photoshop software. Images are sized to fit the album pages and, depending on the portfolio, Staver places a single image on a page. This is not a hard-and-fast rule for him and shouldn't be for you either. Using Quark XPress he combines as many images as will fit on a 13x19 sheet and gang prints them with an Epson Stylus Pro 5000 ink jet printer. After the sheet of images is printed he trims them, leaving a thin white boarder around each photograph to separate the images from the black album page. Prints are attached to the inserts using double-sided adhesive tape. When he's finished, he has a 14-page portfolio with his studio name imprinted in gold that cost $40--less than the cost of a single laminated custom lab print.
Other binders are available from companies such as Icon Distribution, and I plan to convert my own print portfolio to their inexpensive, but classy looking Turbo Folio.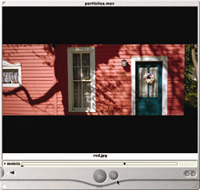 One of the best ways to create a completely digital portfolio is with Voyager's PhotoFolio 3.0 software that lets you make a QuickTime movie from your photographs in a few steps. This panoramic image of a Victorian house in the mountains of Colorado is part of a 6.2MB QuickTime movie being viewed with Apple's latest (free) QuickTime Player software.
What A Web We Weave
A homepage on the World Wide Web has many advantages over a conventional laminated print portfolio or four-color promotional piece.
First, a web site is less expensive to change and update than traditional, non-electronic media. Four-color printing is expensive and if you order 5000 brochures it may take some time to distribute all of them. By the time you're down to brochure number 4989 you've probably created many better photographs than the ones pictured on the brochure. Changing images on a web site is a matter of scanning new ones (or having someone do it for you) and posting them on your homepage. Adobe Photoshop's File>Save for web command makes creating images that look good and display quickly easy for even a web newbie.
Second, you only need to have one web site. There's no need to have 5000 brochures printed or to have duplicate portfolios made so you can ship the images to several different places at the same time. A single web site will be accessible to many thousands of photo buyers around the country--even around the world. Before you construct a web site, you should establish the parameters. Start by asking what you hope to accomplish and how you intend to accomplish it. Without clear goals, a web site will be just as much a waste of time and effort as a brochure that's full of pretty pictures but doesn't ask for a sale.
All Digital All The Time
Voyager's PhotoFolio 3.0 software lets you create a digital portfolio in just a few steps. After creating a folder of images in Photoshop, PICT, GIF, or JPEG formats, just drag them into Photo-Folio's workspace. This action displays all the images and you can double click on each of them to attach sound, music or add transition effects using the slider controls built into the image control dialog box. When you're finished setting the transition effects and maybe adding some tunes, click the Build Movie command and you're finished. If you don't select any transitions between images, PhotoFolio automatically adds different effects. Within a few seconds, you'll have a QuickTime file that can be e-mailed, recorded onto a business card-sized CD-ROM disc (see sidebar below) or placed on your web site. The software costs just $49.95 and is currently available for the Mac OS, although a Windows version is expected.
MGI's PhotoSuite Mobile Edition software lets users store, view, and share photographic and video files using Palm OS handheld devices. The package includes a Windows-based desktop application called PhotoSuite Mobile Organizer that lets you enhance image files before transferring them to their PDA (Personal Data Assistant) software PhotoSuite Mobile Organizer. This package supports graphic image file formats including JPEG, PNG, BMP, GIF, as well as AVI, WMV, and MOV. Since the program supports MOV files, you can also display portfolios created with Voyager's PhotoFolio software. PhotoSuite Mobile Organizer also lets you "beam" photos and video clips to other handheld devices, even transferring color images to a gray scale PDA. The retail price of MGI PhotoSuite Mobile Edition is $24.95 and you can download a 14-day trial version at www.photosuite.com/palm.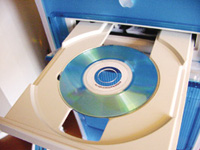 Voyager's CD-Rs write from the inside out and because every CD-ROM drive has a recessed area for these smaller discs, mini CD-Rs make an ideal tool for digital portfolios. The only catch? Prices are still slightly higher for minis than full-sized discs but are starting to come down.
Edit, Edit Again, Then Edit Some More
While the temptation may be to show potential photo buyers the length and breadth of your work, keep the overall number of images shorter rather than longer. Be sure to feature the kind of work that you would like to do as well as the kind of projects you normally tackle. While selecting photographs, look for "signature" images that show your unique perspective and clearly represent your style. Lastly, get some advice about what images to include in whatever portfolio format you decide to use. (Who says you only have to use one; why not try all of them?) Because it's sometimes difficult to separate the image from the conditions under which it was made, photographers are not always the best judges of their own work. Ask your significant other or someone whose opinion you trust to help you select the final group of photographs. Lastly, remember that any portfolio in whatever form is never finished. Keep updating and improving it using the latest tools and technologies, as well as your newest photographs.
Portfolio On A Disc
You don't need to use a full-sized CD-ROM disc for your digital portfolio. A curved end business card-sized CD-ROM disc can hold 50MB, as can the new rectangular version. For the ultimate in storage in a small space, consider using the 3" mini discs that can hold up to 185MB of data. Bulk CD-R mini discs, without cases, are available for about a $1 in quantities from 50 to 100. Small CD-ROM discs, including some you can make on your own desktop CD recorder, are available from some of the suppliers listed.
CD Biz Card (www.bizcardcdrom.com/downloads.htm)
Disc Makers (www.discmakers.com/cdrom)
Power Card CD-R (www.powercardcd.co.uk)
Metatec International (www.metatec.com)
NicheStuff.com; blank discs in several sizes (www.nichestuff.com/recordable.htm)
PrestoCD (www.prestocd.com/pages/buscard.html)
Manufacturers/Distributors
Adobe Systems Inc.
(408) 536-6000
fax: (408) 537-6000
www.adobe.com

Art Leather Manufacturing
(888) 252-5286
fax: (888) 882-5286
www.artleather.com

Epson America
(562) 981-3840
www.epson.com

Icon Distribution
(800) 801-2128
fax: (407) 944-0408
www.iconusa.com

MGI
(888) 644-7638
fax: (805) 707-3694
www.mgisoft.com

Quark, Inc.
(800) 676-4575
(303) 894-8888
fax: (303) 894-3398
www.quark.com

StreamRocket Data Centers,
a Voyager Company
(505) 474-3194
fax: (505) 471-1511
www.streamrocket.com

LATEST VIDEO