Breakin Out On Your Own
Making It In The Free Lance World
Make yourself "famous" with a poster. Go to a printing show and make a deal with a printer for free posters,which make impressive calling cards.

Photos © 2001, Rick Sammon, All Rights Reserved
I have been a full-time free-lance photographer and writer for 11 years. Before that, I also free-lanced as a part-time photographer and writer€but I did not share that information with my bosses. Like my other free-lance friends, I take my job very seriously. I'd like, however, to start this article with three jokes.
Joke #1. Question: What's the difference between a US Savings Bond and a free-lance photographer?
Answer: A US Savings Bond eventually matures and makes money.
Joke #2. Question: How does a free-lancer spend his or her time?
Answer: A free-lancer spends 50 percent of the time looking for work, 25 percent of the time trying to get paid, and 25 percent of the time actually working.
Joke #3. Question: What's the most important thing a free-lance photographer needs? Answer: A working wife!
All three jokes ring true to a certain degree--for the free-lancer who is starting out. As far as maturing goes, I, and most of my free-lance photographer friends, are kids at heart--probably because we love what we do. About making money? Well, in the beginning, it was tough. But, hard work pays off, and now the bills are being paid.
Just as I recommend you have an image test file for evaluating new printers, inks, and media, I think you should also have a test image for evaluating color. My test file came to me inadvertently with a photograph made by eDigitalPhoto.com contributor John Stewart inside the FAO Schwartz toy store in Orlando during last year's PMA show. I always test color correction software using this digital camera file that was made under all kinds of mixed lighting conditions. Although Stewart used the camera's built-in flash, skin tone and every other color in the photograph was out of kilter.
Photograph what you like and you'll like your photographs. I like to photograph people, and I like my people pictures.
Getting Started
But enough about me. You want to know how you can get started as a free-lancer--taking pictures, making money, and, perhaps most important, having lots of fun doing what you do. Okay, here goes. Many people ask me for book recommendations on free-lancing. Although there are great books--such as The Photographer's Market and The Writer's Market, I recommend a book that truly helped me. It's Dr. Wayne Dyer's book, Real Magic. In this self-help book, one of many by Dr. Dyer, he talks about how people can create the life they want to live. Sounds wacky! Well, I read the book and it helped me get out of my suit and tie, New York City 9-to-5 job. I seriously believe it can help you, too. Before you leave your "day job," you need what my accountant calls a "cush," or a cash cushion. If you don't have a "cush," you'll be struggling to make it big right away. With a "cush," you'll have more time to be creative and to market yourself creatively. Me? I had a two-year cush. Plus, I had a working wife. Good thing, too!
Get started. Ah, getting started is the hardest part€almost as hard as it is to stay there--because the competition is strong.
I got started by sending my pictures to photography and travel magazines (listed in The Writer's Market and The Photographer's Market). I got tons of rejections, but I followed the "never give up" philosophy and eventually got my work into print.
Then, I tried to get a book contract using those tear sheets. More rejections. But, I stuck to it and eventually got a book contract, and another and another.
Getting Over Rejection
Here's my best rejection story; I share it to give you some encouragement. I had an idea for a series of six children's 3D books. The subject was nature. I took the idea to National Geographic--actually drove down from New York to see the editor of the book division. He said, "No thank you." The next week, I took the series idea to The Nature Company. They said, "Yes, thank you for bringing the idea to us." Today, five years later, these six books are still my best selling ones.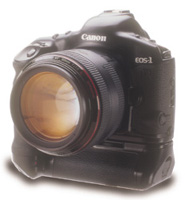 The author (shown wearing 3D glasses) has a favorite motto for free-lancers: "Never give up." All of his 20 books, including a series of six 3D books for kids, were rejected before he got a contract with another publisher.
Be An Assistant
Many pros hire assistants to help them in the field and in the studio. The pay is not great. However, you might feel like you should be paying the pro--because you'll learn so much. You can contact well-known pros through their web sites, which you can find by doing a Google (www.google.com) or Yahoo! (www.yahoo.comw) search. Locally, check out the yellow pages.
TCB
Be a good businessperson. All the free-lancers I know are excellent business people. When you send out your work, it has to look as professional as possible. If you have Quark (desktop publishing software), you can make your own letterhead and envelopes. If not, work with a printer and designer on your "look." It says a lot about who you are.
Collections
When it comes to getting paid, be professional in that area, too. I've found the key is to be patient. Also, when it comes to payment, some magazines have fixed rates. Others let you negotiate. I've found that trying to establish a long-term relationship is much better than going for the "quick bang for the bucks."
Get Known
Make yourself famous. This sounds funny, I know. But it is possible€I know! One way to make yourself famous is to have big photo posters made that have your name on them. Sure, posters are expensive, but you can get them for free! I did. Several years ago, I went to a printing show, met a printer, and asked if he wanted to do a tradeoff: he could use my photos for free if he made me 1000 posters. He liked my pictures and, three months later, I had 1000 Rick Sammon posters (three different ones). When I sent my photographs and article ideas to magazines, I sent a poster, too. I think some of the editors figured that anyone with a poster has to know what he is doing.
Another way to make yourself famous is to promote the heck out of yourself. Try to get in as many publications as possible. The more people who see your name and the more you are published, the more "famous" you are. Please keep in mind, however, the saying on the sign I have on my desk: Don't Believe Your Own PR.
Tech Updates
Keep up with technology. Hard as it may be, you must keep up with technology. These days, some editors want you to "burn" a CD or to e-mail Genuine Fractals files. If you can't deliver, you may not be asked to submit again.
And speaking of technology, all the pros I know use Adobe Photoshop to fix up and enhance their images--even if they are only sharpening them. If you are not into Photoshop (or other professional image-enhancing programs) you simply can't compete on a professional level with your fellow free-lancers.
Network
Make contact/get input. Each year, top pros from around the country participate in an event in Delray Beach, Florida, called, FOTOfusion (www.fotofusion .org). These pros, including myself, give seminars on free-lancing and the business side of photography, as well as the technical and aesthetic aspects of imaging. What's more, they critique portfolios of would-be free-lancers. FOTOfusion is a great place to get input and make contact. Picture editors are there, too. One just may be interested in your work.
Your Best Shots
Take good photographs. You might find it interesting that I have mentioned this near the end of the article. Well, lots of people can take good photographs. But not everyone has what it takes to be a good free-lancer--a will, a drive to succeed, and a passion for photography.
What's a good photograph? Well, think about what Duke Ellington said about music, "If it sounds good, it is good." The same could be said for a picture. If it looks good, it is good.
Photograph what you like and you'll like your pictures. You may want to specialize, in travel, nature, or photojournalism and so on. I specialize in not specializing. It works for me.
Make Your Own Luck
Would-be free-lance photographers tell me all the time how lucky I am to travel the world and take pictures. I respond, "The harder I work, the luckier I become." We have an office next to the house. I'm there at 5am, sometimes working in my digital darkroom, sometimes wrapping packages or taking out the garbage. I'm there at 11pm, usually writing or editing my photos or sending out proposals€or taking out the recycling bins. I'm a firm believer that hard work pays off. Never give up. I know we covered this, but it's very important. Believe in yourself. You can be a free-lancer, too. As my dad used to tell me about achieving your goals, "Even the president of the US puts his pants on one leg at a time." My dad's point was that anyone could be anything he or she wants to be.
Long-time "Shutterbug" contributor, Rick Sammon, has written 20 books and thousands of newspaper and magazine articles. He also hosts the ESPN Photo Safari and has his own photography series on the DIY cable/satellite network. Rick's experience makes him the perfect person to write about free-lancing.
Want more great photo tips from Rick? Check out his "how to" CD-ROM entitled, "The Camera Looks Both Ways." Drop Rick an e-mail for ordering info at: ricksammon@aol.com.

LATEST VIDEO

SPONSORED VIDEO