The Blend
Michael Creedon Combines Film And Digital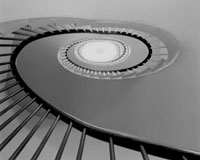 Photos © 2002, Michael Creedon, All Rights Reserved
Why do it? Why join the technologies, film and digital, and go to work in the digital darkroom by scanning your 4x5 negatives into your computer?

Because you can. And because it's fun to experiment and to discover that even great images can be made better, can be adjusted and improved. And the final print can be an even greater achievement.

"The difference," says Michael Creedon, "is the ability to choose a variety of papers to print on. With digital, I've come to appreciate the textures of paper. Silver printing is just that--semigloss or matte paper and that was it; digital at the very least gives you a wider choice of paper and thus wider choice in the look of the print, both color and black and white. There's a visual tactility in the way the inks and the paper form the image."
Michael is, in a way, also a blend: fine-art photographer, digital imaging consultant, and photography teacher. The fine-art photography came first: he was an assistant instructor at the Friends of Photography workshops in Carmel, California, when Ansel Adams and Paul Caponigro were on the premises. Michael became involved in digital imaging in the mid-1990s and now consults at colleges, photographic conventions, and private workshops. He is also on the faculty of the San Francisco Art Institute, where he teaches both film-based and digital imaging techniques.
What Michael does isn't alchemy; it's refinement and control. He starts with a level of excellence--images with texture, tonality, and subtlety. "And then I can clean up the 4x5 negatives, do some digital dodging and burning, adjust the curves and levels and then print them out on digital printers."
Tools And Materials
The black and white images you see here, which were taken with an Ikeda 4x5 camera on Ilford FP4 film, are just part of the story; Michael is just as experienced and skilled with color.
His negatives are scanned on an Epson 1640 flat-bed scanner. For his color printing, he uses a number of Epson Stylus Pro printers at home and at the Art Institute, including the 9600, 9000, 7600, and the Stylus Color 3000 and 1160. For black and white, his prints are made with the 3000 and 1160. Lately, he's been using Hahnemuhle fine-art papers for his prints.
Michael encourages the blending of the two technologies, but cautions that the digital darkroom is a different game than the traditional processing environment. Perhaps the most important key to success and satisfaction is consistency, and that means calibrating all the elements so they perceive the same things. It's the digital equivalent of the traditional darkroom's control of time, temperature, paper, and chemicals. Scanner, monitor, and printer must be calibrated so that what you see on the screen is what you get when you hold the print in your hands. Like everything in photography, it's a discipline, Michael says--but one well worth the effort.
--Barry Tanenbaum
For More Information
For details of his techniques, you can contact Michael directly via an e-mail to mjcreedon@aol.com. You're invited to visit his web site at www.mjcreedon.com.

Information about courses offered by the San Francisco Art Institute can be found at www.sfai-art.com.

Books that detail the film-digital blend and provide all-important calibration information include Real World Color Management by Bruce Frazier, and two volumes by this magazine's editor, George Schaub: The Digital Darkroom: Black and White Techniques Using Photoshop and Digital Photo-Lab: Advanced Black-and-White Techniques Using Photoshop. All are available through Amazon.com.