LockCircle Debuts BirdCage Modular Rig for Mirrorless Camera Video Shoots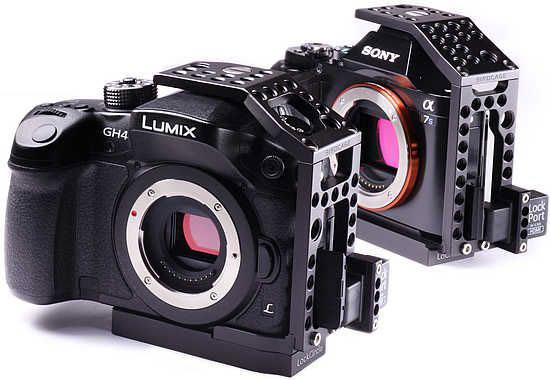 The new BirdCage modular rig from LockCircle offers an innovative cage design and mounting system to stabilize the latest mirrorless Lumix GH4 and Sony A7 Series cameras for video shoots.
Weighing just 1.79 ounces, the BirdCage is a modular production system that features LockCircle's "Asymmetrical Cage Design" for right hand grabbing and camera control with original camera ergonomics. A lightweight cage (like a camera glove) was the main concept in the design process for this rig, because powerful cameras with 4K features are small and lightweight and most of the cages on the market weigh more than the camera.
Designed for a comfortable grip, the left side of the camera is where the production accessories are mounted. The BirdCage is the center of this Modular Production System. It integrates the LockPort (micro to full-size HDMI port saver), and a system of plates for different set-ups and Positive-Lock Mounts (EF and F Mount lenses don't rotate when mounting, just the internal mounting bayonet) for precise follow-focus work without annoying lens play on the bayonet mounts.
The "monolitic" mount concept is available also for the popular MetaBones mount adapters adding solid, tough mounting with the BirdCage MetaPlate. Camera mounting is improved with several double sized threads—camera balancing is also improved. The BirdCage GH4 Swivel (for use with Lumix GH4 cameras ) offers total action of the camera's LCD.
The BirdCage is delivered in a wooden box with pyrography branding and mounting instructions. Delivery starts November 20, 2014 and the suggested retail price is $399.00.
More information on LockCircle's BirdCage here.

FEATURED VIDEO