A BETTER Way to Use the Content Aware REMOVE Tool for Cleaner Outdoor Photos (VIDEO)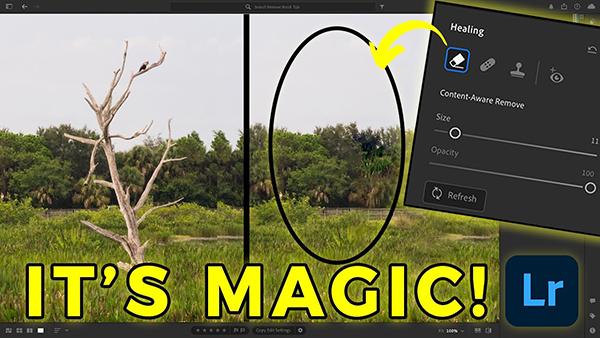 Object removal is one of the staples of editing images for simplicity and maximum impact. Maybe you want to eliminate the proverbial fence post emanating from a subject's head, or get rid of other equally distracting elements that detract from a shot.
There are a number of ways to get the job done, and one of the best is using Lightroom's powerful Content Aware Remove tool. But what if we said that you're doing it wrong and there's a better way to achieve effective results?
Today's instructor is photographer Brian Matiash whose instructional YouTube channel has a simple motto: "Make Pictures Better" with simple editing tools that anyone can master. In today's episode he explains why you may not be harnessing the fully power of Lightroom's Content Aware Remove tool, and then he demonstrates three straightforward tips for doing it right.
Matiash begins with an overview of the various methods at your disposal, which include the versatile Healing panel tools. Then he reveals his favorite tricks for accomplishing a variety of tasks, the first of which is the simple process of removing dusts spots that can spoil an image. In fact, as a landscape photographer, Matiash says this is often the first enhancement he makes.
Some dust spots are easy to see, while others can be difficult to detect (depending on the f/stop you used) until you make a large print—at which point you'll have to head back to the computer unless you used Matiash's approach from the get-go. This trick is as simple as enabling Lightroom's Visualize Spots option before you begin an edit.
Many objects requiring removal are much larger than small, ugly spots, and eliminating these is the next topic of this lesson. Matiash demonstrates how he quickly gets rid of a small barren tree that adds nothing to his illustrative photo. As you'll see, the first step here is selecting the proper type of brush of the correct size. This greatly simplifies getting the process.
There are several other ways to use Lightroom's Remove tool, and Matiash demonstrates how they work. You'll see how to make a straight selection, sample different parts of an image, and quickly execute other tasks that will greatly improve a photo.
Matiash also demonstrates how to deal with the occasional situation in which "Lightroom messes up." He offers a wide variety of other helpful lessons on his popular YouTube channel, so be sure to take a look.
We also suggest checking out our earlier post with a complete guide to using Lightroom's powerful Tone Curve for beginners and advanced photographers alike.