Best Of Show; Shutterbug's Picks Of PMA 2006
While each of our reporters had their own beat and covered the show from a product category perspective, we also asked them to tell us about their favorite product or products overall. That product did not have to be within their assigned coverage area. The only criteria were excitement, new breakthroughs, and products that would have a positive effect on Shutterbug readers' work and creative endeavors. While we did have some overlap and agreements, there were enough diverse products to make this year's Best of Show picks interesting.
The huey Color Calibration Device
Almost the size of a pencil, the huey makes calibrating any monitor easy. It works with CRT and LCD monitors or laptops. At $89, this is the lowest-priced calibration system we've ever seen, especially for the Mac (10.2 or higher) where nothing has been available for under $150 in the past.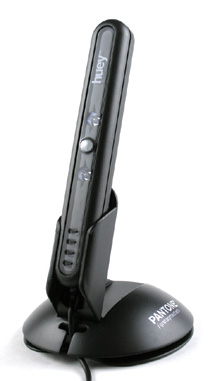 huey Color Calibration device
In my initial test on my laptop, installing the software and calibrating went smoothly. First you set the huey to measure ambient room light then hang it over the monitor against the on-screen template. Everything else is automatic. After calibration there is a before-and-after button, which allows you to see the improvements in your on-screen colors. An added bonus is that if you leave the huey connected in its stand it will constantly monitor ambient room light, adjusting the monitor accordingly at predetermined intervals that you can set.

After calibration is complete the default choice is the viewing images and web browsing setting which sets the gamma to 2.2 and the color temperature to 6500, which is the default for the sRGB color space.

A few tips about using the huey. If you're calibrating an LCD or laptop, tilt the screen back so you don't have to adhere the huey to your expensive screen. Professionals may choose to not have the huey adjust the monitor as ambient light changes but rather keep the ambient lighting constant, as screen brightness variations may effect their color or density decisions.

You can read more about, or purchase the huey from http://pantone.com.
--Larry Berman
Yellow Machine
I'll leave it to my colleagues to make the more obvious choices for Best of Show because not everybody needs a new digital SLR and they may be perfectly happy with all of the lenses that they already own. What some readers are looking for is better digital workflow, a streamlined operation, and the answer to the never-ending question of "where in the heck am I gonna store all those files?" Enter the Yellow Machine (www.anthologysolutions.com).
Inside this yellow submarine are multiple solutions to many photographers' problems starting with a terabyte (1000GB) of image storage. This is not just disk space but RAID (Redundant Array of Inexpensive Drives) storage that provides automatic backup for all of those shooters who somehow never get around to it. Don't worry; the Yellow Machine does it for you using EMC's Retrospect Professional software that's bundled with the hardware. At the same time the Yellow Machine uses disc-scrubbing technology that monitors and fixes data, preventing hard disk errors before they occur. Surge protection is built-in to guard against power line spikes and an intelligent UPS system offers "graceful" shutdown in the unexpected case of a power outage. The Yellow Machine contains a wireless VPN (Virtual Private Network) router so it replaces another piece of desktop gear besides your external FireWire drive. Because it's wireless you can copy and transfer files from anywhere in your office/studio. One small yellow box; lots of functions and protection. If you shoot lots of pictures or just want to protect the ones you have, get a Yellow Machine.
--Joe Farace
Panasonic's Lumix DMC-L1 Digital SLR With Leica-Branded OIS Lens
The Panasonic Lumix DMC-L1 received more attention than many of its competitors during PMA 2006. Granted, Panasonic had announced a joint venture with Olympus a year earlier for a new Lumix Four Thirds format digital SLR, but they kept the specifics a closely guarded secret until the show. The response was overwhelmingly favorable.
In his report on new digital SLR cameras, Joe Farace provides specifics on the various DMC-L1 amenities, including the single Live View mode designed in conjunction with Olympus. The features are certainly interesting, but it's design that really sets this camera apart from its competitors. In some respects, this is a "back to the future" system. In spite of a great deal of advanced technology--some shared with the EVOLT E-330--the Lumix body and its gorgeous kit lens feature a surprisingly traditional design. It's not quite "retro" as some reports have suggested. Still, the rangefinder styling, top-mounted shutter-speed dial plus the mechanical aperture ring on the lens combine to make an appealing package.

The rangefinder design was primarily achieved through the use of the side-swinging reflex mirror and Optical Porro Finder developed by Olympus for the EVOLT E-300 and E-330 bodies. These features allow for "flat-top" SLR cameras without a penta-prism hump. But the Panasonic designers went a step further to create a metal body that would more closely resemble a large 35mm rangefinder model. And their first zoom lens--manufactured by Panasonic to Leica specs, under Leica supervision--is equally solid as well as traditional in look and feel. The built-in Mega OIS (Optical Image Stabilizer) is a definite bonus. Its Mode 1 (continuous stabilization) will work with EVOLT cameras, too, but Mode 2 (stabilizer activated just before shutter release) operates only with the Lumix DMC-L1.

At the time of this writing, prices had not yet been set, but the Lumix kit was expected to be more expensive than the EVOLT E-330 kit ($1099) with its non-stabilized Zuiko Digital 14-54mm zoom. That's understandable, because the Panasonic/Leica products boast a more prestigious look and feel, in addition to the Mega OIS system. Aside from the lower price, the EVOLT model does boast at least one advantage: a more versatile Live View system with two distinct Modes, including full-time live preview. Meanwhile, the Lumix camera includes only one; it's similar to the Olympus B mode but (unlike the E-330), it allows for limited autofocus operation. Consequently, the EVOLT E-330 will be more popular, especially among those trading up from a compact digicam.

But experienced photographers who developed their skills on a traditional camera will definitely want to save up for a Panasonic Lumix DMC-L1 kit. While a flash unit and additional lenses may not be available for some time, the Lumix body accepts the Sigma Four Thirds and Zuiko Digital zooms as well as the Olympus FL flash units. That compatibility assures great versatility immediately. It allows for building a full system that can be expanded later if desired, with more of the handsome Leica-branded OIS lenses. If the performance/image quality factors live up to my high expectations during testing, the Lumix digital SLR system will have earned its Best of Show designation.
--Peter K. Burian
The Affordable And The Dear
My Best of Show picks fall into two categories: inexpensive and expensive. Most inexpensive of all was the $12 rubber chicken (with squawk) from American Photographic Resources, but the Kaiser folding studio from HP Marketing Corp., is a mere $70 and incredibly useful for small product shots--which are exactly what you want to shoot, all the time, at a trade show. It's going to photokina with me and I've suggested to Bob Salomon that they try to get as many of them as possible on the manufacturers' stands before the show. At the other end, I would have loved to go home with two new cameras and a new camera back: the new Horseman 35mm stereo ($5000), the Tele-Rollei TLR (no price yet, but several thousand more), and a top-end BetterLight back for my 4x5" cameras at around $20,000. The last really does deliver better-than-film quality, but of course it's a scanning back, so it can't shoot moving subjects (even snails) and you have to have a good-quality 4x5" camera and lens to begin with. If I had $30,000 to spare I could probably buy the lot--but I fear that there are quite a lot of other calls on the next 30 grand I earn, and that several may take priority.
--Roger W. Hicks
New Pigment Ink Printers
My pick for Best of Show at this year's PMA is actually a category. With the introduction of the HP B9180 and the Canon Pro9500, digital photographers now have real choices when it comes to pigment-based inkjet printing.

Pigments have a large advantage over dye-based inks in both longevity and in the media selection available. Epson has had a lock on this market for several years now. The HP and Canon printers, both 13x19 format in size should spur more innovation and competition, which is always good for the consumer.
The HP Photosmart Pro B9180 is an eight-color printer with the new Vivera pigment inks. Black and white prints are excellent thanks to the three shades of black. Color quality should be consistent and on par with HP's professional Designjet series thanks to the built-in closed-loop color calibration system. HP uses individual ink tanks and four print heads in the B9180 to keep the print speed up and minimize waste of ink. I'm constantly impressed by how frugal the HP printers are with ink use, and this should be no exception.

The Canon PIXMA Pro9500 is a 10 (yes 10!) color printer using the new Lucia pigment inks that are also used in the larger imagePROGRAF iPF5000 printer, and is a complement to the new Pro9000 dye-based printer also announced at PMA. The Canon offering includes four shades of blacks, similar to the Epson R2400 that it competes with. Unlike the Epson though, there is no need to swap out ink cartridges when going from photo black to matte black. The printer also includes dedicated red and green inks for more saturated and accurate colors--particularly nice for landscape photographers.

Both the HP and Canon printers now support a variety of fine art papers, and in fact, both are selling Hahnemühle Photo Rag under their own name. Print life estimates for both models are over 100 years for color, and 200 years for black and white prints, depending on the paper used.
--Jon Canfield
UP-CR10L Digital Photo Printer--Sony's SnapLab
Among the usual crowded crop of new innovations, products, and alliances, the capabilities of the UP-CR101 digital printer "SnapLab" caught my attention. It offers creative, real-life solutions to dependably and quickly supplying quantity and quality images on location without a major dollar investment and without the need to transport a lot of equipment. While printing without a computer has been available in a slew of consumer products, this is the first product that combines photo quality, quantity (up to 300 3.5x5" prints), and speed--3.5x5, 4x6, and 5x7 prints in 13, 16, and 17 seconds respectively for about $1600.
Advertised as an "undersized, stand-alone professional photofinishing solution," the SnapLab Digital Photo-finishing system is based on dye sublimation technology and is operated via an 8" color LCD touch screen and very intuitive Graphical User Interface. If you are printing proofs, image numbers can be printed as barely visible on the front of each image for ordering purposes. There are numerous on-board image enhancement tools (zoom/crop, redeye reduction, color adjustment, black and white/sepia), as well as custom borders, text/logo, and layout options. Images can be downloaded from a variety of media, including Memory Stick, Secure Digital, MultiMediaCard, SmartMedia, CompactFlash, and Microdrive. The unit weighs only 24 lbs and stands approximately 11x12x15".

The only immediately apparent downside is that the consumable cost of a 4x6 print is approximately .25 and that the thermal print head is warranted for only 10,000 sheets. Replacement cost, however, is quite reasonable at $207.31.
--Ingrid S. Krampe

LATEST VIDEO