Bags & Cases; Photo Backpacks, Shoulder Packs & More
Looking at the latest camera bag offerings has an extra piquancy when you are in the market for a bag yourself, as I was at this year's PMA. My husband Roger Hicks had just bought a new laptop, which was a very tight fit indeed in his existing camera bag. We needed something new. We ended up with the CompuTrekker AW backpack from Lowepro--but along the way, I was reminded yet again why there are so many different kinds of bags, and why there are new models every year.

The CompuTrekker AW was introduced last year, but this year there is a wheeled version. It's excellent, but obviously it's heavier than the plain AW and if you travel outside the US this is often a problem. Many American airlines don't seem to have carryon regulations, or if they do, the check-in staff ignore them. Europe is different. More than one American tourist has been badly upset when they change planes in Europe and are forced to check oversize carryons. Our AW fits inside the gauge stated on the ticket--45x30x23cm, roughly 18x12x9"--and that is important. Both the AW and its wheelie brother have a full backpack harness, with sternum strap and waist-belt: slower to take on and off than a simple knapsack design, but a lot more comfortable if you are walking any distance. This sort of compromise between speed and comfort is just one of the considerations that both the designer and the customer have to take into account.
Lowepro has also extended their Stealth line, with a number of new sizes: another reminder that even if there was nothing in a manufacturer's line-up that suited you last year, this year may be different. Stealth bags are shoulder bags for photographers who also want to carry laptops, digital photo wallets, and other electronic bits and pieces. This is a definite trend; as one of the manufacturers said to me, it used to be only professionals who wanted to carry laptops along with their cameras. Now it's amateurs as well.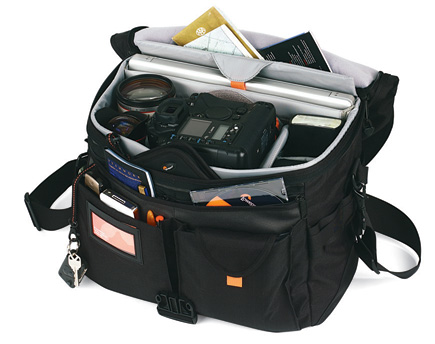 Another strong contender for our needs was a Naneu Pro Sierra, but the laptop was a fraction too big: a Tango would have done it, but they had sold the Tango just before we got there. Both are essentially shoulder bags, but have a built-in, concealable messenger strap--their name for a dispatch-rider strap/bandoleer strap. This is a new idea, and a really good one: it would have been a hard choice between the AW and the Tango. I really like dispatch-rider bags, and it seems I'm not the only one: more and more manufacturers are offering them. The other big trend is wheeled backpacks. Naneu also offered the new Mini-Goombah in this style: predictably, a smaller version of the original Goombah.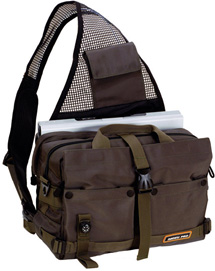 A Bag To Fit Your Needs
I usually carry a rangefinder outfit: two Bessas and up to five lenses. This means I can get away with a relatively tiny bag such as the small Lowepro SlingShot 100 that I use at the moment. I have been very tempted, for example, by one of the smaller bags in the Kata National Geographic range from Bogen Imaging Inc. These have a wonderful 1930s retro look, cotton and hemp with brass fittings. In a sense they are "lifestyle" bags--bags that say a certain amount about what sort of person you are, and how you want to live--but mercifully most of the more vivid and extroverted versions of these have now disappeared, along with the "designer" labels from people who knew nothing about taking pictures and carrying cameras. Kata also introduced a couple of wheeled Organizer Cases, the OC-82 and OC-84, for (I quote) "an hierarchic and accessible working platform." In other words, you can organize your kit easily and get at it easily.
Kata weren't the only people with National Geographic. There's an actual National Geographic brand from Cerf Brothers, all black with a lining in National Geographic yellow. They're small, well made, functional bags and pouches--the biggest "Tiger" case is only 9x8x5"/23x20x13cm--and the "Snake" range consists of soft drawstring pouches or sacks, from 6x3"/8x5cm to 6.5x8.5"/22x17cm. Of course, a proportion of money from both the Kata and Cerf Brothers ranges of National Geographic bags is paid to the Society.
Although black ballistic nylon has made something of a comeback, the days when this was just about the only option in soft-side cases are long gone. For example, the Adventure series of photo backpacks and messenger (dispatch-rider) bags from Tamrac use inset panels of gray or red for variety, though the bag I'd probably find most useful for my small rangefinder outfit is the new (but plain black) Velocity 8 - Pro Sling Pack. As they say, it doesn't look like a camera bag (some of which might as well have STEAL ME embroidered on them)--and it's another dispatch-rider/messenger bag. Tamrac describe it as "Digitally Equipped," but remember, this doesn't mean you have to put digital cameras in it.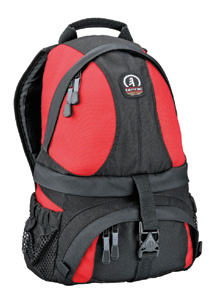 The big holdout if you want an in-your-face lifestyle bag is Crumpler, but fortunately, they do know about carrying cameras and their designers are good enough to handle the colors. I'm still not sure about the names, though: The Soupansalad, The Complete Seed, The Fux Deluxe, and this show's main bag introduction, The Brazillion Dollar Home, described as a "convertible backpack/shoulder photo/IT case"--another example of the laptop trend.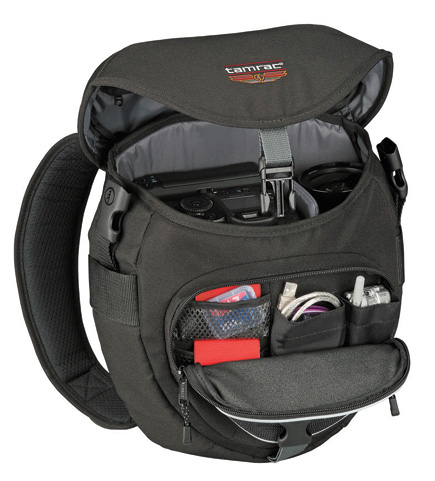 Velocity 8 - Pro Sling Pack
Distributed by the Brandess-Kalt-Aetna Group, the Pelican D'Exec series is now in production and should be available by the time you read this. Initially there are just two bags in the series. One is a particularly handsome large camera/computer soft-side bag which will fit inside the Pelican 1550 for extra protection. The other is a wheeled upright bag which will also take both camera and computer. The bags are black or green canvas with brown leather trim: my favorite is the green.

LATEST VIDEO

SPONSORED VIDEO