Back Yard Studio In A Bag; A Kit Full Of Location Light Modifiers
Let's face it. Not every photographer has a loft in the photo district that includes a studio space in which to photograph. Heck, not every photographer has a back yard. Don't let that stop you from reading this review. Even if you don't have a back yard or studio space you have something just as good, Central Park, Herman Park, some park.

At any rate, photography is about light. And available light can be the best light--unless you modify the available light to make it even better. For example, a trick I have often used, especially when traveling, is to open a large book and place it on a table to reflect light onto the subject's face--they don't even have to be reading, nor does the book have to be in the picture. This is usually done in a room where the light is either subdued or is too much overhead, casting hard shadows under the brow. You could always use an on-camera flash bounced off a wall or ceiling. But then you're not making use of the available light, but creating your own. The advantage of available light is not having to fuss with a flash, and it is almost always natural looking (don't miss that word "almost").
Equipment Used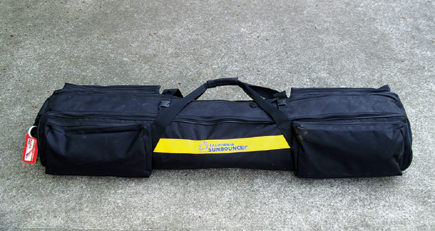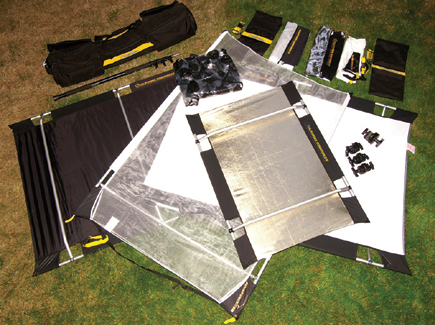 The studio.
All Photos © 2006, Steve Anchell, All Rights Reserved
The product on the top is the Sunbounce Mini reflector 3x4; second, Pro 4x6 reflector with Le Louche screen; third, Pro 4x6 reflector with Silver/White screen; fourth, Pro 4x6 reflector with Black/White screen. Showing above the reflectors is a 13-foot Black Boom Stick to hold the Sun-Swatter; Rolling Bag for taking Sunbounce equipment on the road; Sunbounce Special Grip Head Black; Sunbounce plastic cucoloris to insert into the Le Louche screen; Sunbounce Portable Sand Bags (empty) with yellow stand adapter; and Sunbounce extra screens for Sunbounce reflectors and Sun-Swatter.
All of these items can be purchased in kits that come with a padded bag, the grip head, and tuning clips; for the Sun-Swatter, the Boom Stick to hold the Sun-Swatter up in the air to move fast from location to location. They can also be purchased individually with just a frame and a screen in a tube bag without a grip head or tuning clips. The Sunbounce Pro reflector can come in a Sunbounce Big reflector which is 6x8 and the Sun-Swatter can come in a Sun-Swatter Big which is 6x8.
Note: The items seen here are not a standard kit. The gear was everything Sunbounce could fit into a bag for me to try.
And available light can take many forms. I once knew a photographer who specialized in photographing kids in Santa Monica, California, in a park overlooking the ocean. She only worked during the foggy season and would cancel an engagement if the fog didn't cooperate. She had more clients than she could handle, using only available light.

While fog is a complete wraparound light source, not everyone has access to it, or clients who are willing to wait. For most photographers it is necessary to modify and enhance the light that is, well, available. To accomplish this photographers have used any number of ingenious homemade and store-bought devices. One of the simplest is to wrap a piece of heavy cardboard with crinkled aluminum foil. This works well in many situations but the size is often limited, unless you have a refrigerator box and lots of foil. Then there becomes the question of how to carry it to the location.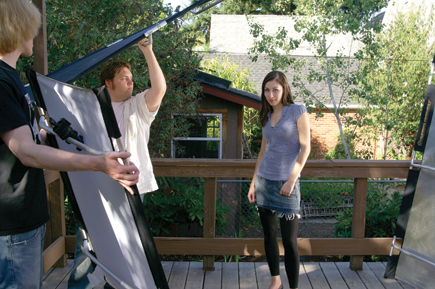 Model Kira Distler brought two friends, both willing to learn the trade.
And what about size? When it comes to soft light and reflectors, bigger is better. In an attempt to replicate the light which we can create in a studio using $10,000 or more of strobes, umbrellas, and softboxes, many photographers have designed their own line of location reflectors. Sometimes they decide to go public.

One of these, Wolfgang-Peter Geller, began his career as a photojournalist. Geller was awarded the World Press Photo Award in 1972 for his coverage of a story in Germany. After receiving the award, Geller changed the direction of his career, traveling around the globe to work on location for major advertising agencies. What he discovered, and what many other photographers before him had already known, is that the location reflectors available for still photographers, though well designed in many cases, were flimsy and broke easily. I have personally had this experience with numerous reflectors that sport plastic or wire frames.



LATEST VIDEO