On Assignment; The Photography Of Kevin Moloney
Photojournalist Kevin Moloney grew up in Greeley, Colorado, amid the hub of professional cowboys and "bucking broncos." Although his father, a professional sports photographer, found inspiration in the sport of rodeo, this did not interest his son. It was the hard news and cultural stories that drew him to a news service from National Geographic and to magazines like U.S. News & World Report.

"I did my 10 years of wandering and came back like a bounced check after moving to Brazil for a year in 1995," Moloney says. Though his money ran out, Brazil had captured his heart and when he decided to go free-lance as a photographer it was that connection that drew him back.
Amazon River fishermen sell their wares at the Panair docks in Manaus, Brazil, Monday, January 9, 2006. Fishmongers from the city's public markets arrive in the wee hours of the morning to buy their stocks for the day directly from the boats. The Amazon River system boasts more different species of fish than the Atlantic Ocean, but as population increases, so does the pressure on fish stocks in the vast river. (Kevin Moloney for The New York Times.)
All Photos © 2006, Kevin Moloney, All Rights Reserved
"My sinister plot at first was to be a good, imperialistic gringo and take advantage of the rotten economy and live like a king. But they fixed their rotten economy while I was there and Rio became as expensive as New York."

The New York Times hired Moloney as a stringer in Miami. He remained there for six months before returning to Colorado where he continues to work for the Times. The move from Brazil to Miami had stimulated an interest for Moloney in the meld of old and new cultures. Religion had also become a favorite topic and resulted in a photo essay on the "Rise of Pentecostalism" as well as work on Islam, Western Africa, and the subject of Latin Catholicism.

While living in Florida, Moloney had encountered a couple of photo buddies who took him to a rodeo in Okeechobee. "I took my Dad's old '58 Rolleiflex and had a great time," he says. "With that sort of camera you have to get close at about 10-15 ft since you are working with a 75mm normal lens. This meant I had to be out in the arena, which is great fun. (If you don't get a hoof through your lens.) I discovered my roots there and now have a wealth of rodeo images from 21/4 to 6x9 as well as some Fuji 6x17 panoramas that I am currently considering for a book.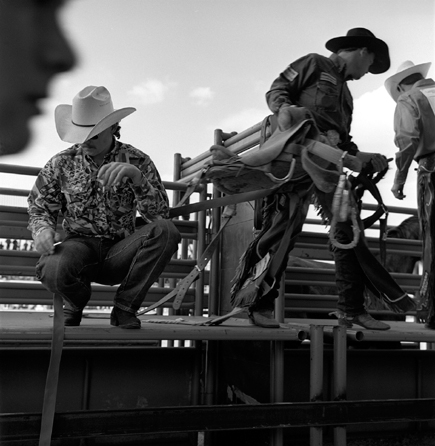 Rodeo riders collect their gear behind the chutes at the Cattlemen's Rodeo in Okeechobee, Florida, March 1994.
"The rodeo has a religion of its own," he explains, "and there are very specific cultural rules--how you behave, how you dress and act--it's more than hopping onto a wild bronco and hanging on, though that is the heart of it. People sort of live to certain standards and ideals and it's a piece of a different world from the rest of the country. There's another traditional culture and lifestyle among the fans who are out there riveted on the sidelines as well as among the cowboys and this is what I focus on--the human interest stuff. There are scenes almost like a ballet as cowboys have to warm up and stretch like any other athletes. At many rodeos there are areas where people camp out while the rodeo is in town. Other parts of that world I like to photograph are the dances and parades, the fights--there's plenty of material. Though the theme is very western there are great rodeos everywhere, all the way to Brooklyn."

Moloney recalls a particular incident that left its mark, telling how he was standing in the middle of the arena with a big, wide 6x17 Fuji panoramic camera about 15 ft in front of the chute where the horses leap out. "I had to hold the camera perfectly level and obviously couldn't set up a tripod and shoot at exactly the right second with these 2000-lb horses heading straight at me. It was an exciting moment..."

Did he get the shot?

"We-ll, it was a little crooked."
Street dogs greet in Ushuaia, Argentina, where a century of intermittent economic booms have drawn thousands of immigrants to rapidly developed neighborhoods. With them have come waste management problems, pollution, and thousands of damaging abandoned pets that often kill regional wildlife to survive.
Moloney has pursued his career in photojournalism since he was a student at the University of Colorado where he took a couple of classes in photography--taught by his father. In the year 2000 he received the Environmental Journalism Fellowship from Ford Motor Company to go anywhere in the world and work on a project related to the environment. This took him to Tierra del Fuego at the bottom of South America--the last little chunk of land before Antarctica.

There he covered issues from the invasive species of animals that were not native to the area and were causing problems to the ozone hole over Antarctica.


FEATURED VIDEO