Apples eMac Computer
Is This The Ultimate Affordable Digital Darkroom
The new eMac comes well equipped with a full complement of software, like iPhoto, supporting video and audio, as well as more standard computing functions like word processing and personal accounting.
In my e-mail not long ago I received an announcement from Apple Computer about their newest computer offering for the educational market--the eMac. This new model was designed specifically for students in classrooms and featured a flat 17" CRT monitor and a powerful G4 processor with all of the computer components built into the monitor housing, like the iMac before it. In addition, the eMac features a CD-RW drive for both reading and burning discs, two FireWire ports, five USB ports, an RJ-45 network 10/100BASE-T network connector, as well as built-in support for AirPort wireless connection. There's also a built-in 56K modem with phone line connector, and even a mini-VGA video output for a second monitor. I only had to think about this new educational model Apple computer a moment to realize that at just over $1000 it would provide an ideal basis for an affordable digital darkroom. However, my expression of interest to Apple's PR department was answered by a notice that the eMac would only be available to educational institutions.

About a month later I received another announcement from Apple that the eMac would be made available to the general public after all. So, I renewed my request with Apple PR and asked to test and evaluate an eMac for Shutterbug. I am pleased to report the request was granted and it has resulted in an experience that completely fulfilled my initial estimate of the eMac's potential as the basis of a digital darkroom.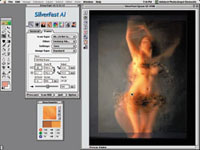 Using one of the FireWire sockets I connected an Epson Perfection 2450 scanner and used the upgrade LaserSoft SilverFast Ai 5.5 driver to obtain precisely adjusted film scans from 120 transparencies. They were quickly processed and transferred to Photoshop in a professional appearing image, meeting every expectation.
What Makes A Computer Ideal For The Digital Darkroom?
Everything a photographer does to edit and adjust a photographic image with a computer is based on the visual perception of the image in the monitor display. Although Apple has forged ahead with flat panel displays with their latest iMacs, the longer established CRT display provides a greater gamut of colors. This reproduces a photograph more closely to how it looks on film and how it should look in a print. The new eMac has the latest flat CRT monitor, which is 2" larger than the original iMac, and is driven by NVIDIA GeForce2 MX support with 32MB of DDR RAM. This combination provides excellent support for Photoshop and all imaging applications at high resolution, resulting in richly colored, bright, sharp, images displayed on screen.

The other essentials to digital photo computing include the hard drive, which here is a 40GB Ultra ATA, and RAM, which out of the factory is 128MB of PC-100 SDRAM, often augmented by resellers with another 128MB for free, with space for up to 1GB. I mention these specs here because they are just about the same as a G4 I bought a little over a year ago and use every day to do my digital darkroom work. That G4 with a monitor at the time cost over twice the under $1100 list for the eMac.

Some who are looking at the eMac from a PC Windows perspective may be critical because the eMac has very limited internal space for added peripherals. My answer to that is that Apple and its users traditionally have not been as inclined toward internal expansion as they have external. And, with ample USB and FireWire connectivity just about any way you want to accessorize eMac performance can be done with a wide array of competitive external accessories. With now three Macs I find external peripherals an advantage, as I can move them easily from one machine to another, and from yet another viewpoint some peripherals like a FireWire HD may last longer than you want to keep the main machine before upgrading.

The main reason that any Mac, as well as the new eMac, has a unique advantage to doing digital darkroom is the software, beginning with the operating system, of which there are now two installed on every new Mac: OS 10 and Classic OS 9. OS 10 is a Unix-based operating system that has been the mainstay of high-end workstations for more than a decade. It offers a very established environment of standard features easily connected to networks and talks directly to Windows computers as well as other Unix systems and, of course, older Macs with the Classic Mac OS.

Most significant to photography and part of the OS is Colorsync, Apple's color management system, which, in its latest version, is very much plug-and-play. It automatically recognizes any current imaging device, like a scanner or digital camera, and if the device has firmware that includes a profile, OS 10 automatically installs that profile in your system and uses it relative to any input from the device. Of course, the same goes for printers as well. To complete the color management system OS 10, as well as Classic OS 9, provides a manual perceptual utility to calibrate the built-in monitor and generate a custom profile to complete the color management triad--from input to monitor to output.

In addition to running the computer Mac OS 10 includes full built-in support for digital cameras, video, and music (with built-in speakers and microphone, that may be supplemented by a very neat self-powered bass woofer), and with iPhoto, iVideo, and iTunes, easy to use and powerful software support. Also bundled with the eMac is the latest version of AppleWorks, which is a suite of home/office applications that includes a word processor, database, spread sheet, and graphics. OS 10 also has as part of the operating system its own very efficient Address Book that will interface with the built-in e-mail support and AppleWorks word processor. Finally, the eMac software installed includes Quicken, the most popular home accounting application.
In my test and evaluation working with Adobe Photoshop Elements the eMac performed effectively and with good speed to produce excellent results easily and reliably.
Getting Acquainted With The eMac
Within just the minutes you can count on your fingers, once out of the box an eMac is up and ready to be used. Just plug it into a power outlet, plug the keyboard into a USB slot on the easy to access right side of the eMac, and then plug the optical mouse into the right side USB socket on the keyboard (left if you are a lefty). I should also mention that the optical mouse and keyboard are exceptionally high quality, the same as you get with the most expensive G4 models. Now turn on the eMac with the start button behind the connections panel. This is out of the way, but I'm sure it's so located because the "e" in eMac is for education, and the designers didn't want the on/off button too accessible to schoolchildren.

Once turned on, you are in the OS 10 workspace environment, which is very efficiently and conveniently designed to be as intuitive as possible. The Dock is a bar of icons for access to applications, documents, and operating system utilities, and unless moved to another locale, which is optional, will be at the bottom of the screen. The only essential setup task involves opening the System Preferences by clicking on the first icon to the left of the divider in the Dock, the one with a light switch. Then click on Displays to obtain access to the Color tab, which has at the bottom a "Calibrate" button. When you click on it a Wizard takes you through the procedure with step by step instructions. (A hint here: to be consistent with a Photoshop setup for photography using the Adobe RGB (1998) workspace profile, select a gamma of 2.2, and a color temperature Kelvin of 6500Þ.) Once calibrated and the new profile saved, with the system using that profile, you are ready to roll.
Test Run
For my testing I installed Adobe Photoshop Elements 1.0 in Mac Classic OS 9, and Photoshop 7.0 in OS 10, plus Ulead's new Photo Explorer 2.0 for Mac, as well as drivers for the Epson Stylus Photo 2200 printer and the Epson Perfection 2450 scanner. I did about a third of my test printing of almost 300 prints with the 2200 and quite a bit of the scanning work for an instruction guide I was currently working on, in addition to a number of regular photo editing and processing tasks I would have otherwise done with one of my personal G4s. I even did some office tasks, writing some notes and e-mail I later transferred to my "business" Mac in my office.

That reminds me--Macs are really easy to network together by just adding a hub and some patch cables, which I did with the eMac to both acquire and send images between it and my three personal computers. And, some of the time I was doing all this I'd stick a music CD in the handy pop-out tray activated by a convenient key on the keyboard to listen to tunes while I worked. And, by the way, the built-in stereo speakers are quite credible for music listening even without a bass woofer.
Evaluation And Recommendation
On the basis of using the eMac daily, essentially replacing one of my G4s, I concluded my tests by wishing I needed another Mac--an eMac. Although the screen size is smaller than the 19 and 21" monitors I am used to, I found that getting a few inches closer to the screen filled about the same portion of my field of vision. The eMac also takes less space and connections are more accessible. I also liked the clean design and pleasant warm white finish that makes it less obtrusive visually in a room--it makes itself at home!

From my experience working with it I found nothing in the eMac's performance which would be a limitation to doing even the most sophisticated digital photography, unless of course you are outputting outdoor billboards. Although I initially began working with it on the basis of using the Apple monitor calibration, I did use ColorVision's PhotoCal software and their Spyder monitor calibration sensor to create a precisely measured profile. Working with the eMac produced output that was not discernibly different, and precisely matched to the results I obtain with my own G4s.

The bottom line is that as the basis of a digital darkroom the eMac is quite professional in quality and performance at about half the cost of a G4 system including monitor. And as significant is the fact the eMac is truly easy, requiring a minimum of setup configuration to be fully operational to do photo image processing precisely and reliably. Of course, if every Shutterbug reader got an eMac I would not get enough e-mail questions addressed to Digital Help to keep the department going!

Although the eMac price is more than what Steve Jobs and his PC competitors are advertising on TV, consider the eMac was designed and made for use in classrooms where ruggedness and reliability are essential. I believe I can best describe the difference photographically by suggesting that those very cheaply priced PCs may be capable of producing photos comparable to snapshot processing from a discount warehouse, while the eMac can produce custom-like prints, just like you'd get from a professional lab.

For more information call (800) 692-7753 or visit Apple's web site at www.apple.com/emac/, or visit your local Apple store.
Ulead Photo Explorer 2.0 For The Mac
Just a few years before Steve Jobs resumed command of Apple one of the most frequent concerns was a lack of software support for Macs. Today, especially since the iMac was introduced, the number of software titles has grown even more than Apple's market share, which has increased substantially. One of the latest to enter the photo arena is Ulead, one of the longest established publishers of image-editing software. In fact it was one of the earliest on the Windows platform under the aegis of Aldus PhotoStyler 1.0, and my favorite in those early days on the bleeding edge of digital photography. Now Ulead's first Mac offering is a combined image management, enhancement, and sharing application for photo enthusiasts requiring a simple and easy to use set of tools to support either images acquired from a digital camera or scanner.

Photo Explorer 2.0 offers a straight ahead, clean, logical interface to manage photo files with drag and drop rearrangement and quickly generated thumbnails with file names underneath. It supports EXIF metadata JPEG digital camera file information in a window. Photo Explorer also supports easy batch file renaming and conversion to different file formats. And it's just a click on a thumbnail to an enlarged window view of a file to use Photo Explorer's tools to adjust brightness, hue, saturation, and color balance.

There is full support for web HTML format for sending photos attached to e-mail as well as a quite powerful slide show generator, including a large array of transition effects that can also be output as a web HTML page. The street price for this new Ulead Mac version of Photo Explorer is $24.95. For more information visit Ulead's web site at www.ulead.com.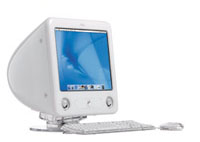 Processor And Memory: 700MHz PowerPC G4 processor with Velocity Engine; 256K on-chip level 2 cache at full processor speed; 100MHz system bus; 128MB SDRAM; two 168-pin DIMM slots support up to 1GB using 128MB, 256MB, or 512MB DIMMs
Storage: 40GB Ultra ATA hard disk drive; 24x10x32x speed (maximum) CD-RW drive; support for external FireWire and USB storage devices
Peripheral Connections: Two 400-Mbps FireWire (IEEE 1394) ports (5); 8w shared; total of five USB 1.1 ports: three on computer (shared on two 12Mbps controllers); two on keyboard
Display: Built-in 17" flat CRT (16" diagonal viewable image size); 0.25mm dot pitch
Communications: Built-in 10/100BASE-T Ethernet (RJ-45 connector); built-in antennas and card slot for optional 11-Mbps AirPort Card; IEEE 802.11b compliant; built-in 56K V.90 modem (RJ-11 connector)
Audio: Integrated high-performance digital audio system; internal 16w digital amplifier; built-in microphone for speech recognition and audio recording; mini headphone jack (headphones not included); analog audio input minijack; up to 16-bit stereo and 44.1kHz sampling rate; support for external USB audio devices
Video: Mini-VGA output port (requires VGA display adapter; available at the Apple Store); support for video mirroring: external devices display an image identical to that shown on the built-in display
Keyboard And Mouse: Apple Pro Keyboard with full-size function and navigation keys, audio controls and media-eject key, Apple Pro Mouse with optical sensor for precise cursor control
Size And Weight: Height: 15.8" (40.6cm), Width: 15.8" (40.6cm), Depth: 17.1" (43.3cm), Weight: 50 lbs (22.7kg)
List Price: $1099

LATEST VIDEO

SPONSORED VIDEO