Always Keep Your Eyes Open for Great Outdoor Photos: The Story Behind the Image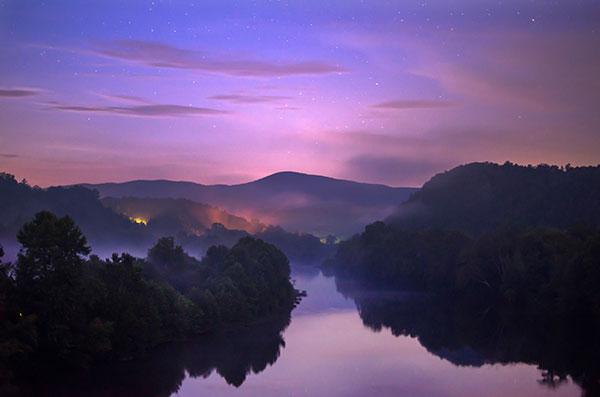 The location that photographer Joshua T. Moore shot this gorgeous image from is easy to miss. In fact, people drive right by it every day.
"If you travel along the Blue Ridge Parkway and pay attention to where you are, you will drive right across the bridge I took this shot from, the lowest point of the Blue Ridge Parkway," Moore notes. "This is, by far, one of my favorite views along the parkway, and one that is not so well known. The James River seems to flow straight from the mountain and the small town of Big Island, Virginia, has a few lights shining."
And it's the lights of the town and the surrounding natural lighting that really makes this photo. You can see a larger version of the image here.
"To get this shot I focused my camera on the brightest spot midway through the scene and switched it to manual, then I patiently waited for the sun to set," he explains. "I ended up taking this about 20 minutes after it set and I was able to catch that last bit of pink in the sky for the day."
The image is a 21-second exposure that Moore captured with a Nikon D7000 and an AF-S DX Nikkor 35mm f/1.8G lens on a Manfrotto BeFree tripod at f/1.8, ISO 400. To view more of Moore's work, visit facebook.com/jtmoore71 or find him on Instagram: @jtm71.

FEATURED VIDEO