Alaskan Wildlife Photographer Captured These Adorable Lynx Kits Right Outside His Back Door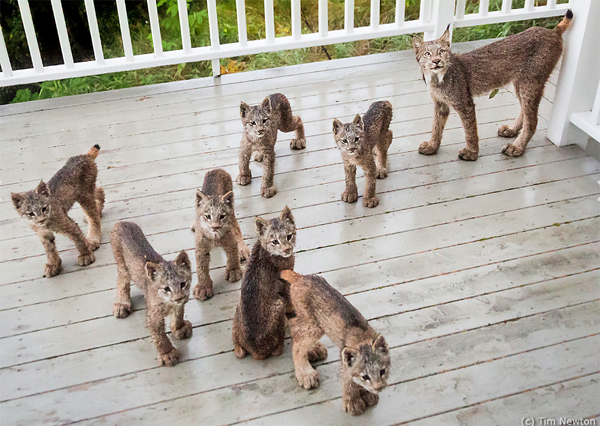 Tim Newton is a professional wildlife and landscape photographer, and a life-long Alaskan. Like many of his ilk, he usually has to do some serious trekking to capture the grandeur and beauty of his home state.
Recently, however, Newton awoke to the commotion of a mother lynx and her seven adorable kits playing on the back porch of his home in Anchorage. Like any serious wildlife photographer would do, Newton forgot about his morning coffee, grabbed a camera, and captured the cute photos you see here.
Newton describes himself as "a nature lover," and says he appreciates living in a place "where animals are valued and seen as an integral part of our daily lives." For those of us who aren't so fortunate, these lynx photos provide a taste of what others regularly experience while living in Alaska.
Newton says, "These seven kits were such a joy to watch playing on our deck," noting that their mother kept a watchful eye on him and his clicking camera. He explains that the mission of his fine landscape and wildlife work is for others to experience the inspiration and solace that our country's last frontier has to offer.
You can find more of Newton's beautiful work on his website and Instagram page. And don't forget to follow us on Instagram at @ShutterbugPix where we're sharing our favorite photos from our followers.
You may also want to look at an earlier piece we posted, with the amazing winners of the Wonders of Wildlife Photography Competition.

LATEST VIDEO