Agency VII; Photographers Controlling Their Destinies
Seven of the world's leading photojournalists and documentary photographers came together to form Agency VII on September 9, 2001, just two days before our world changed forever.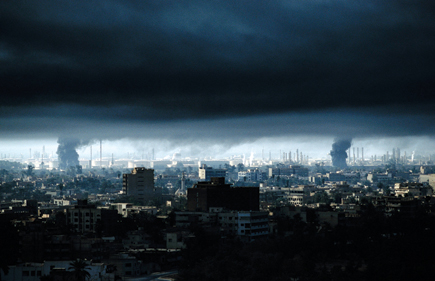 Baghdad Skies.
© 2005, Antonin Kratochvil, All Rights Reserved
Gary Knight, born and based in England, is a widely published journalist and award-winning photographer who was the driving force behind the group. He realized early on the value of the idea of VII Photo Agency. As chairman of the board he was joined by New York-based Antonin Kratochvil, whose images of conflict in Romania, child survivors in Guatemala, Mongolia, Shanghai, and Beijing, as well as the destruction in Afghanistan, has earned him numerous awards.

Forty-year-old John Stanmeyer lives in Indonesia and has been a contract photographer for Time magazine since 1998. Focusing mainly on Asian issues, he has received awards for his major work in Vietnam, Pakistan/India, the Sudan, and Afghanistan.
Harvey Keitel.
© 2005, Antonin Kratochvil, All Rights Reserved
American-born Ron Haviv is a multiple award-winning photojournalist who has produced some of the most important images of our time. He has covered issues from the drug wars in Columbia to conflicts worldwide and has produced a widely published body of work, including his book The Road to Kabul about the war in Afghanistan in 2002.

Haviv invited New York-based James Nachtwey, multiple recipient of the Robert Capa Award and World Press Photo Award, to join the group. A powerful representative of the best in photojournalism, Nachtwey has documented the Vietnam War, the American Civil Rights Movement, strife in Kosovo, Bosnia, Rwanda, and most recently the war in Iraq.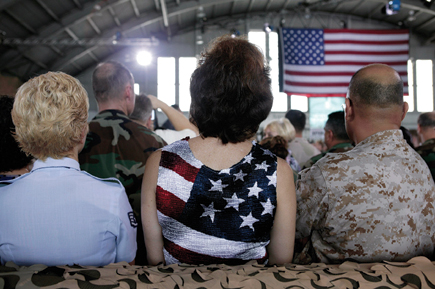 Republican America.
© 2005, Christopher Morris, All Rights Reserved
Alexandra Boulat (Paris born and based) and Christopher Morris (currently based in Washington) completed the seven original members. Boulat, daughter of Life magazine photographer Pierre Boulat, is known for her work in Indonesia, Afghanistan, and Israel and was among the first photographers stationed in Baghdad when the war began. Morris covered foreign conflicts in Afghanistan and was most recently with the 3rd Brigade of the Army's 3rd Infantry Division in Iraq.

Once the agency was up and running they invited California-based Lauren Greenfield, whose documentary photographs of girls living their lives through the doctrines of pop culture have captivated a wide audience here and abroad. Danish Joachim Ladefoged, widely published in Geo, Newsweek, and Time and winner of the 1998 World Press Photo "People in the News" Award, was the last to join the group, based on the high quality of his output.
Tsunami.
© 2005, Gary Knight, All Rights Reserved
The small group of friends who had photographed together in conflicts around the world saw that the industry was changing and it was becoming apparent that as photographers they would fare better by taking responsibility for their own careers and empowering themselves to move in both the world of business as well as in their photography.

"We didn't invent anything new," Haviv says. "Obviously it was like Magnum and other cooperatives that for many years have done well."
The Tragedy of Darfur.
© 2005, James Nachtwey, All Rights Reserved
Referring to the buyout by Corbis of Saba Press Photo, where four of the VII photographers were connected, Haviv says, "It became apparent that we didn't really control our destinies as photographers being represented by a company we had no stake in. So that is how it started. We thought it was a good idea and were trying to put our own stamp on it."

The decision was made to base the international photo-collective VII in Paris, since the majority of photographers were either on contract with US magazines or had strong relationships with the US market. "Europe is a place where stories are often resold to publications like Paris Match or Stern, so it made sense in the beginning for us to base in Paris and eliminate the middle man," Haviv says.



LATEST VIDEO

SPONSORED VIDEO