Adorama Variable Grade Black And White Paper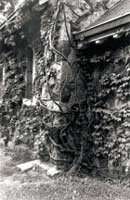 Featuring a slightly warm-black image tone, bright whites, and deep blacks, Adorama Variable Grade is great for a wide variety of images. I developed this Mother-of-Pearl print for one minute in Kodak Dektol diluted 1+1, but other print developers produce virtually identical results.
Photos © 1999, Tom Fuller, All Rights Reserved
To those still on the quest for an affordable, good quality black and white paper, the time has come to sheath your reading glass. Adorama Variable Grade, a medium weight RC available in glossy and Mother-of-Pearl surfaces, meets the requirements and may well be the treasure you seek. This paper has a pleasing ever so slight warm-black image tone, moderate printing speed, good exposure range, and full compatibility with standard VC filters.

The box is labeled "medium weight," but I was immediately impressed by the robust feel of the base, a big plus to someone who thinks many double weights are kind of wimpy. The glossy surface is pretty much standard issue, but the Mother-of-Pearl has a nice, very fine-textured luster. Of course, such characteristics are a personal thing, and while I generally prefer heavy textures, some have the effect of visually "dulling" the image. Not so with Adorama Variable Grade, although as with any paper the glossy version gives a somewhat bolder appearance.

Used with the Ilford Multigrade filter set in a tungsten-lamp enlarger, contrast with both surfaces matched that expected of each grade, although Mother-of-Pearl appeared to be about a 1/2 grade softer than glossy in the 0-3 grade range. Grade spacing was even and the contrast range quite impressive. When exposed without filtration, the paper came in just below grade 2. The contrast of Adorama Variable Grade can be tweaked effectively by varying development time over a one to three minute range.
Although selenium toning changes the image color only a little, it affords the image good protection. This print was treated for 10 minutes in Kodak rapid selenium toner, 1+20.
Unlike many RC papers the emulsion does not contain a developing agent, and while this limits its use with automated processors, it has no effect upon standard tray processing. The manufacturer's recommended 60 sec developing time in Kodak Dektol 1+1 at 68°F proved correct, but a longer time in a 1+2 solution gave similar results. After 10 sec in the stop bath, 30 sec in a fresh normal (not rapid) fixer, and a two minute running water wash, the print dries spot free and very flat in about 30 minutes.

Adorama Variable Grade is fully compatible with all standard print chemistry, as well as economically priced Adorama print developer, indicator stop bath, fixer, and archival permanent wash aid, all available in easy to mix liquid concentrate. Although image color does not change significantly when treated in Kodak rapid selenium toner, there is an increase in image D-max. Despite an excessively long bleaching time, I was especially pleased with the very warm tone produced by Kodak sepia toner.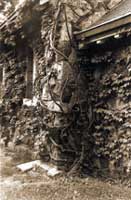 Adorama Variable Grade responds well to many toners for different moods. Kodak sepia toner turns the image a pleasing antique brown.
The only significant difference between Adorama Variable Grade and similar RC offerings from the major makers is that its ISO printing speed varies with filter grade: grade 00 = P180, grade 0 = P160, grade 1 = P130, grade 2 = P110, grade 3 = P90, grade 4 = P60, and grade 5 = P40. However, overall speed is comparable to that of others and the wide printing range yields a gentle gray-tone transition. The paper is available in all sizes from 5x7" to 16x20", including hard to find 81/2x11", in a variety of sheet quantities.

Adorama Variable Grade, beyond a doubt one of the best values on the photo market today, is an excellent choice for the student, serious amateur, and working professional photographer in need of a fast, high quality, and consistent RC paper at a very good price. Excluding shipping, the cost per 8x10" sheet (in 250 sheet packs) comes out to around 24 cents, a deal too good not to investigate.

For more information, contact Adorama Inc., 42 W 18th St., New York, NY 10011; (800) 223-2500, (212) 675-6789; fax: (212) 463-7223; www.adoramacamera.com.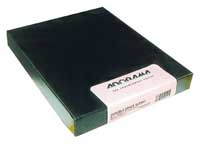 FEATURED VIDEO