Adobe Announces New Photoshop Elements 13 and Premiere Elements 13 Software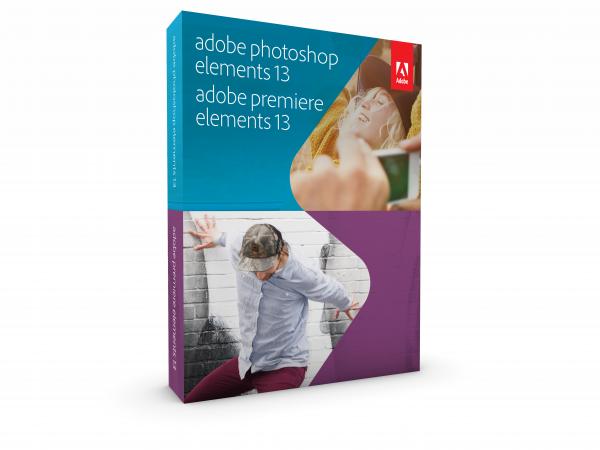 Adobe has announced Photoshop Elements 13 and Premiere Elements 13, which are the latest versionss of Adobe's popular consumer photo and video editing software. Filled with a variety of new creative features and tools, Adobe Photoshop Elements 13 and Premiere Elements 13 are designed to be fun, easy to use and affordable. The new Elements Live portal (found within the software) is an educational tool that offers users a constant supply of fresh tips, tricks and inspiration designed to enhance their image-editing skills—from beginner to advanced level and beyond.
Adobe Photoshop Elements 13 includes Photomerge Compose that allows users to easily copy and paste people (or objects) from one photo into another. This feature is made to work perfectly with the Refine Selection brush for precise selections and Adobe's Match Color Tone that automatically blends the lighting and shading so the final image looks as if it had been shot that way. The three new Guided Edits add a wonderful pop of color to black and white photos or fine-tuning for a more dramatic look.
The Effects Variations offer four additional options per look for a total of 50 ways to modify photos with just one click. The Intelligent Crop Suggestions tool was created to analyze faces, horizons (and other elements in a photo) and recommend four different ways to crop the shot perfectly based on the rules of composition. Adobe Photoshop Elements 13 also lets users combine Facebook Cover and Profile photos with text and graphics to make a uniquely personalized integrated layout.
Adobe Photoshop Premiere Elements 13 allows users to quickly and easily edit their videos with Favorite Moments—just mark the best parts of the clip and assemble them into a short movie to share with friends and family. Users may also add video footage to movie titles with Video in Titles or apply a blur (or another popular effect) to specific areas of the frame with Effects Masking. Video clips shot with a hand-held smartphone or camera can turn out shaky but Shake Stabilizer corrects that problem in seconds providing users with steady footage. Premier Elements 13 offers themes based on various occasions (such as Weddings and Birthdays) and walks users through the process to create top quality videos by assembling clips with creative transitions and music. In the Elements Organizer users may add photos and video into a themed slideshow with transitions and music (from the program or your own MP3 collection) and Slideshow will even sync the pace of the show based on the beat of the song.
Adobe Photoshop Elements 13 and Premiere Elements 13 (for Mac and Windows) have a retail value of $99.99 (existing users may upgrade for $79.99) and the Photoshop Elements 13 & Premiere Elements 13 bundle is $149.99 (upgrade for $119.99).
More info on Adobe here.

LATEST VIDEO