ACDSee 7
A Step By Step Guide To Digital Workflow
All Photos © 2004, Joe Farace, All Rights Reserved
One of the few problems with digital image capture is you tend to shoot more photographs than if you had to pay for processing them. (You really have to pay for all these extra images--there is no free digital lunch--but that's a topic for another story.) If you're gonna shoot lots of pictures, you're going to need software to manage them.
ACD Systems' ACDSee 7 software for Windows supports more than 40 different image file formats, including raw formats from Canon, Fuji, Kodak, Konica Minolta, Nikon, and Olympus. The program also supports the MPV and HighMAT (See "Yikes, Not More Buzzwords?") standards that let you burn image and media files onto a CD-R/ DVD-R and produce slide shows that can be played on any DVD player.
One Approach To Digital Workflow
The following steps should give you some ideas of how ACDSee 7 fits into one possible digital workflow solution, beginning with image capture and ending with archiving the best images onto writable CD-R/DVD-R media.
The first part of any digital workflow solution begins in the camera. Here, two of my traveling companions review some of the images they made at California's Mission San Carlos Borromeo del Rio Carmelo on a Canon digital SLR.
Step 1: Get rid of the dogs right away. During a break in shooting take time to chimp your photographs on your camera's LCD screen, erasing those that don't make the grade. Don't be hard on yourself (unless you don't have many memory cards) and keep marginal ones for later critical evaluation. "Chimping," if you're not familiar with the term, is the behavior that digital camera owners exhibit when looking at pictures on those very same LCD screens. Oooooh, ahhhhh, ooooooh...know what I mean?
When you insert a memory card or CD/DVD into your computer, ACDSee7 launches and shows this dialog box giving you choices--including doing nothing about what the software will accomplish. An easy to use wizard lets you select which folders the images should be saved to.
Step 2: Copy the files from the memory card onto your computer's hard drive. When you insert a memory card into a card reader or even a CD into one of the drives, ACDSee 7 automatically opens a dialog box allowing you to acquire the images, view them, or do nothing.

Tip: Unless you're using a USB 2.0 or FireWire device, transferring images via a card reader can be slow. USB 2.0 readers are inexpensive and fast but make sure your computer has a USB 2.0 connection, not just one that's "USB compatible." That means the port is really USB 1.1 and is 10 times slower than 2.0. You can inexpensively add USB 2.0 ports to your computer, so just do it. You have better things to do than wait for files to be moved.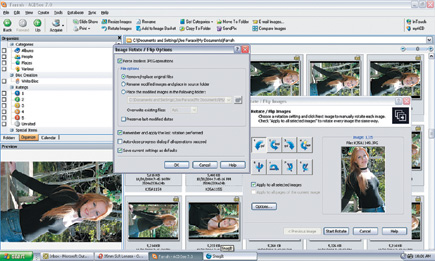 Mouse clicking a thumbnail or Select-Clicking the first and last thumbnails in a series lets you rotate one or a series of image files, if it hasn't been done in camera. I turn the Rotate command "off" so vertical images are larger and easier to see and show someone else on the camera's LCD preview screen, but sooner or later I'm gonna have to rotate, so now's the time.
Step 3: ACDSee 7 has a context sensitive toolbar, so after selecting an image or set of files, it displays the most commonly used operations for that selection, eliminating the need of digging through stacks of menus to find what you want. In its default view, ACDSee 7 shows re-sizable thumbnails of all the images you captured and control sliders let you make the thumbnails any size. Thumbnail size ultimately depends on screen size and I use 175x131 pixels for a Samsung SynchMaster 173mw LCD widescreen monitor that lets me see more and larger images than traditional 17" 4:3 ratio monitors.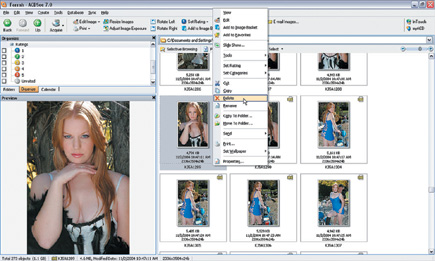 Even a model as drop-dead beautiful as Farrah can blink from time and time and it might just be your luck to catch her mid blink. Use the Right Click menu's Delete command to remove these files plus all the ones you accidentally took of your shoes.
Step 4: It's time to edit anything missed during the chimping process. When you click on any thumbnail in ACDSee 7, a larger version appears in the Preview window. Use this feature to look for people with partially closed eyes, the inevitable telephone pole "growing out of their heads," and stuff like that. Right clicking displays a long menu that includes Delete. Use it. Fewer files demand less hard disc space or fewer blank CD/DVDs. Although ACD Systems says that ACDSee 7 is "renowned for its speed," I wasn't wowed by its performance on a 2.2GHz AMD-powered Windows XP home computer. It seems slower than previous versions.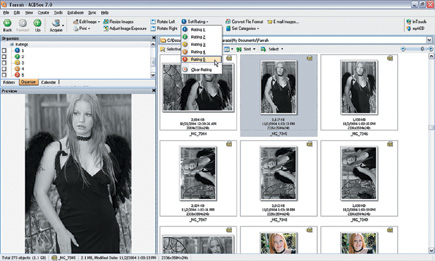 Set Category is a pop-down menu choice thats help you organize your image files by setting a category for each image file, so you can search by category later.

LATEST VIDEO