Accessories, Albums & Presentation Products: All Those Items We Can't Do Without
While photokina could be considered a distant memory, we have a number of reports yet to run that deal with products that were new to market and caught our reporter's eye, and that in many cases are just becoming available now. Here's a report on useful items filed by Roger Hicks that covers interesting accessories and other products he found at the show.—Editor
Cleaning Gear
There are many things that are photography-specific, and extremely useful, but are often an afterthought, until you find you can't do without them. Cleaning gear is a good example. You really need it, but all you really demand of it is that it should be effective; easy to use; and unlikely (barring gross incompetence on your part) to scratch your valuable lenses. For years, we've used LensPen for cleaning lenses, viewfinders, and screens. Recently they introduced a modest but useful update to their basic design. Screw-on caps instead of push-on are not only more secure: they also guarantee replenishment of the charcoal-cleaning compound contained in the lid, because you can't forget to twist the cap anymore. They also have a sensor-cleaning system with LED illumination, a magnifier, and an articulated cleaning arm. It works. We've already tried it on our old Nikon D70.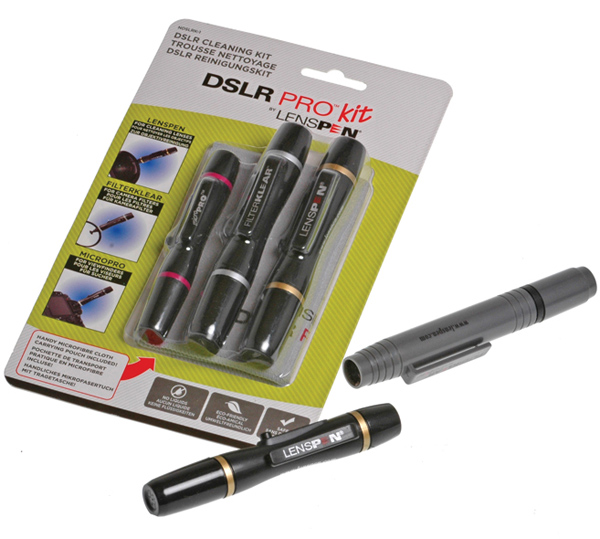 We were also impressed by Hoodman's new Lens Cleanse "natural lens cleaning kit" that Frances asked if they could demonstrate by cleaning her glasses; they did; and it's a nice idea, with a wet wipe and a dry wipe, packed in twinned sealed packs marked "Step 1 Wet Wipe" and "Step 2 Dry Wipe"—though of course you should always brush or blow dust off the lens before wiping it, wet or dry. We're not sure about the claim of "enzymes" as cleaners, though. The twin-sachet packs come in dozens in an outer, resealable plastic bag.
Humidity control is a good deal more important than temperature control—when it comes to temperature, anything humans can stand, cameras can stand—and unexpectedly, light matters, too:
lens fungus flourishes best in dark, damp conditions. This is why we would be inclined to go for the glass-fronted Sirui cabinets rather than the ones that looked like safes. The importers of Sirui tripods, Argraph, were not sure about bringing in the humidity-controlled cabinets, not least because the cost of shipping would be alarming, but if they get enough requests, they may reconsider.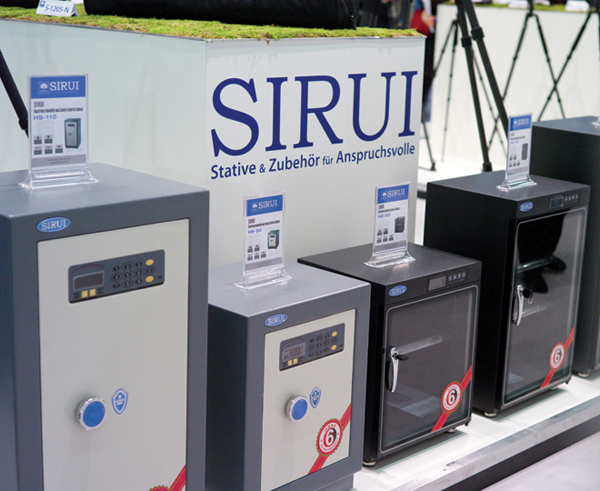 Bellows And Back
A highly photographic accessory is a bellows with interchangeable front (lens) and back (camera) holders. Years ago, BPM used to make a cheap and rather crude version of this, but now, Novoflex makes a rather expensive but commensurately beautifully finished version, with the addition of tilt and shift, the CASTBAL-T/S. The good news is that if you already own a CASTEL-Q slide, the bellows unit slots straight on to it. The bad news is that if you don't already own a CASTEL-Q slide, you're going to have to buy one, and they cost a lot: about the same, as far as we recall, as the bellows unit, at around $400.
Novoflex also does cross-slide mounting plates to allow X/Y (two-axis) movement with two CASTEL slides for macro and stereo. These two new mounting plates, the Q=MOUNT X and Q=MOUNT XD, are also Arca-Swiss compatible and amount, in effect, to two-way Arca-compatible baseplates. In other words, without moving the plate, you can take anything on an Arca-Swiss-compatible baseplate and mount it either north-south or east-west on the same plate. If you're in the market for a bellows, or indeed for anything to do with precision camera positioning, you'd be foolish not to look at Novoflex's website.
Lens And Back Caps
The Hüfa lens cap holder will work with almost any conventional lens cap. Clip it onto a strap of the right width, and it's very useful indeed. And Op/Tech's Battery Holster is a great way to carry almost any reasonable-sized camera battery (or other small accessories) on almost any strap or even belt: the design, with the touch fastener-secured flap against the strap, makes it very hard for the battery to escape.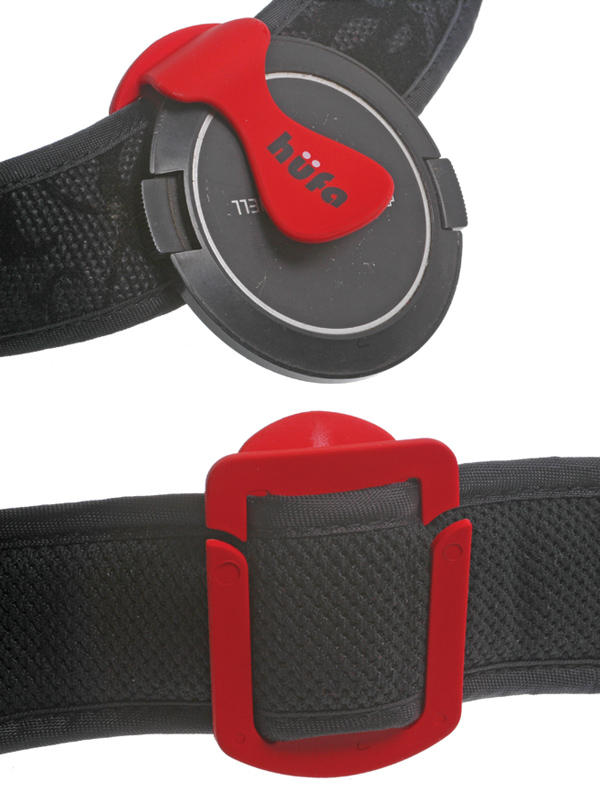 Op/Tech also showed conventional rigid lens back caps (including double caps, for storing two lenses back to back) with the added refinement of O-ring seals to exclude dust and water. They are very good, and we are already using them, but although they are ideal for SLRs/D-SLRs, the Leica M versions can be distinctly tight with a few extreme wide-angle lenses where the back protrudes deep into the camera: you may need to focus closer than infinity to fit 21mm and wider lenses (though all our lenses fitted fine at their closest focusing distance).
Another great introduction from Op/Tech was a really clever variant on their "Hood Hat" soft neoprene lens covers, the Fold-Over Pouch. The new variant has a fold-over flap that turns the cover into a lens case, with excellent (neoprene) protection and an extremely compact, easily packed size and shape. A rival for the "Hood Hat" from LensCoat adds a rigid end to the cap: additional protection, but also less compressibility. We really don't know which is better: you'll have to decide for yourself, but we did like the range of colors from LensCoat, who also offered several other good lens covers.
Filters And Focusing Arms
For the most part, filters is filters and we can't get excited about 'em, but more and more people are offering variable-ND (crossed pola) filters without color shifts; the Carry Speed MagFilter offered filters for compacts (42mm for Sony, 36mm for Canon); Kleartec has some nice brass-mounted filters (less likely to bind in the lens threads); Schneider, Heliopan, and Marumi have added new filters to their ranges; and though it's not technically a filter and we didn't get to try it, we're intrigued by Marumi's VARI. Close-up, a +2 to +6 diopter variable power close-up lens, available only in 58mm, but with a 72mm filter mount on the front.
There are times (especially with telephoto lenses) when the focusing arm from Foton is something that looks useful. We had a focusing arm with the 80mm f/2.8 Planar in the days when we used Hasselblad, not least because there are times when it's really useful to be able to set distance by touch. Even if you don't get the focus spot on, final adjustment is a lot quicker and easier with the focusing ring within a few degrees of the right place. For shooting D-SLR video without fully video-coupled lenses, it would probably be invaluable, too. What is more, because there are numerous sizes, you could use two and do focus pulling and stop pulling smoothly and accurately.
Underwater Housings
We were very impressed with the latest offerings from both Nauticam and Subal. Both make solid, well-built housings for an ever-increasing range of D-SLRs and lenses, as well as for mirrorless cameras. The latter are arguably a better bet for underwater use, especially when used with external, waterproof monitors. Both had new models at the show, and both will probably have at least another model each by the time you read this. If you are serious about underwater photography, check their websites, and the site of BS Kinetics, too. Then there's Fantasea, whose newest models were for smaller mirrorless cameras, good to 200 feet. For less heavy-duty diving, check out the old reliable company of Ewa-Marine, whose flexible clear-plastic waterproof housings have often been imitated but seldom equaled.
Exposure Meters
Remarkably, there was one completely new exposure meter at the show, from Sekonic, plus updates from Gossen and Polaris. The Sekonic LiteMaster Pro was remarkable for having a touchscreen display, and although the display on the updated Gossen Digisky looks similar, the German firm opted to remain with traditional buttons and switches. Both offer remote control of flash, though it's an extra-cost option on the Sekonic and the Gossen works at present only with Elinchrom, though others may be expected to follow. The other updated meter was the Polaris MK2: the ISO film speed now flashes when you turn it on, to remind you to check that it actually matches the speed you want to use.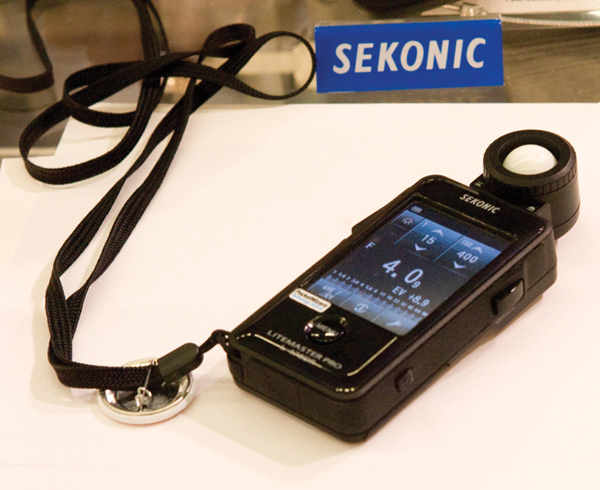 Copy Stands
How exciting is a copy stand? Dull as ditch-water—until you need to do some copying. Then you really appreciate something like Kaiser's superb new stand, with its optional LED lighting. Why does their LED lighting cost more than some of its rivals? Easy: because of its very high CRI (Color Rendering Index). Cheap LEDs have a big "green spike" that can be a nightmare unless it's filtered out. Kaiser is brought into the U.S.A. by HP Marketing.
Film Scanners
Our Konica Minolta DiMAGE Scan Elite 5400 II is getting increasingly elderly, and it won't last forever, so this year we had a particular personal interest in scanners. The Plustek OpticFilm 120 looks like a winner. Not only does it scan 120 up to 6x12cm as well as 35mm: according to the people on the stand, it also has a tested optical resolution, without interpolation, of 5300dpi (USAF Standard 1951) and a Dmax on multiple scans of 4.01 to ISO standard 21550:2004, though the specs also quote 4.8, presumably for single scans. It's a bit more expensive than its Braun 35mm/120 rival, but then again, the Braun offers only 5000dpi and a Dmax of 3.8.
Another Braun product, the Multimag SlideScan 6000, looks like a "blind" slide projector, i.e., with no lens on the front, and that's pretty much what it is. You load a magazine of slides; press the start button; and then walk away. Leave it overnight, because a hundred 5000dpi scans take well over six hours, though 1800dpi scans take about a quarter as long. Then, if you load another batch of 100 in the morning, they'll be ready by the time you get home from work. The current model is faster and has higher resolution than the older one. Braun is brought into the U.S.A. by HP Marketing.
Before you buy any accessory, ask yourself if it's just a seductive gadget, or whether it will really do anything for your pictures: making them better, easier or safer to take, or more attractive when shared. And, of course, ask yourself if you can afford it. If both answers are "Yes": well, buy it.
A note from the authors. If (like us) you have a weakness for accessories old and new, go to www.rogerandfrances.com; click on "e-books"; and take a look at "Accessories," which contains over 80,000 words and over 300 pictures, over 25 times as long as this review.
To contact any of the manufacturers listed in this article simply type the boldfaced names into a Search engine and you will be brought to their site. If you have any difficulty contact us at editorial@shutterbug.com and we will do our best to connect you.—Editor

FEATURED VIDEO