7 Travel & Nature Photography MISTAKES That Will SPOIL a Great Day (VIDEO)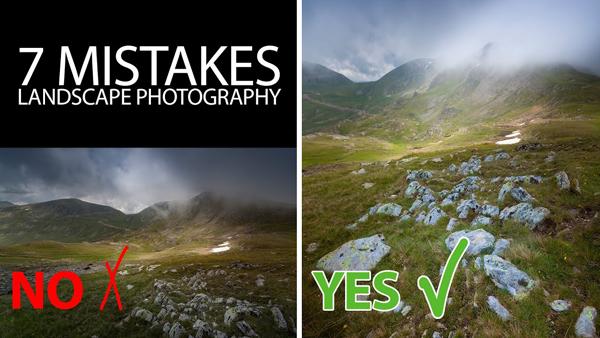 Like it or not, one of the best ways to grow as a photographer is to learn from your mistakes. And, unfortunately, most of us have made plenty.
This truism is applicable to both amateurs and pros, and in the tutorial below accomplished Romanian photographer Toma Bonciu (AKA "Photo Tom") illustrates seven errors he's made over the years, so you don't have to make them yourself.
Bonciu discusses a number of common mistakes involving composition, exposure, the choice of subject matter, and more. He puts a position spin on all this by explaining that if you're paying attention, "The best thing about a mistake is that it will remain with you in your mind"—thereby helping you shoot better photographs in the future.
Top on Bonciu's list is the misconception that every great outdoor photograph requires a compelling element in the foreground. While this approach is often preferable—adding dimension to a scene and drawing a viewer into the image—Bonciu insists that there are times when you should ignore the foreground and concentrate on the middle or the background of a scene.
If you've watched other tutorials we've posted from Bonciu, you know he's a stickler for effective composition. And in this episode he illustrates several improper framing techniques to avoid. Sometimes all that's required is a bit of cropping, while in other cases switching from a horizontal to a vertical composition will turn a boring image into a great one.
You'll also learn what Bonciu means when he says, "Don't be blinded by light," and he illustrates a number of exposure mistakes and how to fix them by using filters, HDR techniques, and a few other tricks.
There's as abundance of additional advice in this very helpful video, so be sure and take a look. When you're done, head over to Bonciu's YouTube channel for more helpful landscape photography techniques.
And don't miss another powerful outdoor photography tutorial we posted recently, with a different approach to landscape composition.

FEATURED VIDEO