5 Ways DxO PhotoLab 3 Makes Editing Photos Easier and More Effective
Most photographers would rather spend their time shooting than sitting behind a computer editing their work. But let's face it: As much as we'd like to "get it right in the camera," a few tweaks to color, contrast, exposure, and other variables can often turn a good image onto a great one.
The problem is that image-enhancement programs can be slow, cumbersome, and complicated, with a steep learning curve for those who aren't experts. Moreover, the popular "heavyweight" image-editing programs include features beyond the needs of many users and are extremely expensive to purchase (or rent).
To overcome these objections the folks at DxO have created DxO PhotoLab 3—a robust, affordable alternative, featuring an entirely new, intuitive interface that make image-enhancement a breeze and delivers stunning, results. If all this sounds too good to be true, read on.
Available in versions for Mac and Window users, DxO PhotoLab 3 takes advantage of DxO's expertise in innovative image-enhancement software and is designed to deliver unsurpassed image quality and user flexibility. Key features include a simple new approach to color adjustment, support for a comprehensive list of cameras, intuitive local adjustments, powerful repair tools, and a streamlined approach to organizing images through the use of keywords.
In short, DxO PhotoLab 3 offers a unique user experience that provides superior results—whether your goal is natural-looking enhancements or more creative effects. And it works its magic quickly, so you'll be back out shooting in no time.
Here are five ways DxO PhotoLab 3 makes editing photos easier and more effective.
1. Simpler Color Adjustments
Perhaps the most intriguing aspect of DxO PhotoLab 3 is the flexibility and ease with which it handles color adjustments. This powerful approach to color management is so sophisticated it's simple; thanks to a unique HSL (Hue, Saturation, and Luminance) Tool and the intuitive DxO ColorWheel. The former provides a visual manner of color enhancement, while the ColorWheel enables you to choose color ranges from eight separate channels when fine-tuning hues, replacing colors and adjusting transitions and tints.
There's a myriad of options from desaturating images, black-and-white conversions without complicated masks, and the ability to standardize color variations within a specific range. And if creative effects are your thing, DxO PhotoLab 3 enables you to execute them almost instantly.
2. More Powerful Repair Tool
Want to remove a distracting element in an otherwise compelling image? DxO PhotoLab 3 makes it quickly disappear with a powerful Repair Tool that works much like a retouching brush to resample adjacent pixels to vaporize unwanted objects while matching the tones of the surrounding area.
DxO Photo Lab 3's Repair Tool also includes a sophisticated clone mode for replacing (rather than eliminating) portions of an image. This tool enables you to replace one portion of a photo with an exact copy of a different area of the scene, while adjusting opacity, feathering, and other settings for a natural result without visible edges or transitions.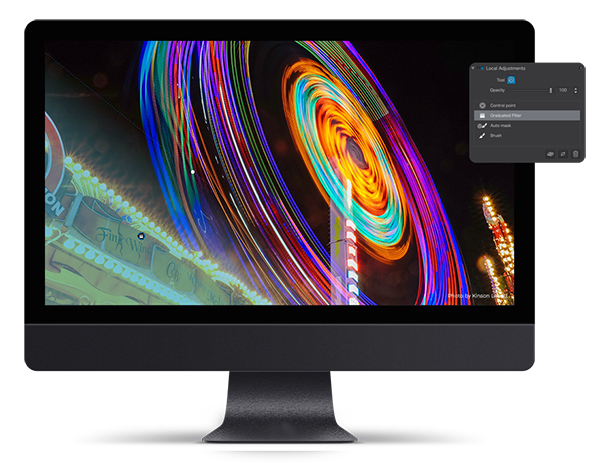 3. Easier Local Adjustments
Another powerful time-saving capability of DxO PhotoLab 3 is the ease with which it enables you to work with local adjustment masks that have been applied to an image. This non-destructive feature utilizes a simple palette to display (or hide) the various edits you've made to an image.
The Local Adjustments Masks Manger includes an opacity slider so you can precisely determine how much of each edit appears—all without returning back the specific adjustments involved. And for added versatility and creative control you can invert your adjustment masks with a single click.
4. Better Image Organizing Through Keywords
Photographers with an extensive photo library know how frustrating it can be to locate specific images—even those tagged with metadata, shooting parameters, folders and the like. DxO PhotoLab 3 simplifies the search process by using keywords to navigate the DxO PhotoLibrary. Simply hover your mouse over images in the File Explorer tab (or in the Metadata Palette), and keywords pop up automatically.
This approach not only streamlines the search process, but also enables you to add, delete, or rename keywords, and even assign them to a large batch of images. And if you import keyword-tagged images from other XMP-format software, the keywords are retained.
5. More Cameras Supported
DxO is committed maintaining up-to-date support for a wide variety of cameras, and their database incorporates over 3,000 optical modules that include more than 55,000 different camera/lens combinations. Support for cameras introduced at the end of 2019 include the Canon EOS 90D, Canon EOS M6 Mark II, Fujifilm GFX 100, Nikon Z50, Olympus OMD E-M5 Mark III, Sony A6600, and Sony A6100, There's also "preliminary" support for the Sony A9 II.
Lens support now includes the Canon RF 15-35mm f/2.8L IS USM, Canon RF 24-70mm f/2.8L IS USM, Fujinon GF 50mm f/3.5 R LM WR, Fujinon GF 110mm f/2 R LM WR, Nikkor Z 85mm f/1.8 S, Sony E 16-55mm f/2.8 G, and Tamron 17-28mm f/2.8 Di III RXD for Sony FE.
The high-quality RAW conversion technology and scientific calibration process included in DxO PhotoLab 3 enables the software to automatically correct distortion, vignetting, softness, and chromatic aberrations in images made with all supported gear.
Bottom Line
So, here's the deal: DxO's engineers have put a lot of thought and advanced technology into DxO PhotoLab 3, so you can quickly enhance your photographs and achieve beautiful image quality. And it doesn't cost an arm and a leg, nor is it difficult to master.
You can find complete details at www.dxo.com, where you can watch a few demo videos, download a 30-day trial, upgrade an older version, and buy the new package. DxO offers two options for purchasing DxO PhotoLab 3 for Mac and Windows. There's the standard Essential Edition at $129, and an upgraded Elite Edition at $199.
So, what do you receive by spending an extra $70 for the Elite Edition? The premium Elite Edition adds RAW denoising, an anti-moire tool, DCP color profile support, multiple export capability, a presets editor, and a few extra tricks. You can't go wrong with either package, both of which deliver great results.

FEATURED VIDEO