5 Quick and Simple Tips for Shooting Radiant Images of Fall Foliage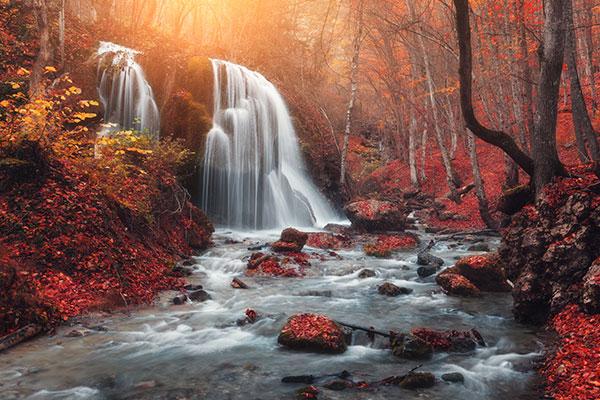 The following outdoor photography how-to story offering five quick tips for shooting fall foliage comes courtesy of Dreamstime.
1. Wide Angle for Full Effect

If you have one, grab your wide-angle lens to try and capture as much of the scene as possible. Even when focusing on a single object, it's good to show the colorful background, which creates the right mood for the image.
2. Find the Backlight

The low sun in the late afternoon will give you some gorgeous backlighting for your leaves - it will really make them pop by giving them the appearance of a halo!
3. Search for Water

Look for lakes, rivers and ponds and play with reflections to make your images pop. Combine the saturated shadow of the leaves with the water level and try using a polarizing filter / neutral density filter.
4. Get Low… and High

Don't be afraid to crawl around on the ground to find the perfect spot to take a picture of a leaf or a chestnut shell. High perspectives are especially beautiful in the autumn as well, when you can see a landscape full of great colors. Consider climbing a tree or bringing a drone out to play.
5. Underexpose for Color Payoff

Underexpose your photos by a few stops to increase the saturation of the colors and bring out the autumn beauty. Overexposing the image will dull bright colors.
If you'd like more tips for shooting fall foliage this autumn, check out these four how-to stories:
Watch These Awesome Autumn Landscape Photography Tips & Techniques from Tom Mackie
This Interactive Map Shows You the Best Days for Photographing Fall Foliage Across the United States
Take Beautiful Fall Landscape Photos with 30 Tips from Nature Pro Toma Bonciu (VIDEO)

FEATURED VIDEO