5 Pro Tips for Shooting Amazing Summer Photographs (VIDEO)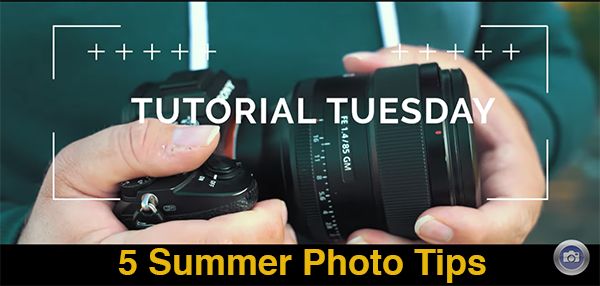 If you're a regular Shutterbug reader, you know there's something special about the second day of the week. That's because it's Tutorial Tuesday at Park Cameras—one of the leading photo retailers in the UK.
Summer is a great time for outdoor photography, despite the often-scorching heat, with numerous opportunities no matter where you live. It's not necessary to travel far to find beautiful sunrises and sunsets, great nighttime skies, colorful flowers and lush greenery, accessible wildlife and more.
In the eight-minute tutorial below with exuberant instructor Gareth Evans, you'll pick up five expert tips for making the most of this season. And, frankly, you can apply much of what you learn throughout the entire year.
Whether you're a beginner, a more experienced shooter, or even a pro, the advice Evans provides is sure to elevate your results whenever you leave home with a camera. He covers a variety of important topics from selecting a subject and using light to best advantage, to composition and other key elements that transform ho-hum photos into stunning visual masterpieces.
Evans' first tip may sound obvious, but he says it's something he ponders carefully every time goes out to shoot; namely, spending sufficient time at a location to find a really great subject. That's because it's very difficult to capture eye-catching images of uninspiring scenes.
Evans puts it like this: "When it comes to landscape, for example, you might find a really beautiful view. But you also must find a subject within that scene that can become the anchor point of your photo." This can be a person or interesting object within the frame, or even a beautiful beam of light emanating from the sky. Then, you build the composition around that.


There's also a discussion of another key mindset; namely the importance of slowing down—whether you're shooting landscapes, environmental portraits, wildlife, or just about anything else. Here the idea is simply one of concentrating on the quality rather than the quantity of the images you bring home. In other words, patience can make a big difference, and Evans' images illustrate why.
Evans' other tips are just as pertanent and simple to achieve, once you make the commitment to see the situation as a whole. Understanding the rules of composition is another key to great photos, because with that knowledge you'll know when to follow or ignore conventional wisdom.
Take a close look at these and the other suggestions Evans provides, and then head over to the popular Park Cameras YouTube channel for more tips and tricks on all aspects of photography.
We also recommend watching the tutorial we posted with another expert shooter, explaining how to check a lens if your photographs aren't consistently sharp.