5 Pro Tips for Beautiful Photos of Water Scenes
Water is the primary resource on earth and can be the thread of inspiration for a variety of photography styles. For so many photographers it's nature that inspires them with its beauty, strength and difference, where nature's expressive power creates different atmospheres.
I have always been fascinated by this natural element, water, as it is possible to capture it in many forms: rain, dew, fog, ice, snow and thus be able to create ever-changing images.
I love capturing the Dolomites mirrored in an alpine lake, a sunset over the sea, the roar of the water over a waterfall. I love the freezing drops of dew on a leaf or a drop of rain on a car window. One of my favorite shots, a lake full of stars, is an aerial photograph taken with a drone in an alpine lake. Thanks to the zenith point of view, I was able to recreate a magical atmosphere, in which we can see a trunk of a tree whose dry leaves look like stars in a night sky. I'm in love with this photo.
To capture the beauty of water in all its forms can take skill and perseverance and so I've put together my top tips for all aspiring water photographers!.
1. Choose Your Moment
When photographing water it's important to choose the best time of the day, study the location and the light. The most beautiful images of lakes are especially successful before sunrise, when the water is still as smooth as a mirror. My favorite moments are sunrise and sunset because in these situations there are wonderful atmospheres and light. How beautiful is it to capture the sunset reflected in a lake or the sunrise on top of a snowy mountain?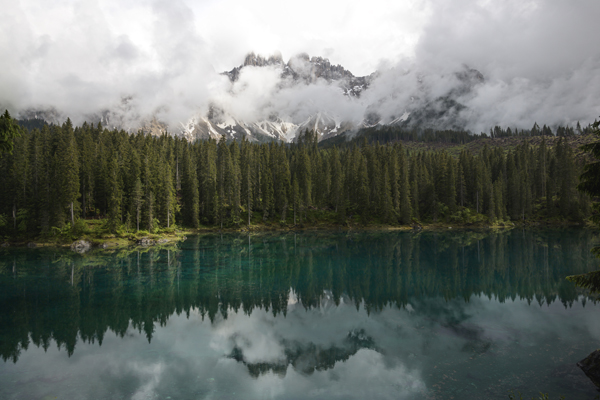 But it's not always the best choice to shoot on a sunny day. For example, I prefer to shoot during or after a thunderstorm as the sky is cloudy and moody. In these moments, a magical atmosphere is created full of fog and haze. These are also two forms of water, less obvious but equally fascinating. Even while the rain or snow falls, it is possible to take evocative shots, the important thing is to pick the best time of the day.
2. Discover the Best Frame
Give space to your creativity, experiment, test, don't stop at the usual banal shots. The lines that guide the eye can capture the central element in the photograph and perform the function of intentionally placed accents. This could be a drop falling from a tree, a stream or a snowstorm. Choosing the perfect angle, approaching the water mirror, will improve the reflection since the angle of the incident light is equal to the angle of the reflected light.
3. Use the Right Gear
To enhance a place or a situation it's important to carefully choose the photographic gear. To capture a waterfall for example, it may be a good choice to use a wide-angle lens. For dew drops or snow falling from trees I prefer a telephoto lens. To break out of the box however and change the point of view, I recommend trying drone photography! It regularly amazes me and offers breathtaking results.
If you're concerned about water reflections, I'd advise using a circular polarizing filter which rotates on the front of your lens, allowing you to cut through reflections in water.
In landscape photography, editing is also important, I personally prefer a delicate and soft edit with colors that reflect reality as much as possible. As part of my workflow, I use a variety of calibration tools and software with both my laptop and 27-inch monitor to offer me images which are faithful to reality.
4. Be Creative
Typically we tend to capture water as the human eye perceives it and while this type of photography can be good, it is often very static and lacking in creativity.
To create a dynamic image of the water, you could try the silk effect or use the water mirror as a reflective surface. The "silk effect." for example, can be achieved by using a long exposure and very long shutter speeds when photographing moving water. Since water is a fluid and characterised by movement, it lends itself to dynamic scenes using the silk effect. The term is derived from the fact that water in motion can appear like a stretched silk cloth.
To capture reflections, I'd advise shooting at either sunrise or sunset, at a time when the water is perfectly still. With the water still, you can experiment with capturing symmetrical reflections. Imperfect reflections can also create beautiful images and add a touch of impressionism to your photography.
5. Dive In
A final, more challenging way to capture inspiring shots is through underwater photography. Although I've not personally experimented with this much, I think it is a truly fascinating way to experience water as a photographer. While underwater, you enter a world full of colors and beauty.
Taking pictures here is certainly not as easy as shooting on land, where even trivial shots can take much longer. Patience is key, however the rewards will come in the form of incredible pictures and a great sense of accomplishment.
In conclusion, I believe there's a strong correlation between water and photography, especially in the context of landscape photography, a sector I specialise in. Water has a very important meaning to me, it indicates adaptability, discovery, dynamism, and dreams and in every shot I try to represent it to the fullest. My photography aims to emphasize the importance of this natural element, which is indispensable for all of us.
About Elisa
Elisa Fedrizzi was born in 1995 in a small town in Trentino Alto Adige, Italy. She likes to introduce herself with this phrase "Creative mind since 1995." She's extremely creative and always looking forward to the next adventure.
After completing Scientific High School, she took a U-turn and decided to study more creative subjects. She enrolled at Academy of Fine Arts in Brescia, graduating with an interior design dissertation that got the highest mark She never looked back and took every opportunity to get to know more about all things art and design, which led her to learn more and work in different sectors: interior design, urban design, web design, graphics, and everything concerning art and creativity.
Getting exposed to so many different fields inspired her deeply, but also helped her understand what she really wanted to specialize in: photography, graphic and interior design.
In 2019 she became a freelance photographer and designer. She's currently collaborating with architecture and design studios. This allows her to carry on the two things she loves bmost at the same time.
See more from Elisa here:
Website: www.elisafedrizzi.it
Instagram:@elisa_fedrizzi
Facebook: https://www.facebook.com/ElisaFedrizziPhotography
Datacolor's Friends with Vision: https://www.datacolor.com/spotlight-on-elisa-fedrizzi/

FEATURED VIDEO