5 Great Tips on How to Shoot Stunning Photos at an Aquarium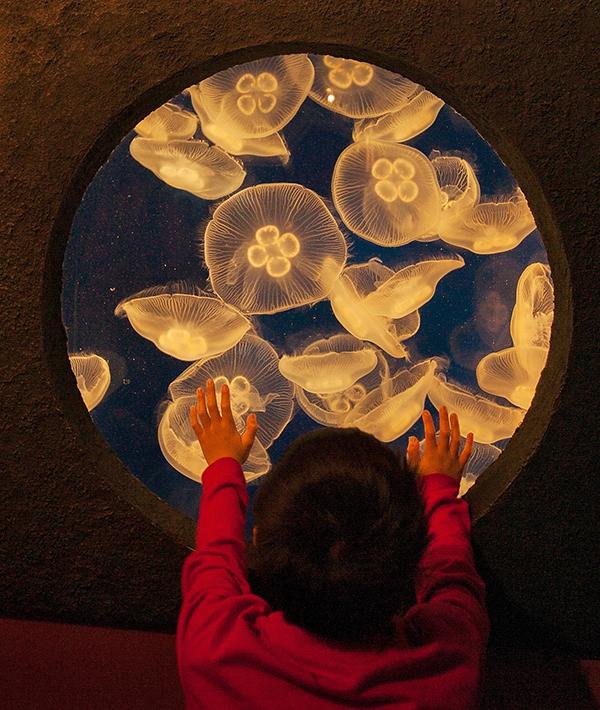 (Editor's Note: The following is an excerpt from Andrew Darlow's new book, Focus and Filter: Professional Techniques for Mastering Digital Photography and Capturing the Perfect Shot , from Ulysses Press. Darlow has been a professional photographer and educator for over 25 years, and this is his fourth book. You can also read his story with tips for taking safari-quality photos at a zoo here.
Aquariums offer an almost unlimited number of photo opportunities, from close-up images of exotic fish to dolphins and sea lions during a show. However, it can be challenging to get sharp, well-exposed images because it is often dark, and the animals often move quickly. Here are some tips to help you capture stunning images at an aquarium.
Select the Right Lens
Regarding lenses, just about any lens can be used, but you'll probably find that wide-angle lenses (about 16-40mm in 35mm terms) are best for taking photos of fish tanks. First, they offer an angle of view similar to that you might experience if you were scuba diving or snorkeling. Wide-angle lenses also have smaller minimum focus distances compared with other lenses, which means that you can usually put the lens right up against the glass and take photos of fish that are just on the other side. A wide-angle lens can also really add to the expansive feel of a place.
Use Aperture or Shutter Priority Mode
Flash may not be allowed in some of the aquariums you visit, and even if it is, it will probably cause reflections on the glass. The best settings to use without flash are either Aperture or Shutter Priority. The advantage of Aperture Priority is that you can control your depth of field, and the advantage of Shutter Priority is that you can more easily avoid blur by setting specific shutter speeds, such as 1/100, 1/250, etc. On that note, but without getting too far into the topic, I highly recommend using "Auto ISO" with Shutter Priority if your camera offers the option. After setting an acceptable ISO range (for example, 100-3200), your camera will then do its best to give you the exposure you want in Shutter Priority mode by adjusting the ISO for you automatically.
Tracking Marine Life
I always look for opportunities to use a tracking technique to create interesting images that will look as though the fish are flying by at almost warp speeds. To take a tracking shot, follow the moving subject with your camera while the shutter is open. Shutter Priority mode is ideal for this technique, and shutter speeds from 1/4 second to 1 second are usually best. The key is to take a lot of photos, and constantly focus on matching the movement of your subject.
Eliminating Reflections
Getting up close to the aquarium's glass and shooting at an angle will often yield some amazing results. By placing your camera lens at a 45-degree angle against or very close to the glass, you will stabilize your camera, and at the same time, dramatically reduce reflections. Just be sure to do this very gently so that you don't scratch the glass. A retractable rubber lens hood can help a lot in these situations. Your autofocus should also still work fine when you use this technique, but some autofocus lenses don't focus internally, so the front element may rotate. In this case, you should focus manually, or avoid touching the window so that you don't damage the lens. If your camera has "live view" with or without an articulating screen (one that can twist and angle like a TV mount), you can often position your camera in spots that you can't easily get to by using just the viewfinder or EVF (Electronic Viewfinder).
Assignment: Dive In & Create Amazing Aquarium Images
1. Take a wide-angle, medium, and close-up (telephoto) series of photos of fish in a single tank. As you zoom in or change to telephoto lenses, keep in mind the minimum shutter speeds needed to get sharp images (about 1/125 to 1/500 second). Shutter Priority mode with Auto ISO works well in these situations.
2. Take some images that include the backs of some people with them pointing to fish, or of people taking photos of fish with cameras or cell phones. These types of photos help set the scene and are often very interesting.
3. Some aquariums and zoos have large tanks that allow you to view activity above and below the water line at the same time. Hippo areas are good examples of this. In these cases, take a series of photos that include both the underwater area as well as the above-water area, at both wide-angle and medium focal lengths.
Where To Buy
For a special collection of content prepared just for Shutterbug readers (including information on where to buy the book), visit FocusAndFilter.com/Shutterbug.

LATEST VIDEO