4 Ways You Should NOT Be Using a Telephoto Lens for Landscape Photography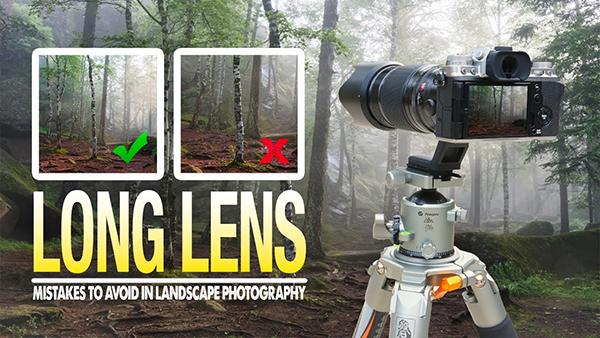 Telephoto lenses can come in handy for landscape photography when you want to add some variety to your standard wide-angle scenic shots. Using a telephoto correctly for landscapes, however, can be tricky for some beginner photographers.
In the below video, landscape pro Mark Denney offers some great advice to outdoor photography novices by explaining "beginner telephoto mistakes to avoid in landscape photography."
"The popularity of telephoto lenses for landscape photography seems to be at an all-time high right now and for good reason," Denney says. "Having a telephoto as a companion to the standard wide-angle lens for landscape photography makes perfect sense. And if you were to look up how to improve one's long lens landscape photography on the web you'd be presented with a colossal amount of information to digest, but one thing you seldom hear mentioned has to do with the telephoto mistakes you want to avoid in landscape photography."
In below video, Denney shares four telephoto mistakes he made most often when shooting longer focal lengths for his landscape photography. Then he goes on to explain how he fixed these errors.
"Using a telephoto lens is substantially different than that of a wide-angle lens and comes with subtle nuances that must be accounted for in order to get those crisp, sharp photos that we're all after," he adds. "So, if you just purchased your first telephoto lens or you're looking to get into using a long lens for your landscape photography, I hope this video will provide you with some mistakes to avoid for better telephoto landscape photos."
Here are the four telephoto mistakes that Denney discusses in the tutorial:
#1 Micro Shakes
#2 Slow Shutter
#3 Over Zoom
#4 Soft Focus
Check it out and then go visit his channel for more landscape photography advice. For another perspective, check out our own video with five reasons why we think you should definitely own a telephoto lens for landscape photos.

FEATURED VIDEO