3 Unique Lenses For Sony Full-frame Mirrorless Cameras That Caught Our Eye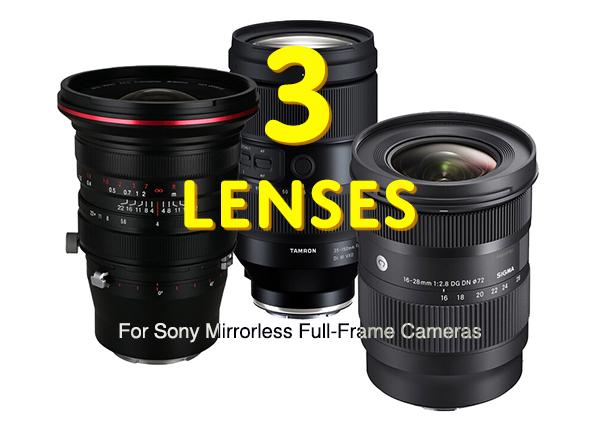 Sony offers a wide assortment of excellent optics for their popular mirrorless full-frame and APS-C cameras, but so do other high quality lens manufacturers, including the three we identify here. Sometimes adding the "just right" glass to your lens arsenal gives you a whole new way to look at things.
There's more to the world of camera lenses than the traditional but all-important wideangle, normal and telephoto. Sony mirrorless full-frame owners have numerous options, and many lenses to pick from. Sony makes some of the finest optics in the world. That said, we still can't wait to get our hands on these three independent brands for review. Here they are in alphabetical order.
Laowa (Venus Optics ) 20mm f/4 Zero-D Shift Lens
Laowa has established themselves amidst the ranks of popular lens makers, offering interesting macro lenses, ultra-wideangles and high-speed fixed focal length models. We have reviewed several of them; here's a link to our assessment of the Laowa 4mm f/2.8 Circular Fisheye.
Shift lenses allow the user to adjust the alignment of the lens axis to correct for distortion. Ever stand at the bottom of a skyscraper and point a 24mm lens up to the top in order to get all of it in the picture? That's exaggerated perspective distortion at its finest. To remedy that, the Laowa 20mm f/4 Zero-D Shift lens can be shifted +/- 11mm off axis to correct perspective distortion and eliminate keystone distortion.
Like all other Laowa lenses, the 20mm f/4 Zero-D Shift is manual/manual, i.e., manual aperture and manual focus. Shift lenses are used with slow and deliberate care, so in the case of this optic, it doesn't matter.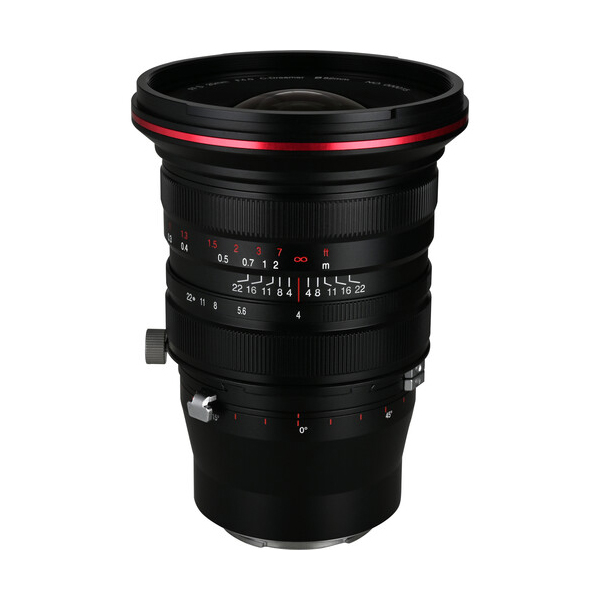 Even without the shift feature, the Laowa 20mm f/4 Zero-D Shift is a full-frame 20mm ultra-wideangle in its own right, which is an enormously useful focal length. It can be successfully used on an APS-C sensor Sony too, where it equates to (Laowa says) a 32mm wideangle with +/-8mm shift capability.
Optically, Laowa states lens construction includes two aspherical elements to help tame aberrations and distortion and to improve sharpness, plus three extra-low dispersion elements to reduce chromatic aberrations and color fringing. The 20m f/4 focuses as close as 9.8 inches for dramatic wide close-ups, and the aperture diaphragm is a 14-blade circular design for enhanced bokeh.
Available now from many sources, the Laowa 20mm f/4 Zero-D Shift costs $1099.
Sigma 16-28mm f/2.8 DG DN Contemporary Lens
Sony shooters who favor wideangle lenses will reach nirvana with Sigma's latest offering. Perfect for indoor shots because of the 16mm ultra-wide coverage and the bright, always-available f/2.8 aperture, photogs who specialize in real estate and shelter photography will find it their go-to glass for interior as well as exterior work. And wedding/event/group specialists will appreciate the 16-28mm range that allows them to get every member of a group into the shot without hassle—even for available light shots in dim rooms without flash. Personally, though, I believe this lens is built for street shooting; even at f/2.8 and unquestionably at f/5.6, the 16mm end provides enough depth-of-field that everything in the scene is going to be in focus. And now that I think about it, video content creators will likewise benefit from all of its feature, particularly if their studio setup is in a cramped space (as many are).
Unlike the Laowa described above, the Sigma 16-28mm f/2.8 DG DN Contemporary Lens is fully autofocus and auto aperture. Also desirable for use on an APS-C sensor Sony, the equivalent focal range is 24-42mm, which is very useful coverage.
Lens construction includes an optical formula that leverages two large-diameter aspherical elements to control spherical aberrations and distortion. It has a rounded nine-blade aperture diaphragm to ensure desirable bokeh. With videographers in mind, the fast AF motor is nearly silent so there is little if any aggravating extraneous noise to deal with in post processing. Additionally, the Sigma 16-28mm f/2.8 focuses internally, so the physical length doesn't change when you zoom. That keeps the center of balance in the same place, facilitating the use of a gimbal when videoing.
For better protection in inclement weather, the Sigma 16-28mm f/2.8 has a weather-resistant / splash-resistant gasket at the camera mount. Regardless of the brand, "weather resistant" never means you should casually go out and video a thunderstorm without rain protection, but if you unexpectedly encounter a stretch of precipitation, you have an extra measure of protection.
Available from many retailers, the price is $899, which is surprising low considering all it offers. Visit your local camera dealer, or you can order from Amazon for $899.
Tamron 35-150mm f/2-2.8 Di III VXD Lens
There was a time when photographers dreamed about a lens that could cover true wideangle through true telephoto. Well wake up, because the Tamron 35-150mm f/2-2.8 Di III VXD zoom is the very definition of an everyday "walk around" lens capable of capturing everything from the fleet of cyclists on 10-speeds who nearly forced you off the park trail, to the pileated woodpecker in a distant tree who's noisily feasting on unseen insects—or just pecking for the hell of it. It's also well suited for travel, when space for equipment is at a premium, as well as for portraits when you want to expand your creativity beyond the traditionally recommended 85mm to 105mm borders.
The aperture is f/2-2.8, meaning that at 35mm it's an f/2 and the maximum aperture never shrinks smaller that f/2.8, so at every focal length, even 150mm, you have the benefits high speed, large aperture features available. Even without the advantageous f/2 opening at wideangle, the f/2.8 is still amazing and allows you to control depth-of-field and produce dreamy bokeh, especially at 150mm.
The AF drive mechanism is built around Tamron's proprietary VXD (Voice-coil eXtreme-torque Drive), a proven linear motor focus mechanism that provides fast, quiet and precise autofocus performance throughout the zoom range.
The 35-150mm F2-2.8 contains 21 lens elements in 14 groups, including a combination of four LD (Low Dispersion) lens elements that subdue aberrations, and three extraordinary GM (Glass Molded Aspherical) lens elements. It features water-resistant construction and is topped off with a protective layer of oleophobic fluorine that sheds grime and resists fingerprints. Showing off its versatility with close-up photography, the 35-150mm f/2-2.8 focuses as close as 13 inches (0.33m) at the 35mm setting. The electronics in the lens enable it to benefit from Sony's potent in-camera lens correction (automatic corrections for distortion, shading and chromatic aberrations).
The invisible­—but very important—part of the Tamron 35-150mm zoom story is the connector port that's built into the lens barrel. Without the need for a docking unit, the Tamron 35-150mm f/2-2.8 Di III VXD lens can be connected to a home computer via a USB-C cable. The connector port works together with the proprietary Tamron Lens Utility software for customizing lens functions. It also enables updating firmware through the lens rather than through the camera.
Widely available, the Tamron 35-150m f/2-2.8 is priced at $1899. Support your local camera shop. If they are an authorized Tamron dealer, your lens will be protected by a 6-year USA limited warranty.
Conclusion
With the gloomy economic situation in the news, and still prevalent covid concerns, this may not be the year you buy a new camera. Buying a new lens is even more fulfilling in most cases, because new lenses provide new shooting experiences, new subjects and an entirely new way to capture even the most familiar subjects around us.
Whether you want to improve your architectural photography by eliminating converging parallels with the Laowa lens described here, or want to try the fast-paced, shoot-from-the-hip street shooting genre with Sigma's smart 16-28mm zoom, or maybe take a fresh look at virtually everything with the Tamron all-in-one, any of these lenses will your bolster repertoire and perhaps guide your photography in a new direction.
—Jon Sienkiewicz
(As an Amazon Associate, Shutterbug earns from qualifying purchases linked in this story.)