3 Camera Straps From Around The Globe That Have Caught Our Eye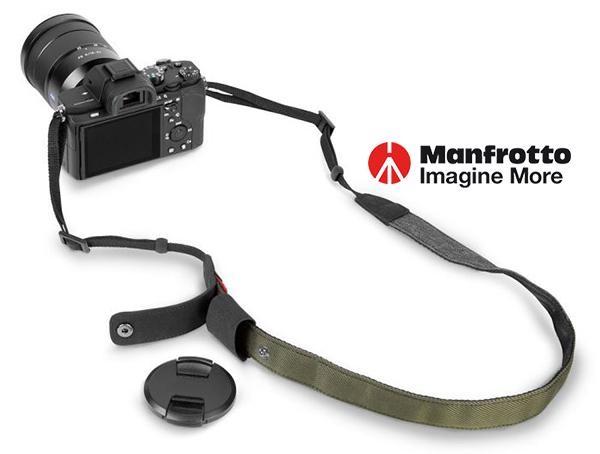 From Italy, the UK and good old New Jersey USA, here is a trio of camera straps that should be on your radar.
The part of the camera that touches me most—and I'm speaking literally here—is the strap. Whether it's on my neck, wrist, shoulder or draped across my torso, the camera strap is one of the most important components of a successful day of photography.
What do we demand from a strap? Security, comfort and style. Or you might call it strength, convenience and fashion. However you say it, we demand a lot.
New Jersey is the home of the Made-in-USA Osiris and Co. brand. You won't learn much about them from their website, but they do make a misleading and erroneous assertion in their About Us video that causes me to doubt their credibility. About 25 seconds into the clip they claim that the camera strap hasn't evolved and has remained, in their words, "technologically untouched."
Sorry gang, but I gotta call BS on that.
Take a look at the thin leather strap that was supplied with a 1974 Minolta SR-T 101 and compare it to a) Domke Gripper, b) Tamrac Quick Release, c) UPstrap or d) by all means, any neck strap from Peak Design. Camera straps have evolved and continue to progress in terms of design, materials and functionality.
The Osiris Camera Strap System basic unit is made of high quality paracord and consists of a braided wrist bracelet, lanyard-type leash and quick release snap. The materials, including the polished hardware, are all top-notch and unquestionably will deliver a long service life. The paracord is tightly woven and neatly tied. This wrist strap arrangement is available in an extremely wide assortment of colors and six wrist sizes from extra small to XX large, and your choice of four hardware finishes (colored silver, gold, black or rose gold). Priced between $33 and $55 depending on color choices, there is no doubt that this product will securely connect your camera to your arm, and do it fashionably. But the price seems unreasonable considering the low cost of high quality paracord and the ease at which it can be braided into various useful items.
The Manfrotto brand name has long been associated with some of the best tripods in the world. They also manufacture a very robust variety of photo backpacks and gadget bags (we are reviewing a couple of their new products in the weeks to come) and – yes, camera straps.
Exquisitely designed in Italy, the Manfrotto Street CSC Camera Strap which sells for around $12 is a stylish green and mottled gray color and features a handy built-in lens cap holder that secures a lens lid with an elastic loop and a snap. The black attachment straps are sturdy nylon and the plastic hardware is high quality. It's suitable for lighter DSLRs and mirrorless models.
Manfrotto also offers a slightly larger strap that's a better choice for heavier cameras. The Manfrotto Pro Light Camera Strap PL features an integrated 3D mesh to promote airflow for cool comfort and weighs just 2.9 ounces. It sells for $24 and includes quick release snaps that integrate with Manfrotto backpack straps.
Based in Wiltshire, Britain, 10-year-old RucPac is an up-and-coming brand specializing in professional straps, headlamps and apparel. All of their products are solution based, meaning that they are carefully designed to address specific issues common to photographers worldwide. They use the highest quality materials and the workmanship is of the highest caliber.
The RucPac Slide Camera Strap is over-engineered, and I mean that in a positive, complimentary way. The strap material is the now-familiar seatbelt type and the hardware, made of Polyoxymethylene (POM) plastic, is light but strong. The pinch-release snaps are double locked for added security and RucPac even includes a threaded connector for the camera's tripod socket and a set of triangular split rings so you can attach the strap to camera models that use the stud-type strap lugs. Available for $49, the RucPac Slide Camera Strap is a solid choice for heavier camera setups.
On the negative side, the thin straps that extend from the pinch-release snaps to the camera are quizzically short, about four inches when extended and half of that when connected. Why so? Maybe it's just me, but I like to have more strap material to work with on the camera side. The other complaint I have—and this is a deal breaker for me—the rubberize grip surface is on the wrong side (see red arrow above). I understand that some folks will use this strap cross-body in the so-called bandolier style. For them the friction strips could be annoying. But personally I prefer that the strap stays on my shoulder when slung there. Yes, I can turn the strap over, but then the large buckles face toward my body. See what I mean? So close but not quite satisfying.
—Jon Sienkiewicz

FEATURED VIDEO