3 Camera Filter Brands That Caught Our Eye – Here's Our Real-World Review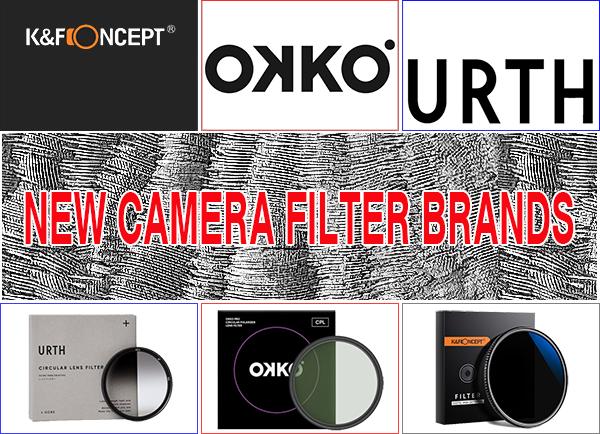 We put three brands of UV filters through a very basic, real-world test. The brands we tested are K&F Concept, Urth and Okko. Never heard of them? Us neither, before this. Here is our report.
We conducted an objective test on a trio of unfamiliar UV filters under shooting conditions that are common to all photographers. Our test was objective and unbiased, if not perfectly scientific.
We used a Sony Alpha α7RII, Tamron 28-75mm f/2.8 Di III RXD zoom lens and Gitzo tripod, and we tripped the shutter via the selftimer to minimize camera shake. The lens was zoomed to 75mm and the following very vanilla settings were used: ISO 100, f/8, 1/320 sec shutter speed.
We selected a popular spot in nearby New Jersey that has an unobstructed view of the Manhattan skyline. We intentionally chose a day with moderate haze. A UV filter is expected to reduce the deleterious effect of atmospheric haze. Some people think they are just for lens protection, but that function is an afterthought cleverly conceived by camera store salespeople motivated to sell more filters.
Below is the full frame captured at 75mm. The rectangle outlined in red represents the portion that contains the buildings we enlarged for analysis. NYC skyscrapers are in the distant background.
The Filters
All three companies get A+ scores for the protective aspects of their packaging. Others may see this as the unnecessary production of plastic scrap that will remain in the environment forever. The boxes used by all three manufacturers for individual filters are somewhat hard to open, especially when supporting a camera in one hand, and all are overkill considering that they house a UV filter which presumably will be attached to a lens and left there, never to return to its tidy polystyrene house trailer.
K&F Concept is an exception to the above indictment, sort of. While they did supply one filter in an objectionable package, the UV filter came as part of a set that attach to the lens via a magnetic adapter ring. The container itself is fabric filter pouch that holds four pieces and zips closed. The padded nylon pack is something that a photographer will use over and over for filter storage and protection. That's much better than a plastic hockey-puck-like box that will at best end up in a drawer and at worst in a landfill.
In fact, the K&F Concept kit is so intriguing that we are planning a separate review of it and its UV, Circular Polarizer and ND filter in the future. Watch for it.
K&F Concept
K&F Concept filter model we tested is the Nano-X Magnetic MRC UV. It boasts 18-layer anti-reflective multi-coating, water and oil repellent as well and scratch resistant treatment, and is made from high density, sharp cut optical glass that is chemically enhanced to be 13X stronger than untreated glass (according to K&F).
Sharp cut filters are longpass filters that are optimized to absorb a specific shorter wavelength the maximum amount while simultaneously transmitting longer wavelengths the maximum amount. Pretty tricky.
You can order various K&F Concept filters directly from K&F. The 67mm UV filter we tested is available from Amazon for $29.95. The set that includes one adapter, UV, ND and CPL filters in the very reusable case is also available in 67mm from Amazon for $129.99.
Okko
Okko filters, from a company headquartered in New Zealand, are manufactured either from highest quality German Schott optical glass or from Japanese AGC optical glass, depending on the specific filter model. Note that these two companies are the leaders in their field and supply glass to the manufacturers of the best known brands of camera lenses and filters.
By the way, "Okko" is pronounced "Awk" as in Awkwafina and "Coe" as in David Allen Coe.
The 67mm Okko Pro Slim UV filter we tested is made from B270 Schott ultraviolet absorption optical glass and is equipped with an aluminum frame and 14-layer nano coating. It provides 99.5% light transmission and is weather sealed. This Okko filter is covered by a lifetime guarantee. Okko promises to replace it if you break it.
You can order Okko filters directly from Okko. Price for the UV filter model we tested in 67mm is $90 and includes free shipping.
Urth
Unfortunately we caught Urth at an inconvenient time when the only sample available was an economy model, so the filter we tested is not their best offering. Despite this we decided to include them in this roundup because they deserve it. The sample they provided is made from high quality 8-layer nano-coated Japanese AGC optical glass. In keeping with their commitment to our environment, Urth pledges to use some of the proceeds from every filter sale to fund local communities to plant trees in areas affected by deforestation, something on the order of 5 trees for every item sold.
This model Urth 67mm UV filter costs only $30 and can be ordered from Amazon.
The higher-end Urth Plus+ UV filter, in contrast, is made from 30-layer nano-coated German Schott glass and sells for only a few dollars more. You can order the premium Urth filter in 67mm from Amazon for $39. The same tree-funding pledge applies. According to their website, they have planted more than 4.3 million trees so far.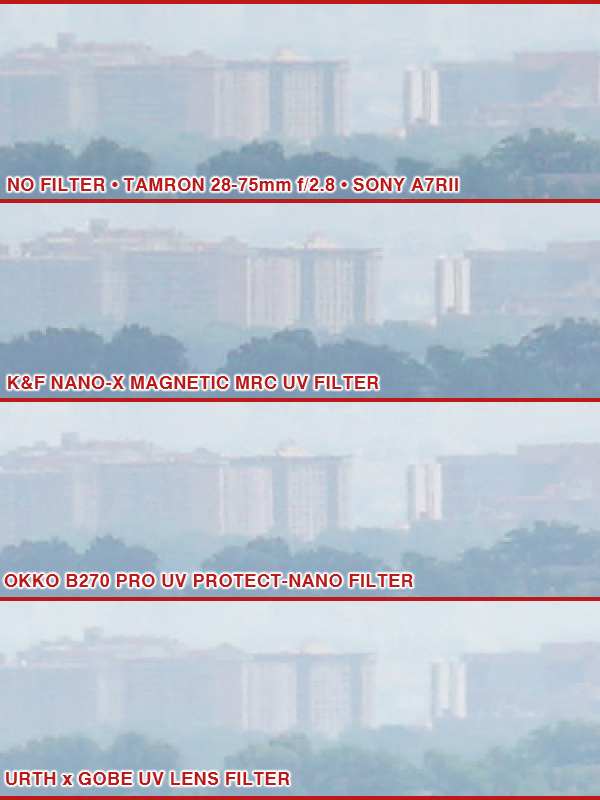 The Evaluation
The following images stand on their own with little explanation. Although the test was basic, the methodology was rigid and everything was done with the greatest care. One round of testing is not conclusive perhaps, but we are confident that these images represent the same results you will get in similar situations.
—Jon Sienkiewicz
(As an Amazon Associate, Shutterbug earns from qualifying purchases linked in this story.)

FEATURED VIDEO