Black Friday Deals: The 10 Best Holiday Photo Gifts Under $25
It's that time of year again—the joyous holiday season. Whether your visceral approach is tinsel and glitter or Bah! Humbug! it's nearly certain that you'll be involved in some sort of gift giving ritual again this year. Here are some Black Friday photo gift suggestions, ranging from the ridiculous to the sublime, and all priced at $25 or less. Cheers!
Storacell Battery Caddy
Our first stop takes us to bucolic St. Charles, IL, and the workshop of pilot and entrepreneur Rick "Tools" Foreman, founder of Tools Aviation LLC. Storacell caddies help consumers organize, store, protect and safely carry their batteries. There are 15 models available and they range in price from $4 to $13 depending on capacity. Here's a suggestion: for safety's sake, gift a loved one with a Storacell filled with eight Panasonic Eneloop Pro AA batteries and add a Mini Maglite ($13). Eneloop Pro cells offer a whopping 2,550 mAh capacity, retain 85% of their capacity after one full year in storage and use landfill-friendly NiMH (nickel metal hydride) chemistry.
SF Cable Plug Adapter
Help a friend cut the cord—on their camera's battery charger, at least. The SF Cable, two-prong plug adapter, USA IEC 60320-C7 receptacle to NEMA 1-15P, replaces the long, hard-to-manage cord that comes with most chargers. This little gem is perfect for travel and costs only $6. It's also available offset at a 90-degree angle. SF Cable, of Hayward, CA, sells all sorts of other useful cords and cables, too, including bulk spools of CAT5 for those of you who plan to hardwire your house over the yearend holidays.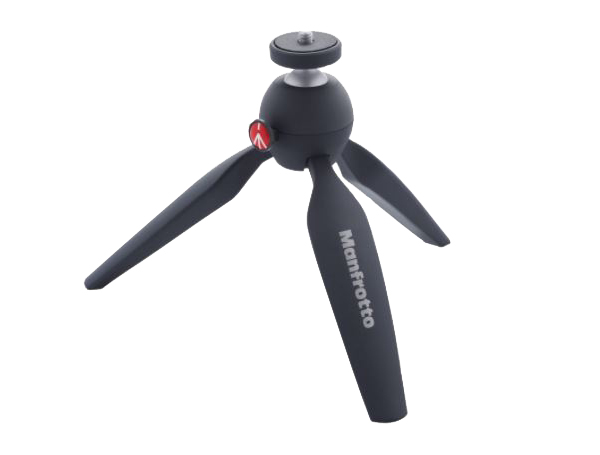 Manfrotto PIXI Mini Tripod
Small enough to take anywhere, and sturdy enough to support a mirrorless camera (up to 2.2-pounds) the basic Manfrotto PIXI Mini Tripod (SKU MTPIXI-B) costs $25 and comes in five colors. Other models in this series are equipped with a special head for GoPro cameras ($30) or Universal Smartphone Clamp ($35). From Manfrotto, a world leader in tripod technology.
Zebra StylusPen Ballpoint Retractable Pens
Available in your choice of eight colors for about $8, these Zebra pens are great whether your notebook is paper or and iPad. Equipped with a capacitive-friendly rubber stylus tip, they feature Zebra's super-smooth Advanced Ink for an effortless, smudge-free writing experience. Being a self-confessed pen freak I can attest to their writing ability and performance on a tablet. Sadly, they are not available in native zebra stripe black and white—what a missed opportunity.
100th Anniversary Nippon-Kogaku T-Shirt
Help celebrate Nikon's 100th anniversary and announce your favorite brand at the same time. This limited edition tee shirt sports the NIPPON KOGAKU logo (circa 1948) and the Nikon 100th Anniversary logo. It's made of a soft, lightweight blend of cotton and polyester and is fitted at the bicep with shoulder taping and sideseams. The 100th Anniversary Nippon Kogaku Men's T-Shirt comes in S, M, L, XL and XXL sizes for $25. (Nikon says the sizes run small.)
Reflector
Without a doubt, collapsible handheld reflectors are among the most useful and underutilized tools a photographer can reach for. And that's a shame because they're inexpensive, very portable and require no training. Most are available with cool-tone silver on one side and a warmer gold-tone surface on the other. Others, like the Savage 5-in-1, have white and black surfaces as well. Reflectors range in price from a miserly $5 to $25 depending on size. Shine a little light into someone's life—buy them a reflector for the holidays and brighten up their photos.
Zeiss Pre-Moistened Lens Cleaning Wipes
These are so useful it should be a crime to not own some. I use Zeiss Wipes to clean the glass as well as the non-glass surfaces of lenses, cameras, calculators and whatnot. They're safe, effective and cheap. If you occasionally buy or sell photo gear via auction websites, you should use one or two of these towelettes to wipe the equipment down to remove fingerprints, dust, lint and lingering tobacco odors. Clean and toss. The price varies with quantity purchased, naturally, and the Wipes are also available in kits that contain Zeiss liquid spray cleaner, a blower and a lens brush.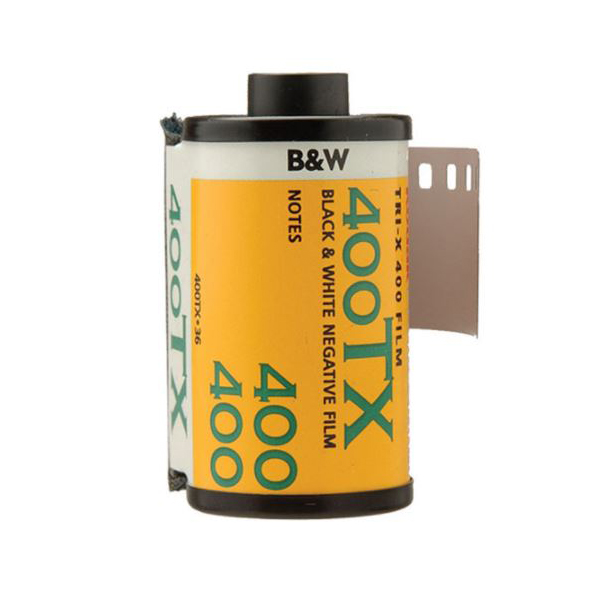 Kodak Professional Tri-X 400 Black and White Negative Film
Got a friend who's a former film shooter? Give them a quick kick in the pants and a reason to start shooting film again for about five bucks. A 36-exposure roll of 35mm Tri-X costs about $5.30 at B&H and other places. Return with us now to those thrilling day of yesteryear, Silver Halide rides again!
HISY Bluetooth Remote Camera Shutter with Stand
Hold your phone in one hand and release the shutter with the other. HISY has a lot of cool smartphone accessories, and this is clearly one of the most useful. Priced at $25, the HISY selfie release is available in models compatible with most current phones (check website to confirm yours) and has an operating range of up to 90 feet. Comes in a half-dozen youthful colors.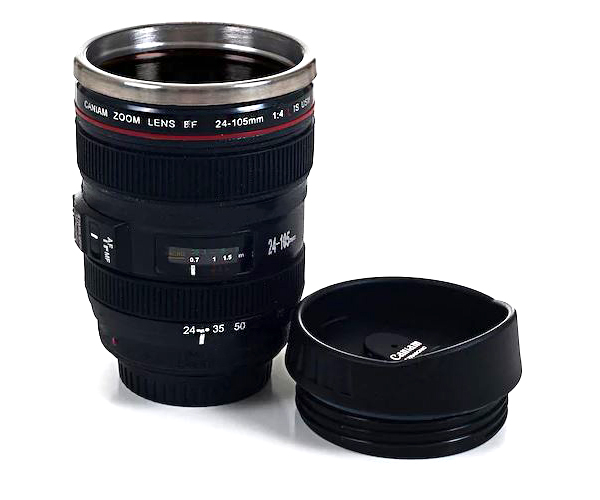 Chef Buddy 12-oz. Insulated Camera Lens Coffee Mug
This 12-ounce beverage mug looks and feels like a real SLR camera lens. The inside is hygienic stainless steel and the outside is a dead ringer for a Canon 24-105mm Zoom. It has a safety screw top and sells for around $8, and is available from popular retailers like Kohl's and Wal-Mart as well as some camera stores. Come to think of it, it's probably not a good idea to leave it in your cupholder when you park on the street—but it will sure look cool on your desk.
—Jon Sienkiewicz

FEATURED VIDEO