Premium D-SLRs & "Mirrorless" CSCs: A Report From The Consumer Electronics Show
In this and a continuing series of articles in the coming months we'll bring you the news and innovations from the recent Consumer Electronics Show (CES) held earlier this year in Las Vegas. While the show floor was dominated by "smart" this and that, from phones to TVs and tablets, we'll concentrate on those items of most interest to photographers. This report is on the new and recently introduced D-SLRs and interchangeable lens mirrorless cameras.
Premium D-SLRs
The battle is on for the hearts and minds of pro D-SLR users and the leading protagonists in this play are, surprise, Nikon and Canon. They have gone head to head with what can only be described as "multimedia" machines that assert the growing importance of video and represent the height of D-SLR features and design for still shooters as well. Canon unveiled their EOS-1D X prior to the show, but for comparative purposes, and because we haven't had the Canon to test yet and have not covered it in print, we include it here as well.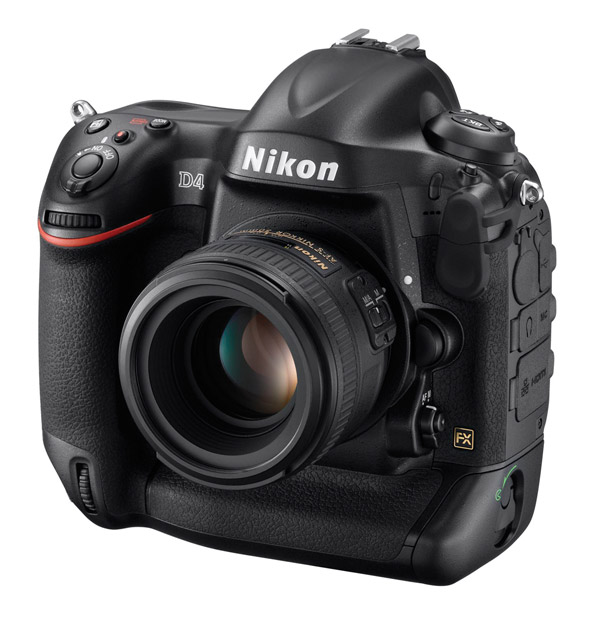 The Canon EOS-1D X comes with a completely refashioned 61-point AF system, 12 frames-per-second (fps) shooting rate, and 18MP "full frame" CMOS sensor and Full HD recording. Canon has anointed this as their new flagship, and it replaces both the EOS-1Ds Mark III and the EOS-1D Mark IV in their lineup.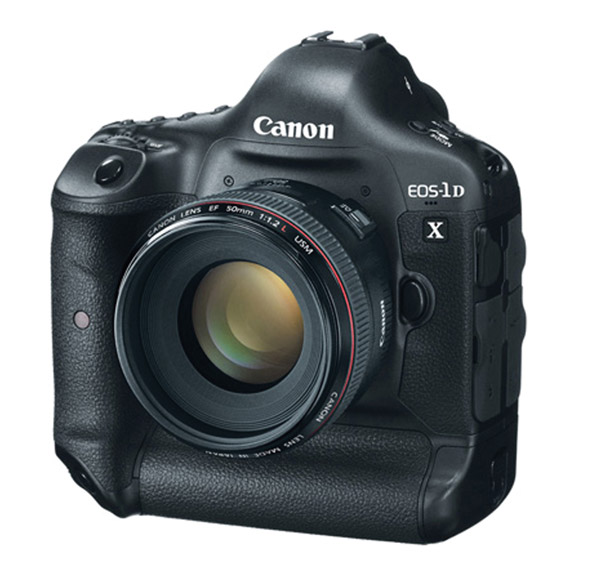 Along with the camera comes a new processor, the Dual DIGIC 5+, which the company says provides 17x more processing speed than the previous processor, plus features on-board lens profiling and correction, supposedly making post-processing unnecessary and perhaps making a strong pitch for using only Canon-brand lenses on the body. The previous DIGIC 4 processor is also included for metering and AF control, plus there's processing provided by the CMOS sensor, giving the EOS-1D X a sci-fi-like "three brains"—their terminology, not mine.
Larger pixels on the sensor plus "gapless microlenses" are said to provide exceedingly low noise at higher ISO settings, adjustable from ISO 100 to 51,200 in "standard" range and down to 50 and up to 204,800 (!) in extended ranges, the latter dubbed useful for forensic and law enforcement work. This is coupled with claimed greater low-contrast subject detection compared to previous models.
Speaking of AF, you can customize the AF for tracking the acceleration and deceleration of subjects plus use the new EOS iTR (Intelligent Tracking and Recognition) option. The default AF is phase detection but there's also an optional Face Recognition AF, which in sports or entertainment photography actually tracks the original subject throughout the scene. This, to me, is one of the more amazing pieces of technology in the camera and should make for a much greater shot-to-keeper ratio for those covering sports, dance, and similar events.
Speaking of sports photography, you can use the camera's "Super High Speed" mode to shoot up to 14 fps at full 18MP JPEGs and 12 fps using Raw or Raw+JPEG in One-Shot AF or Ai Servo AF. The new reflex mirror mechanism makes that possible (see Jason Schneider's coming New Tech report for more details on this), as does the high-speed processing, and this is another breakthrough in this class of cameras. Dual CF card slots handle the load. In addition, there's electronic first curtain and reduced shutter motion to combat vibration in the camera. This is Canon's counter to the mirrorless camera breakthrough in high-speed and vibration-free shooting.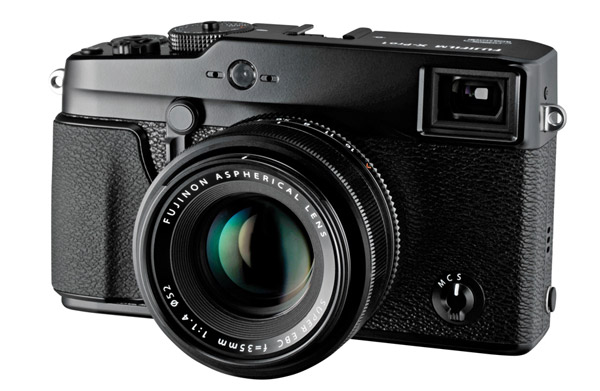 Video is a big part of the camera's capabilities, and the design and function are said to address concerns of both "street" work and cinematographers. I'll leave the details of all this to those who better cover video on the tech side, but let's just say that wedding, commercial, and art videographers should be well satisfied with what the camera offers.
Of course, all this tech does not come cheap, and the camera will sell (body only) for $6800.
Not to be outdone, Nikon's D4, which they dub a "multimedia" D-SLR, has a 16.2MP FX (full frame) CMOS sensor and ISO sensitivity from 100 to 204,800 (the highest being a "push" ISO). It offers capture capability up to 10 fps in Raw and 11 fps with AE/AF locked. Speed is matched by accuracy, the company says, along with the capability to use multiple AF modes, including normal, wide area, face recognition, and subject tracking, plus nine fully functional cross-type sensors that can be put to work when using compatible Nikkor lenses and TC14E and TC17E tele-converters. Using face recognition, the AF sensor can detect up to 16 faces.
For processing speed there's a 16-bit "pipeline" and dual card slots. One of the slots is for CF cards and is optimized for the new UDMA 7 CF cards. The other slot is not CF compatible but rather is set up for the latest manifestation of card formats, XQD. XQD cards are slightly smaller in size and are currently available in 16GB ($129) and 32GB ($229) capacities. The cards are said to be capable of storing up to 100 Raw image frames from continuous shooting mode and deliver 125MB/second read/write speed when using a PCIe port, plus new XQD card readers are available as well. The casing around the card is "robust," with contact pins inside the casing itself, which Nikon says helps eliminate problems in the field.
Some of the many shooting features include the availability of a compressed NEF format, in-camera HDR, and enhanced access to six preset Picture Control settings. It's clear, though, that Nikon is paying close attention to video in the D4, indicated in their press materials where they dub the D4 an "HD-SLR" camera, the first we've heard of this term. What it basically means is that the video capabilities are being taken as seriously as the still shooting functions, and that Nikon is making a strong run at the "multimedia" professional. Some of these features include, of course, Full HD recording, the ability to have full manual control over ISO, aperture, and shutter speed while shooting video, and the ability to record to card or, by using the camera's HDMI port, stream live video from camera to monitor. Again, I will leave the full and impressive video specs and highlights to the video tech reporting press out there, available in droves on the web.
Pro Nikon cameras have always been "press" oriented, and here's where the camera's impressive workflow features come into play. IPTC data for images and image sets can be automatically generated, useful for both photographers and their editors. Tethered shooting is available via a wired Ethernet port on board, plus there's a WT-5A wireless file transmitter to go right to an FTP server or computer. Nikon says a mobile app is being developed to control the camera using the transfer function, which can be used to trigger the shutter and record video.
The hefty D4, weighing in at 2 lbs, 15 oz, is priced at $5999, body only, and should make a strong bid for the pro market, particularly those whose intentions are to work in both still and video in the studio and on location.
Mirrorless Interchangeable Lens Cameras
Fujifilm has introduced a new camera in their X-series line, the X-Pro1, an interchangeable lens model with a 16MP CMOS sensor, a new series of lenses in an all-new "X" mount, and a "hybrid" viewfinder system, first shown on their X100 and updated here, that adapts to each of their focal length lenses. This signals yet another step away from D-SLR-type designs that I feel will typify enthusiast and even pro-oriented cameras in the years ahead.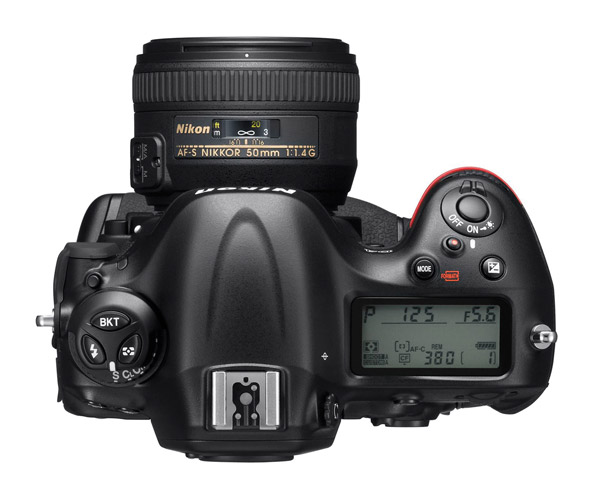 The sensor size is APS-C, which means that the effective focal length of the new lenses are 1.5x, the "stated" focal length, though one day we'll have to dispense with those full-frame comparatives as well. The new lenses are all fixed focal length and fast, including an 18mm f/2, a 35mm f/1.4, and a 60mm f/2.4 macro. All the lenses "register" with the camera, if you will, and the on-board processor adapts to the individual lens characteristics to deliver what Fujifilm terms optimum image quality.
This on-board profiling is something that I assume will be a feature of all branded lenses in the future. Super coated and containing aspherical elements, the lenses couple with the camera in a thinner mount, which means that back focus distance is kept to a minimum and edge-to-edge sharpness is enhanced, a benefit of the mirrorless design.
The sensor itself dispenses with a low-pass filter and features a new array, which Fujifilm describes as a "random" type that was "inspired by the natural random arrangement of the fine grains of silver halide in film." As of this writing we await to hear from Fujifilm about the IR capabilities and consequences of this design, an aspect we will check out when we get a unit to test. In short, the pixel arrangement is not the typical 2x2 pattern of pixel units in the classic Bayer pattern but a 6x6 array of pixels. They claim that the new array and lack of the low-pass filter eliminates moiré and delivers exceptional image quality to boot.
As with the previous X-series cameras there's a hybrid EVF (electronic viewfinder) and optical finder, with the LCD display offering 1.4 million pixels and the EVF an "even higher" resolution. Looking through what we considered preproduction units at the show, viewing was seamless in both EVF and LCD finders. As of now the Raw images the camera produces are processed via the supplied SilkyPix software, a situation that will change, hopefully soon, when they distribute to or have the process codes back-engineered by other Raw processing software companies.
There was no set price as of this writing, but Fujifilm spokespeople said body only of the X-Pro1 would be in the neighborhood of $1700 and lenses would run about $650 each. Queried about the market for this enticing setup Fujifilm folks told us "wedding, portrait, and street photographers."
In coming issues we'll have reports on new products in lenses, accessories, bags, and more.