PMA 08; Hot New Digicams
Although the D-SLR category is growing more rapidly, digicams with integral lenses still outsell the larger cameras by roughly 10 to 1. That's primarily because of the lower price and particularly the greater portability. Even the most serious photographer usually wants a pocket-size camera--with built-in lens and flash--that they can carry most anywhere.

Frankly, the digicams already on the market are impressive in terms of resolution, large LCD screens, and in camera (post-processing) image-enhancing software. I did not find a lot of major improvements this year. Most manufacturers
were upgrading their entry-level and mid-range models by a couple of megapixels (to 8, 10, or 12MP) or shaving a bit off the size/weight and price. None of that is particularly fascinating, so this report will focus on models with new technology, some valuable new function, or a noteworthy lens (with focal length data in 35mm format equivalent).
Larger CCD Sensors
Because 10- and 12-megapixel resolution has become common even in some affordable digicams, several manufacturers are employing a slightly larger sensor in at least some of their cameras. The smallest 1/2.5" type (5.76x4.29mm) is still the norm in the entry-level models. The slightly larger 1/2.3" sensor (6.2x4.6mm) has become quite common this year, especially in the 10+ megapixel category. Some of the high-end digicams use a 1/1.8" type (7.18x5.32mm), a 1/1.7" (7.6x5.7mm) chip, or a 1/1.6" (8x6mm) type CCD. While other factors also determine image quality, a larger sensor allows for larger pixels, for a wider tonal range and less digital noise. In this report, I'll provide sensor size specifics only for digicams that use a larger than average chip.

Aside from the Sigma DP1 (mentioned later), the new (11MP) Fujifilm FinePix S100FS boasts the largest chip, a 2/3" Super CCD VIII HR measuring 8.8x6mm. This high-end camera ($799 street) features a tilting 2.5" LCD, an optically-stabilized 28-400mm lens with manual zooming ring, four AF modes, including the very effective Face Detection 2.0, plus some high-tech amenities. These include Dynamic Range Enhancement (with 100 percent to 400 percent level options), Film Simulation (Velvia, Provia, Soft, and Portrait), and automatic redeye removal. When selected, all of those functions are provided right after capture during processing. This is also an unusually versatile digicam that would be a fine alternative to a D-SLR for those who prefer the compact (5.3x3.7x5.0") size.
Unique Models
Four digital cameras were particularly newsworthy because of some unusual aspects. The Sigma DP1 was first announced at photokina 2006 as a product in development, but a final, modified version should be available by now. Boasting the largest sensor available in any camera with a built-in lens, the DP1 employs the same "full-color" Foveon X3 chip as the SD14 D-SLR. It's a full 20.7x13.8mm, roughly 12 times larger than the typical digicam sensor. Consequently, pixel size is much larger than average as well.
Like the SD14, the DP1 is marketed as a 14.1MP camera with a "pixel count of 2652x1768x3 layers." In other words, there are 4.6 photosites, but each is three layers deep (red, green, and blue) for a total of 14 million pixels. (This topic is discussed in detail in my SD14 review, easily found with a search at www.shutterbug.com.) This gorgeous digicam offers a wealth of SLR-like capabilities: a 2.5" LCD (but no viewfinder) and a built-in 28mm f/4 aspherical, multi-coated lens. It's also compatible with optional accessories such as an external flash unit, an optical finder, and a lens hood that also accepts optional 46mm filters. While the Sigma DP1 is pricey ($899 estimated MSRP) it should appeal to those who want an exceptionally versatile and compact (4.5x2.3x2") camera with a high-grade wide angle lens.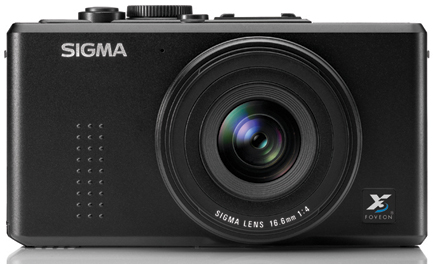 The fastest digital camera in the world, the 6MP Casio EXILIM Pro EX-F1 can capture up to 60 frames per second (fps) at full resolution thanks to a high-speed (1/1.8") CMOS sensor, LSI processor, and a 140MB "temporary" buffer that saves the images only after the shutter button is released. (Additional photos cannot be made while the previous images are written to the memory card.) As a bonus, this marvel can blast off a series of flash photos at up to 7 fps and at an even faster rate (10-60 fps) when using the built-in Xenon lamp with a limited range. The EX-F1 can also shoot 1920x1080 HD movies at 60 fps with stereo sound or lower-res movies at up to a blazing 1200 fps.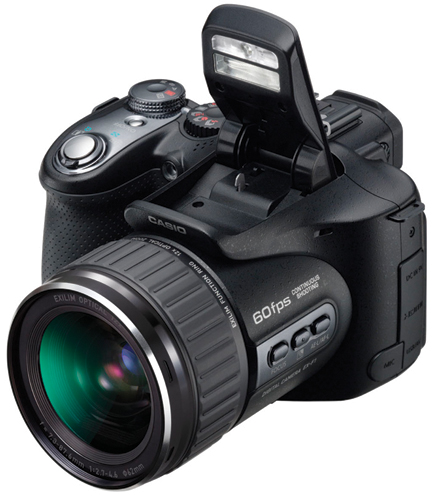 While all of that may be difficult to believe, it's definitely true, confirmed by a hands-on experience. The Casio EXILIM Pro EX-F1 ($999 MSRP) is a desirable camera for other reasons, too, including the SLR-style modes, "slow motion" framing and High Dynamic range functions, the aspherical 36-432mm lens, and a sensor-shift stabilizer. Moderately large (5x5" and 23.7 oz), the EX-F1 is equipped with an electronic viewfinder and a 2.8" LCD screen. This super-zoom model with its ultrahigh speed framing rate is likely to satisfy those who like to shoot fast sports or wildlife action or want to make high-resolution movies without buying a camcorder.

Samsung's 10MP NV24HD, with 1/2.3" CCD, boasts a combination of features not available with any other current camera. That starts with a 2.5" organic light-emitting screen with touch-screen interface controls. (OLED is a film made of organic compounds that uses a matrix of pixels to display a color image; it provides fast response but draws far less battery power than an LCD.) This family-oriented digicam ($319 street) also includes a unique lens, with the shortest available focal length, a stabilized 24-86mm Schneider-branded zoom lens. It's equipped with Face Recognition AF/AE, a highlight/shadow expansion function, and many Program modes for great simplicity and versatility in picture taking.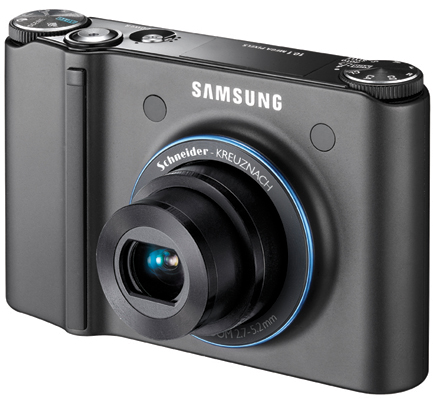 The (10MP) Panasonic Lumix DMC-FX35, with 1/2.33" CCD, also packs an unusually short zoom, a Leica-branded, stabilized 25-100mm aspherical zoom. This camera also benefits from Panasonic's unique Intelligent Exposure feature. Before recording an image to the memory card, the new Venus Engine IV processor analyzes brightness in 3000 quadrants. When a scene includes a bright area, such as the sky, the camera will intentionally produce overall underexposure to prevent "washing out" that segment. Then, it will boost the ISO only in the dark areas to the level required for selective brightening for a well-balanced effect. This approach is, apparently, quite different than the methods used by other manufacturers for "dynamic range expansion." Note, too, that the DMC-FX35 ($349) is equipped with other high-tech features, available in the new Intelligent Auto mode.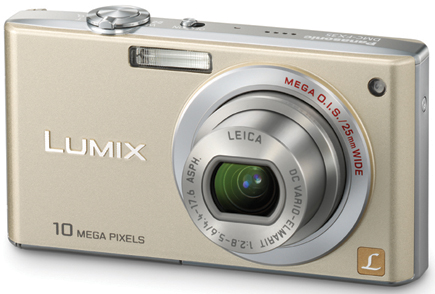 Panasonic also announced the development of a wireless camera that can upload images to the Google Picasa Web Albums using the T-Mobile HotSpot service (Wi-Fi Internet access) available at over 8500 public locations in the US. This Lumix digicam will include free (camera-specific) access to the service for one year. No details about the actual camera (or even a photo) were available at our press time, but this convenient Wi-Fi photo sharing feature should appeal to those who travel frequently.